Digital Card Decks: How to create a market for digital decks
Customers need to un-pack what it means to have a "Digital Deck". What does that enable? People don't expect to be able to Journal and Meditate. This is important to realize. Assume nothing.
Digital Decks are new.  Acknowledging this is healthy.
Customers need to un-pack what it means to have a "Digital Deck". What does that enable?
We (Deckible and you, the creator community) need to provide a slow steady "drip" of information to help customers fully embrace digital decks.  We need to keep it simple. Assume nothing.
Help people appreciate what a digital deck can do and how we enhance their experience.
We are focussed on the problem. We make it easy to keep all your deck with you, all of the time, something you can't do with physical decks.
Today people arrive at Deckible not knowing it is an app. People buy decks and don't realize this. This used to surprise me, now it's simply reset my thinking.
People don't expect to be able to Journal and Meditate. This is important to realize. Assume nothing.
Some creators did not realize Deckible is an app. We are all busy. We don't read things fully. And we don't recall every conversation.
This defines our starting point. Such is life. It's much easier to embrace this than to fight it.
The average deck lover owns 10-20 decks, yet today decks are not a mass-consumer tool. Many people own zero decks.
We believe the simplicity, variety and affordability of digital decks offer a powerful value proposition as a new form of interactive media.
Card decks offer a rich visual experience. Digital decks enhance that experience, but if you don't use decks you won't know that.
Our creators are all early adopters and evangelists helping communicate the value of digital decks.
We believe, together, we can create a much bigger marketplace of deck lovers because of the value digital decks offer.  We think this will result in more decks being created and will help sell more printed decks to a larger consumer market.
However, this will take community effort to bring about this transformation, but the rewards are great.
There is a lot of educating to be done, and for now we should focus on the deck lovers. These people will get why Deckible is valuable. And the accessibility of Deckible will help these people share their passion for cards.
It's valuable to understand who's involved. Not every card deck owner will go digital today. The same applies to creators.
The broad appeal and power of Deckible gives people more reasons to embrace it. And there will always be a stream of new content being published.
Not everyone will appreciate it right now, we will need to respond to demands and iterate.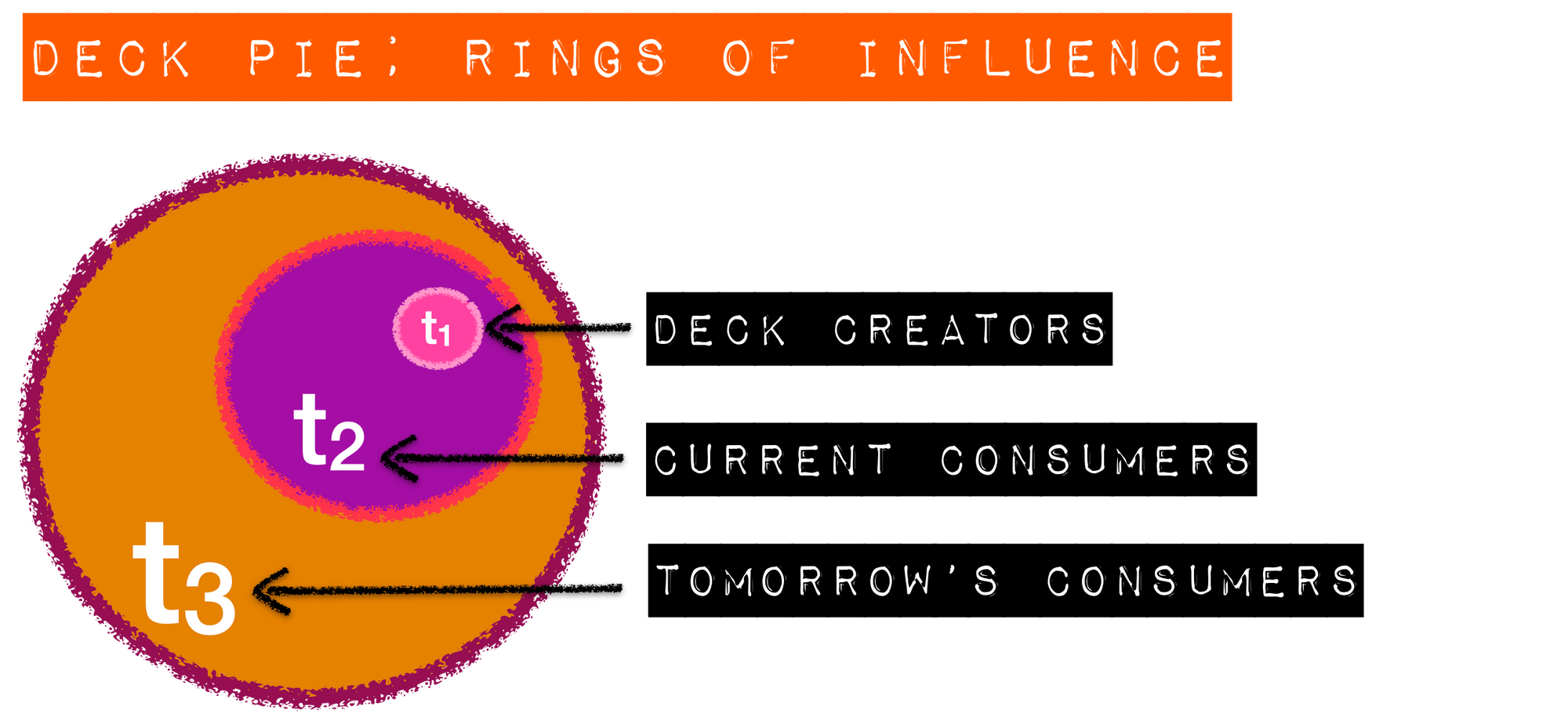 Much of my time is dedicated to supporting and teaching existing creators.
While, we have moved beyond loading decks to helping you to use Deckible and teaching you how to use spreads and card-sorts and to remind you of all the value that Deckible brings.
Our next task is supporting you to bring on board your first 100 Deckible customers for your deck. I ask you not to underestimate the effort this will take. The effort will depend on your community and their tech skills and early-adopter profile. Will they try new things?
We all need to keep it simple. Assume nothing.
Teach your customers the basics:
This is an app (you install via IOS App store  or Android Google Play)
You need an account on Deckible to log into the app
The Deckible app is free. Then buy the decks you want to use (just like Audible)
You can own many decks (and that is valuable because ... )
You download decks to your phone (just like Audible)
Deckible works offline once your deck is downloaded
You can select one or more cards (randomly or by choosing)
You can use spreads with your deck.
You can journal on these cards.
Deckible never forgets a reading.
Deckible works on a phone or a tablet.
You can combine content from multiple decks
Tactile matters.
Deckible is different from other apps that are single deck and not tactile.  
You can touch, arrange and zoom the cards ( Other apps are not so tactile).
You can use this to make choices and prioritize ideas.
You can journal to make notes.
Deckible feels like you have a deck in your pocket, in your hand.
Deckible makes it easy to share readings
This is about participation, not just consumption. This is very important for the modern mobile consumer. You do things not just look at things. And I'm sure we will enhance this to support a range of forms of collaboration and participation over time.
A digital deck offers more than a printed deck.
You can have media (audio/video)
Deckible keeps your notes.
Readings are saved.
Always in your pocket / never left at home.
Decks are new form of media for the phone.
Digital decks are a gateway to selling more printed decks.
It is worth summarizing the advantages of digital decks. Don't assume people understand that. They need to experience it to appreciate the value.
A common marketing mistake is to get bored or the basics long before your customer.  So stick to the basics.
Being repetitive is good
Ask for something specific.
Keep it simple.
Onboarding is a thing. Don't expect people to know what to do or how to do it.
We often need to hear of something 15 to 20 times before we invest and make this top of our priority list. So remember, our job is to create those 15-20 influence moments. This we can do together.
Some people will act faster and that's great, but plan to be repetitive.
There is an element here of making it less about a single deck. Share other decks. Give people multiple reasons to get curious.
In 1984 we used to say "Computer Games" and the word "games" meant board games.
Today "games" means computer games. If you want to play a board game you need to add the prefix to be understood or people will assume computer games.
When did "music" transition to meaning digital music on Spotify or iTunes?
This is a common pattern with media. Going digital is easier.  And offers more, but it's new. And not everyone is an early adopter.
My point here is adoption takes time.
So here is my ask:
Use deckible every day for a month
Use multiple decks (not just your own).
Reflect on this experience. Share the experience.
Use journaling and meditation
Then help your customers to do the same.
Together we will help craft a richer more rewarding experience.
Write a review of deckible on your blog or social feed (back links will add to build the findability of your decks on Deckible)
Consider writing a review in the app store.
Tell people how you are using it.
Tell people why digital decks are valuable.
Share other people's decks.
Focus on building and supporting the community.