INFECTIOUS MOMENTUM
I just wanted to share that we have had more signups this week  more than any other.
I also spoke with Jen Needham today for the first time. Jen has mae doeen of Decks in her lifetime.
I asked her how she'd heard of Deckible.
She told me she'd learned of deckible from 5 different people all within a day or two. Wow.
That is insane virality. Things like that tells you you are doing something right.
I've talked before about a referral chains of five. And now a five person a recommendation swarm!
This is the stuff of textbook viral marketing.
Gratitude abounds. Enjoy the journey. Special this is!
So cool I had to draw a diagram!
I'm reminded of on he the 24 Laws from the Unlurk Me deck.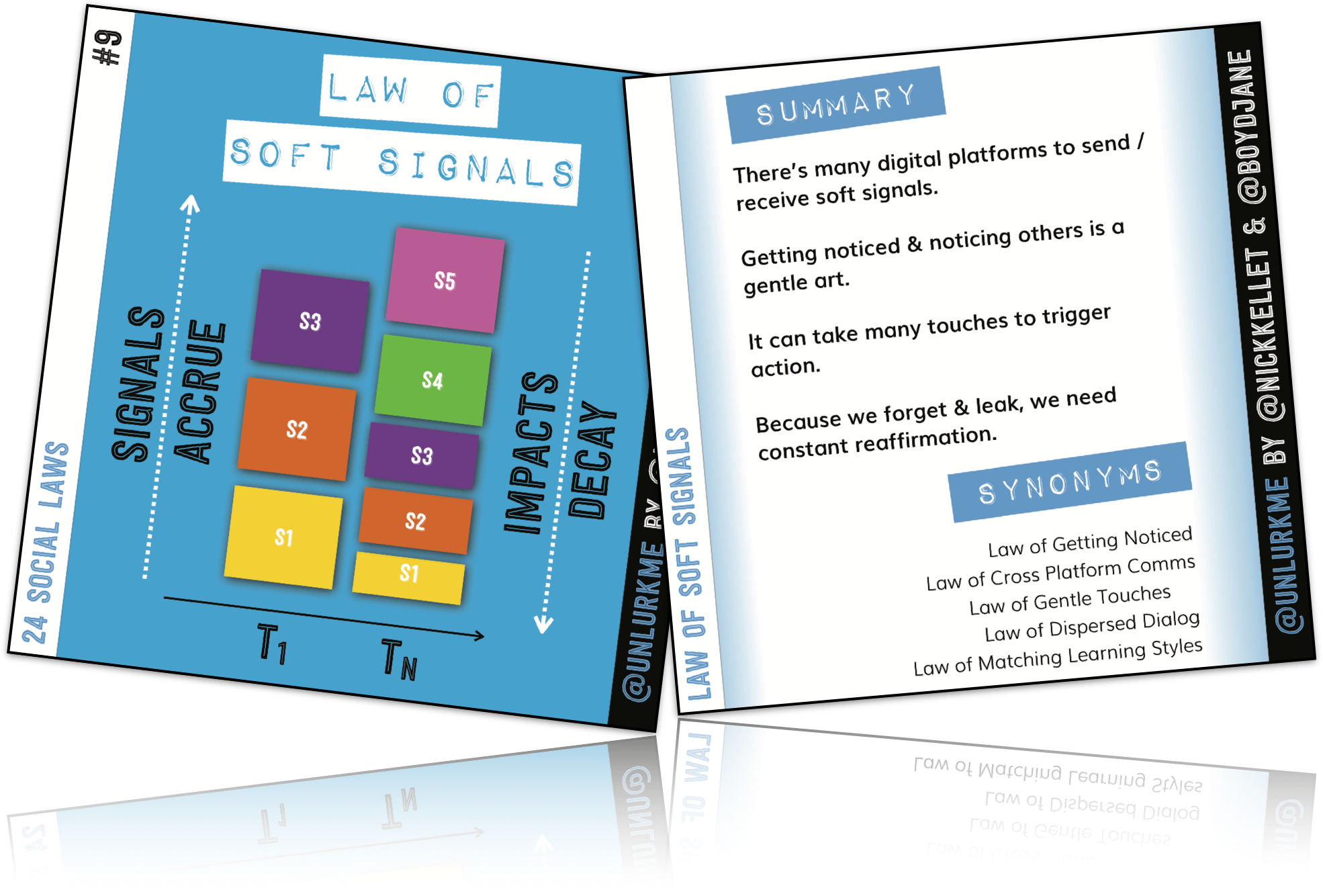 THANK YOU EMAILS - LOVE THE GENEROSITY
OK, so this is fun. And Work in progress, but functional.  And thanks to Deborah creator of Soulcards for the inspiration.
In our conversation about the Guidebook (more below), I  landed on a simple awesome culture defining moment.  A Thank-you note. I can't think of a platform that does that.
We now have the ability (or rather you the creator). The ability to send a Thank-you note email to each purchaser.
We the platform sends the email. You write it. Please be respectful in the email.
Edit your deck and add a Thank-you Note
And you can include your contact details and links.
People can opt-out of receiving Thank-you notes. And if there is no note, there is no email.
Here's how you set it up.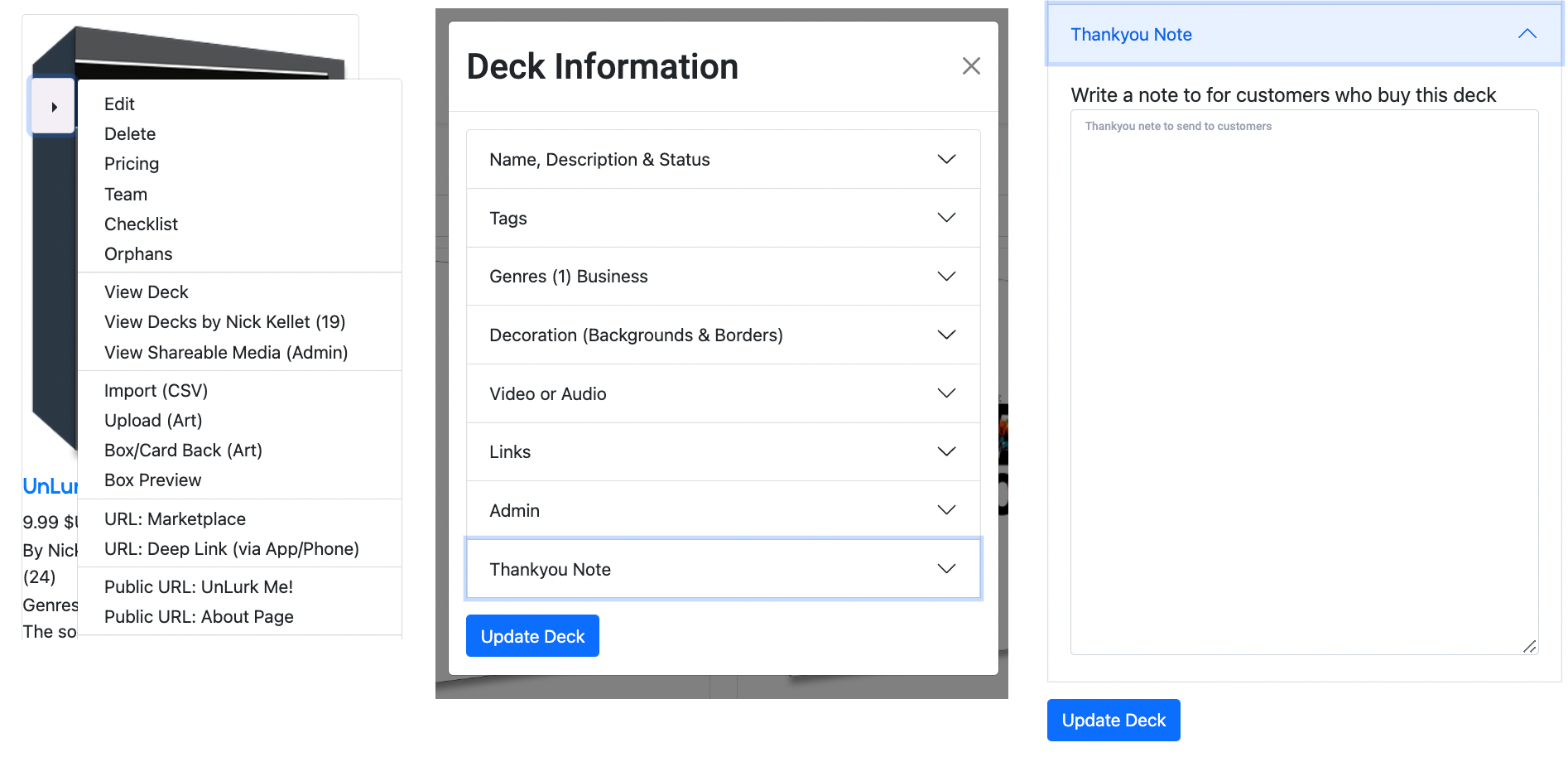 PUBLIC URLS
Lots of questions from you on how to share your decks and your profiles.
You can get a public URL for 4 things.
Public URL means you can see this content without logging in.
Here's how to find you links.
User
You can access the user menu from various place including the community page. And from your own deck pages on Deckible.
Public URL: Feature Profile - Community page
Public URL: Shalini Bahl-Milne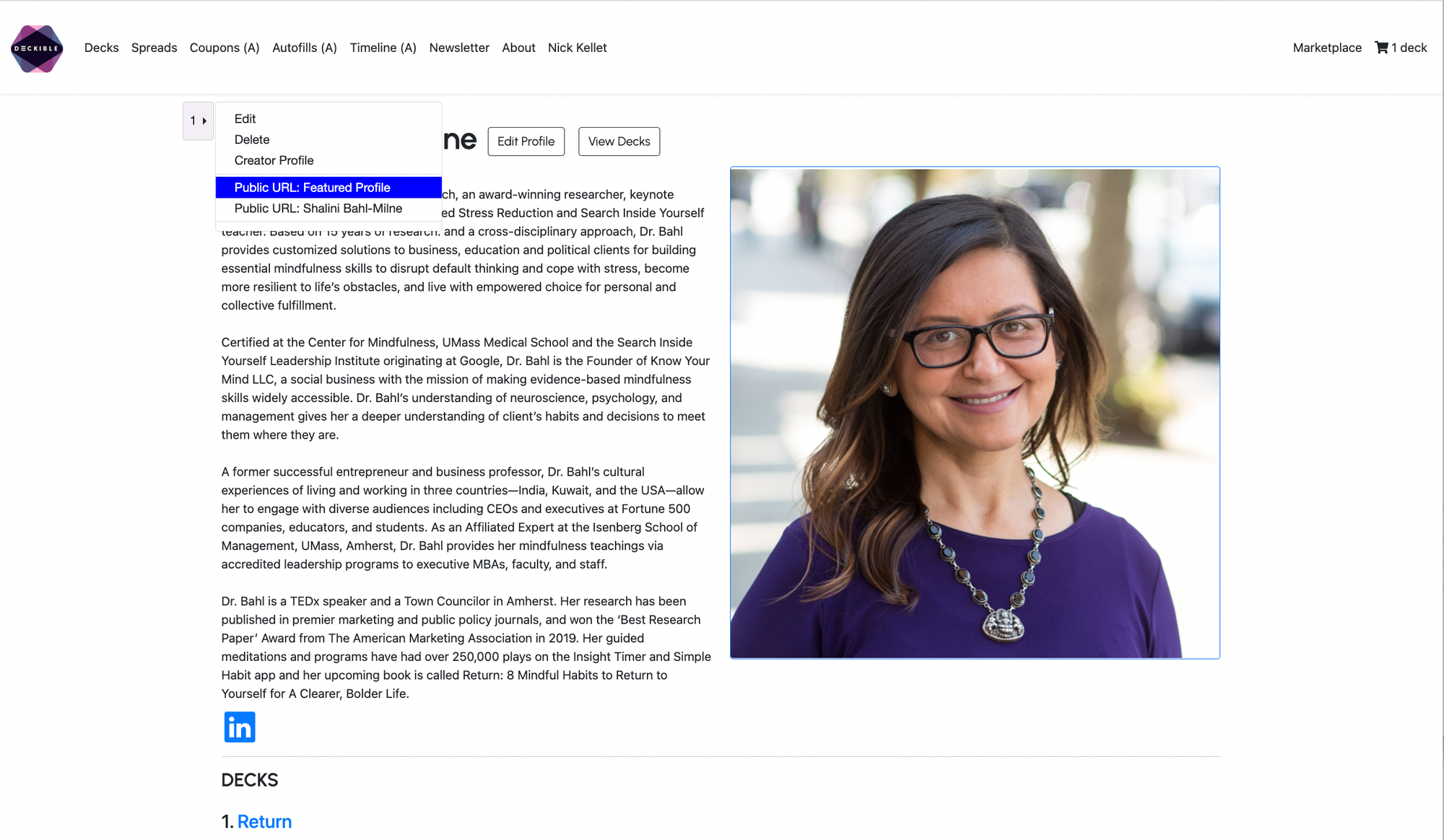 Deck
The deck options are visible in the Deck menu.
Public URL : Return (deck name)
Public URL:  About Page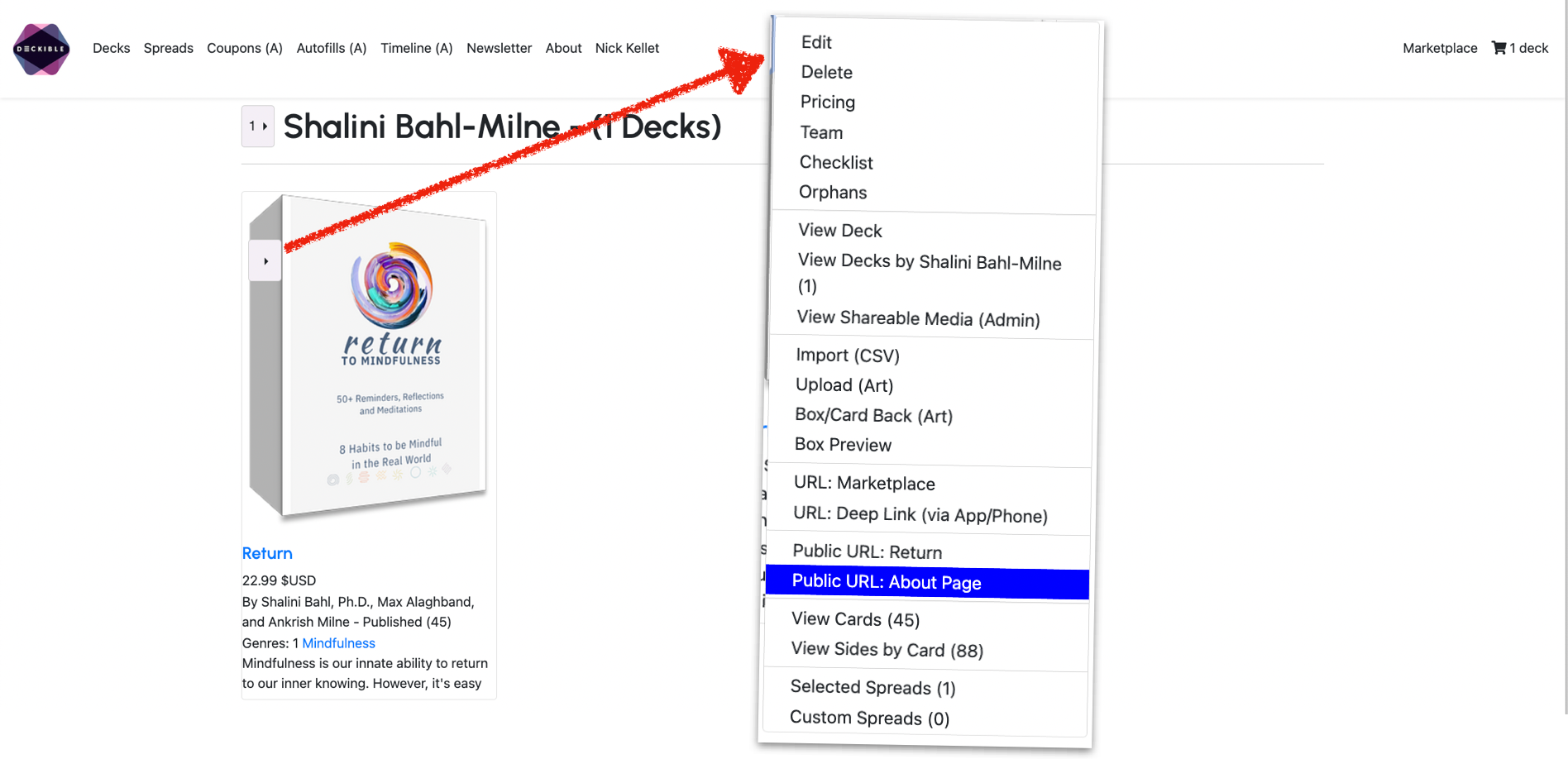 DEFAULT PRICING
As a few people have not set a price,  we have elected to set a default price for new deck to 9.99. We will review this over time
$9.99 USD
LINKING TO DECKIBLE
Please just link to the home page.
HASHTAGS
Please use the simple hashtag on any social sharing
#deckible
DECKIBLE SCRIPT
I'm working on 60 second  video.
Here's the sub hundred word script.
If you need to know what to write. Pick from here. Mostly just write about why you are passionate about Deckible and why others should join.
DECKIBLE IS "AUDIBLE FOR CARD DECKS"
All the decks you ever wanted in your pocket
Never leave your decks at home again.
Deckible transforms decks into a rich digital experience.
PERSONALIZED EXPERIENCE
Connect with your tribe. Play & get tactile with assorted digital decks
Mindfully: shuffle, card-sort, randomize, flip, arrange & spreads.
DAILY RITUALS/HABITS
Integrates: social sharing, meditation & guidebooks
Autosaves: timeline & journaling
DIGITAL MARKETPLACE
A community to buy & sell all kinds of decks
New way for artists / creatives to sell their work & build an audience
That's the first time I've really got DEckible down to the classical marketing of three thing. And less than 100 words.
NEW DEFAULT DECK PAGE
When you open any deck it new directs you to the checklist (as the default)
This is equally valuable for new user as for pros.
From here all the items in the checklist link to the relevant section.
So it's a great learning tool.
MEDIA COVERAGE
This a marathon not a sprint. I will add and organize all media coverage in this document.
https://docs.google.com/document/d/1z6b6cv_LnUbJ-IY0d-1dBI9uzIjtqwx1MBma2U5eI0g/edit?usp=sharing
If there are omissions and there will be, please let me know. I will update.
DOWNLOAD : CONNECTION ISSUE  FIXED
We have identified and fixed an issue that impact download performance.
This is in the release you received today. Build 128.
Previously downloads stopped if there are internet/service interruptions and nothing reset this or restarted the download without quitting the app
GUIDEBOOK FEATURE
We have now renamed "about"  "info" / "explainer" cards are "the Guidebook"
And you can now access the guidebook from the Deck Info Page
We have chosen to make this information accessible to people who have not bought the deck. In time we will let you have private guidebook pages
We have had a lot of feedback on this and this felt like the right solution.
We integrate the guidebook. Much easier to say than explaining about/explainers etc. And it's true. We do.
Here's a deck with 2 cards. Click on the link and your cards are laid out in a grid.
These are then saved to the timeline.
So people won't forget they viewed your deck.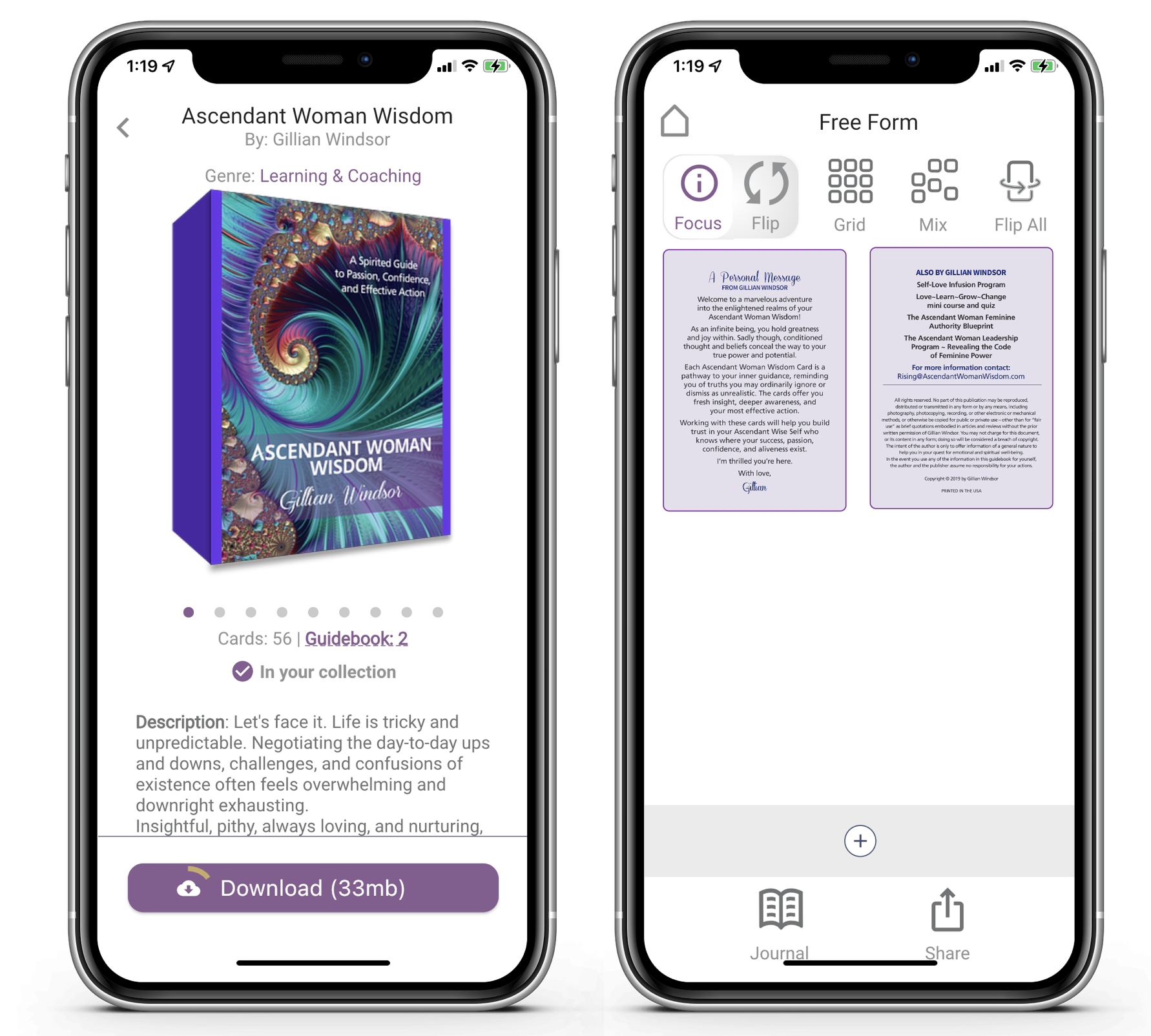 I'm very happy with this approach.
We also aligned the terminology on Deckible.com

SHUFFLE IN LINE
We've been asked for this from the beginning of Deckible.
Well now we got it.  And it's the same for Quick Draw, Spreads and Cards-Sorts.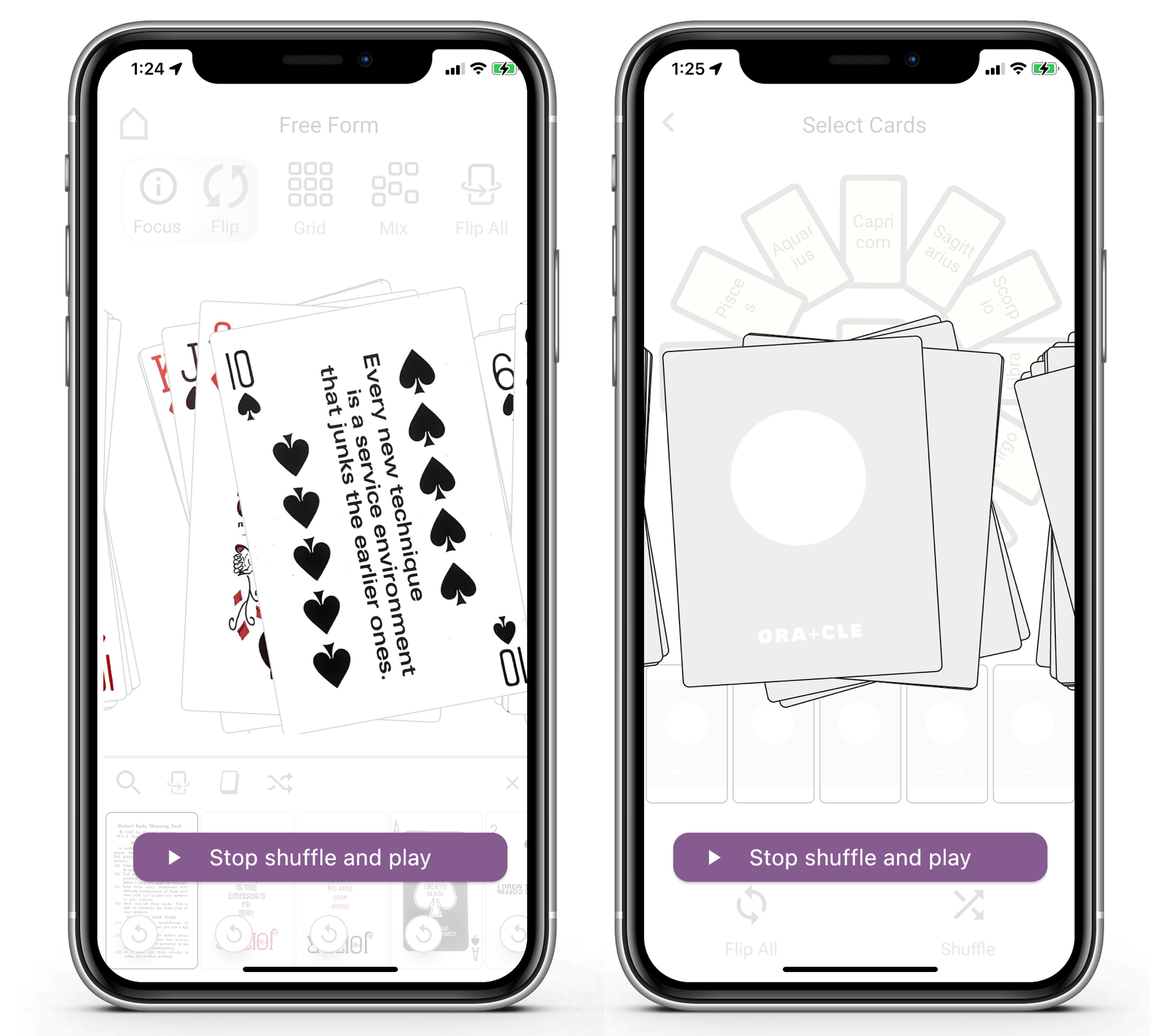 Simple, you can stop at any time. It's auto stops after a reasonable shuffle.
So now people have influence over the randomness.
Very important.
CARD-SORT RE-WORKED
I mentioned this in the U11.  
Well now I have it on my phone and i've used it and HECK! This is amazing.
I was not joking when I said "save the best to last".
Here is a simple example of dragging a card back into the deck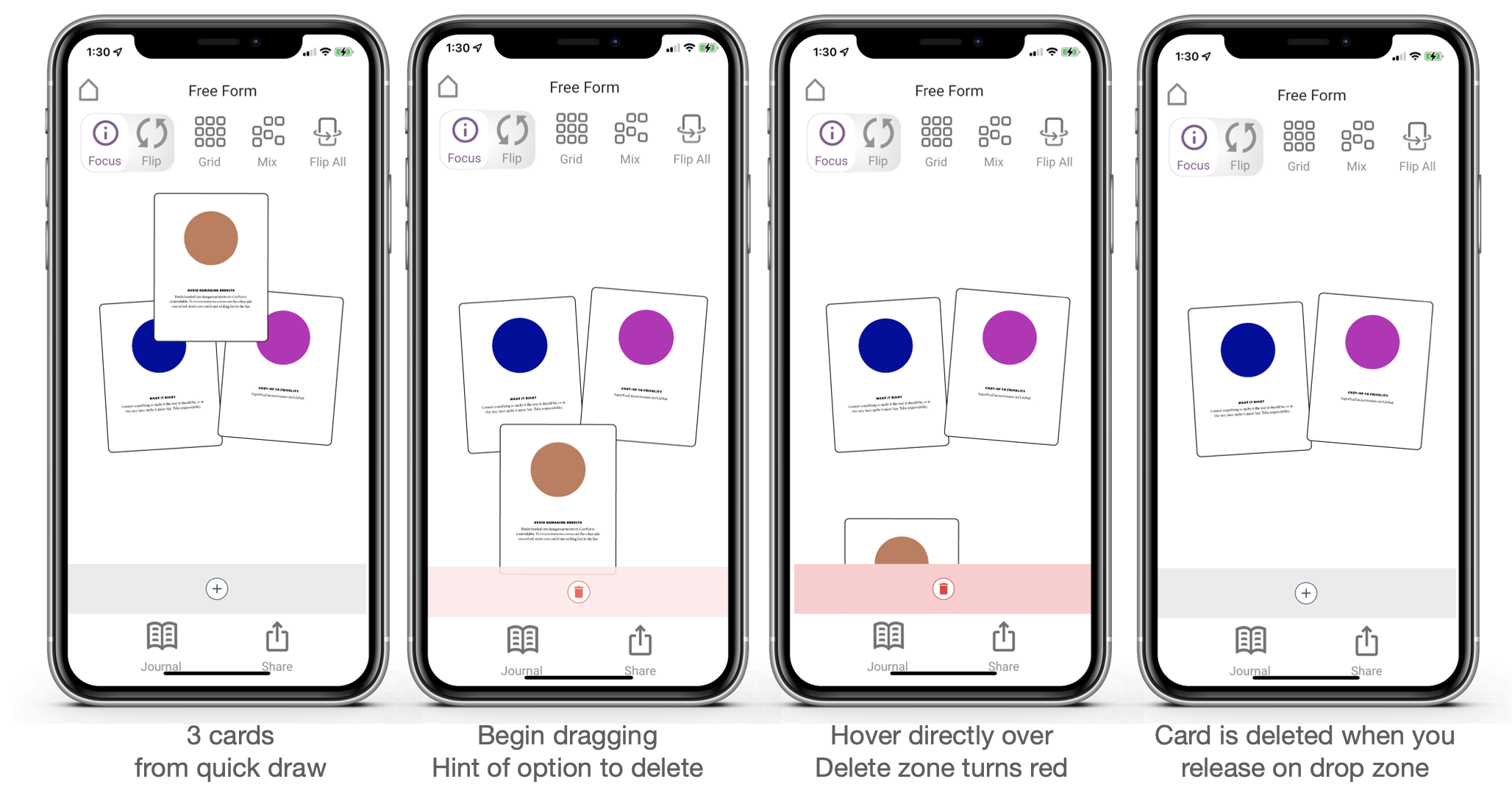 You can hit the + to open the card selector.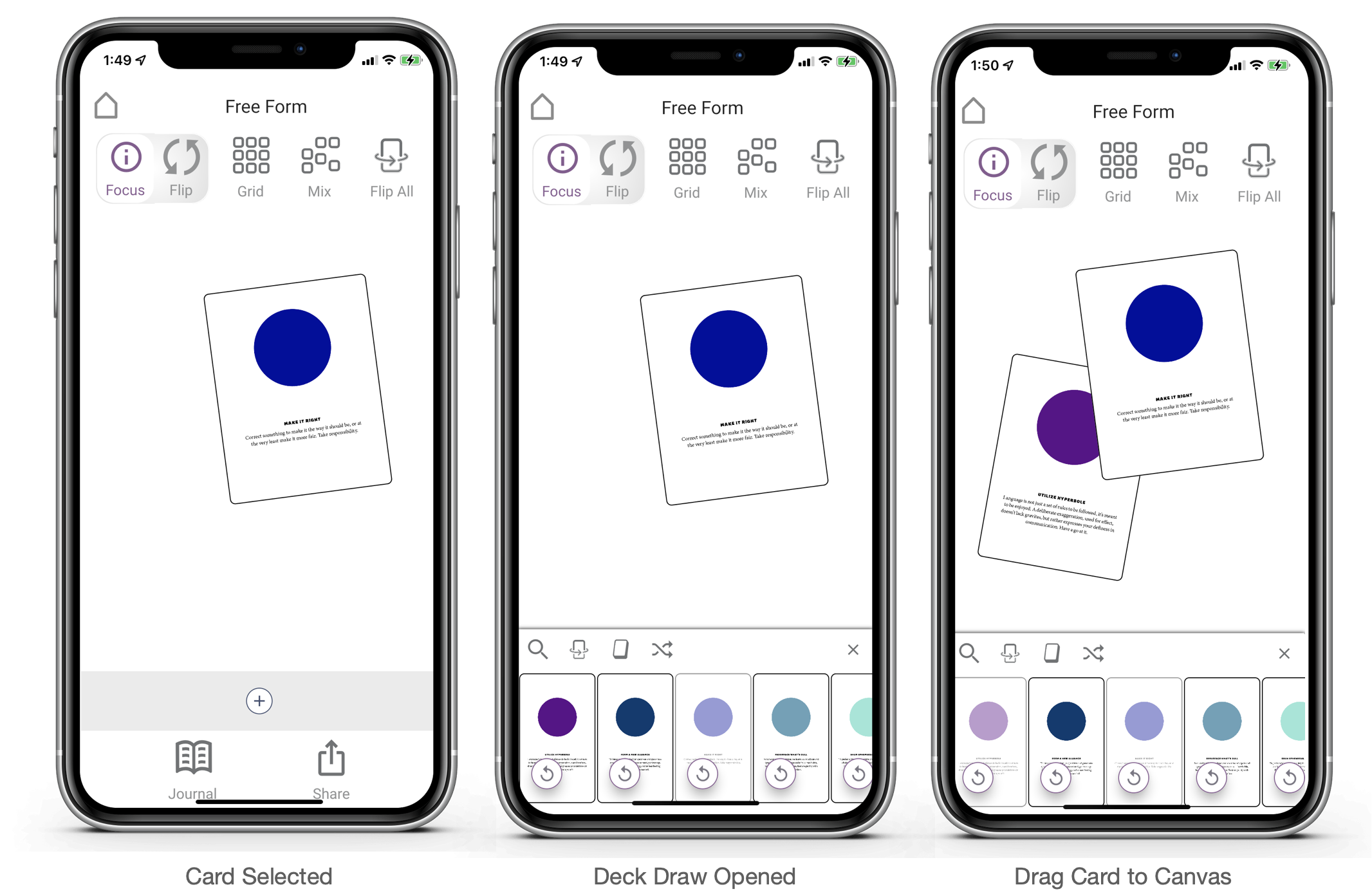 It's crazy simple and obvious. And ultra powerful.
Enjoy