Time has flown by. I just packed up my condo and I'm preparing to take Deckible on the road. Nomadic me! More on that soon.
I've had so many details floating around my head. It's really quite exciting and quite scary to have reached this point.
Together we have totally blown all  expectations. This is a phenomenal achievement. Deckible.com + IOS/Android + Hundreds of decks + Momentum + Word of Mouth.
It's exciting. So many people, so many conversations, so many actions taken and decisions made and code written and decks imported.
So many new deck created exclusively for Deckible. That is mindblowing.
Deckible is the most exciting product I've brought to market and I've created 40-50 products in my lifetime.
I know I've said it before but it warrants repeating. Enjoy and cherish this experience. This is magical. It's a gift to be part of this and to share the journey together.
Thank you for trusting and believing in me and the vision for Deckible
Lots of cool stuff to share today. Read on.
PESI PUBLISHING : THERAPY DECKS
I'm so excited to share that we have signed up PESI, the globally leader in therapy books and decks. And here's the first 12 decks from PESI that are now loaded on Deckible. Wow.
This opens the door to more publishers. We are already in talks with a few.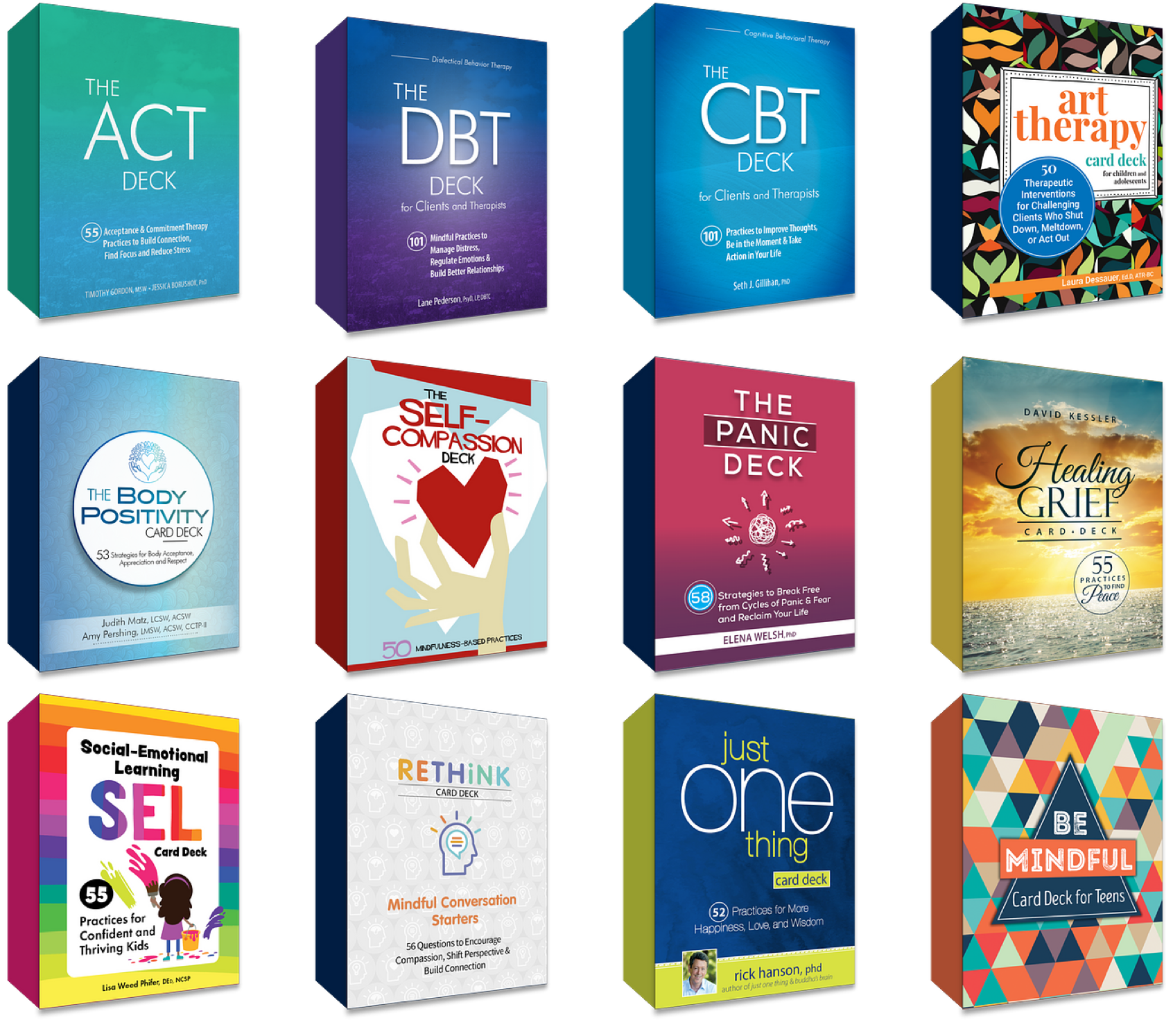 LAUNCH DECK
The launch deck is changing fast and is approaching completion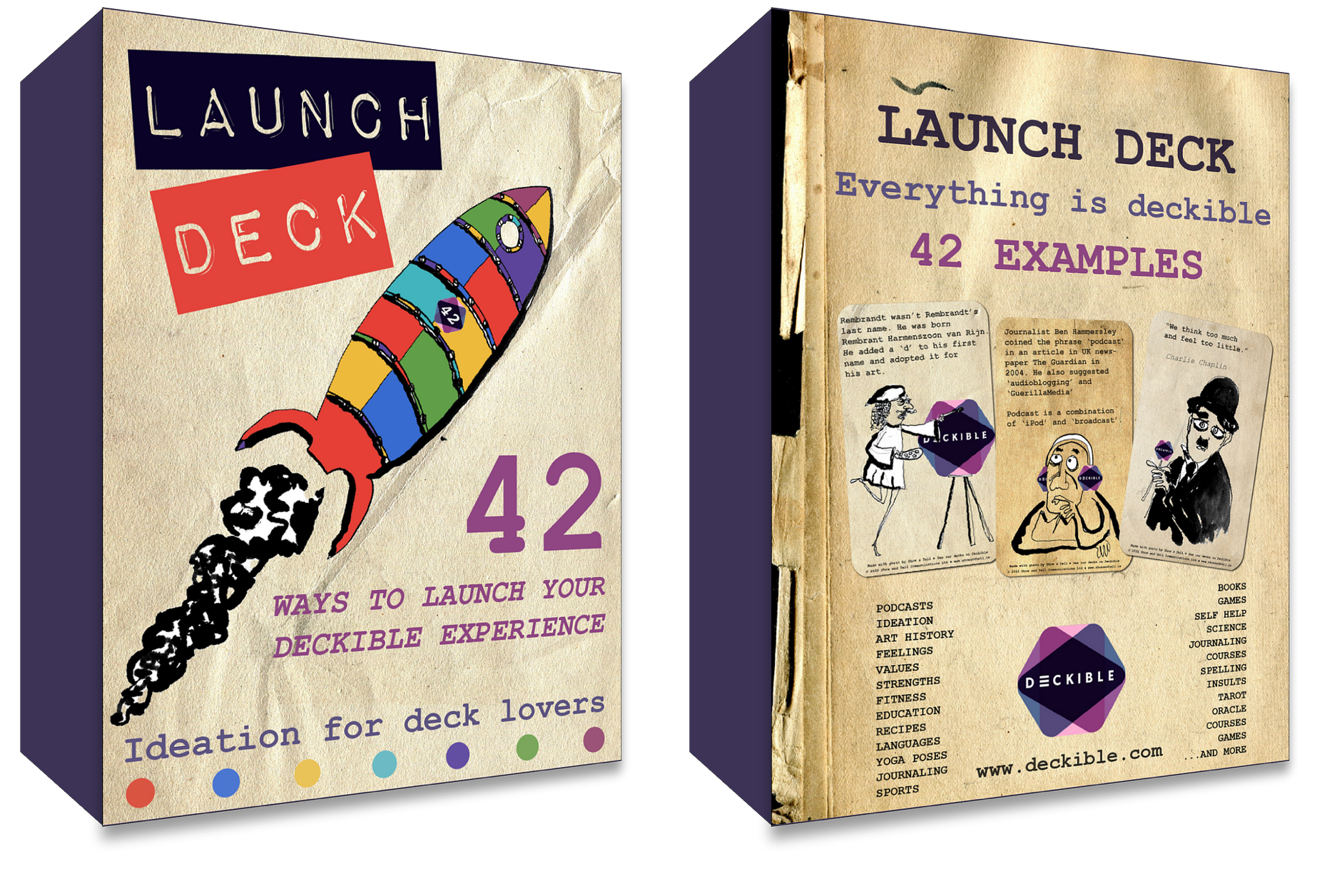 The deck is made of 7 suits with 6 cards in each suit. It's not exhaustive, but it gives people of lot of ideas and inspiration about how you can use card decks.
The deck works to both inspire creatives and to inspire card-deck lovers.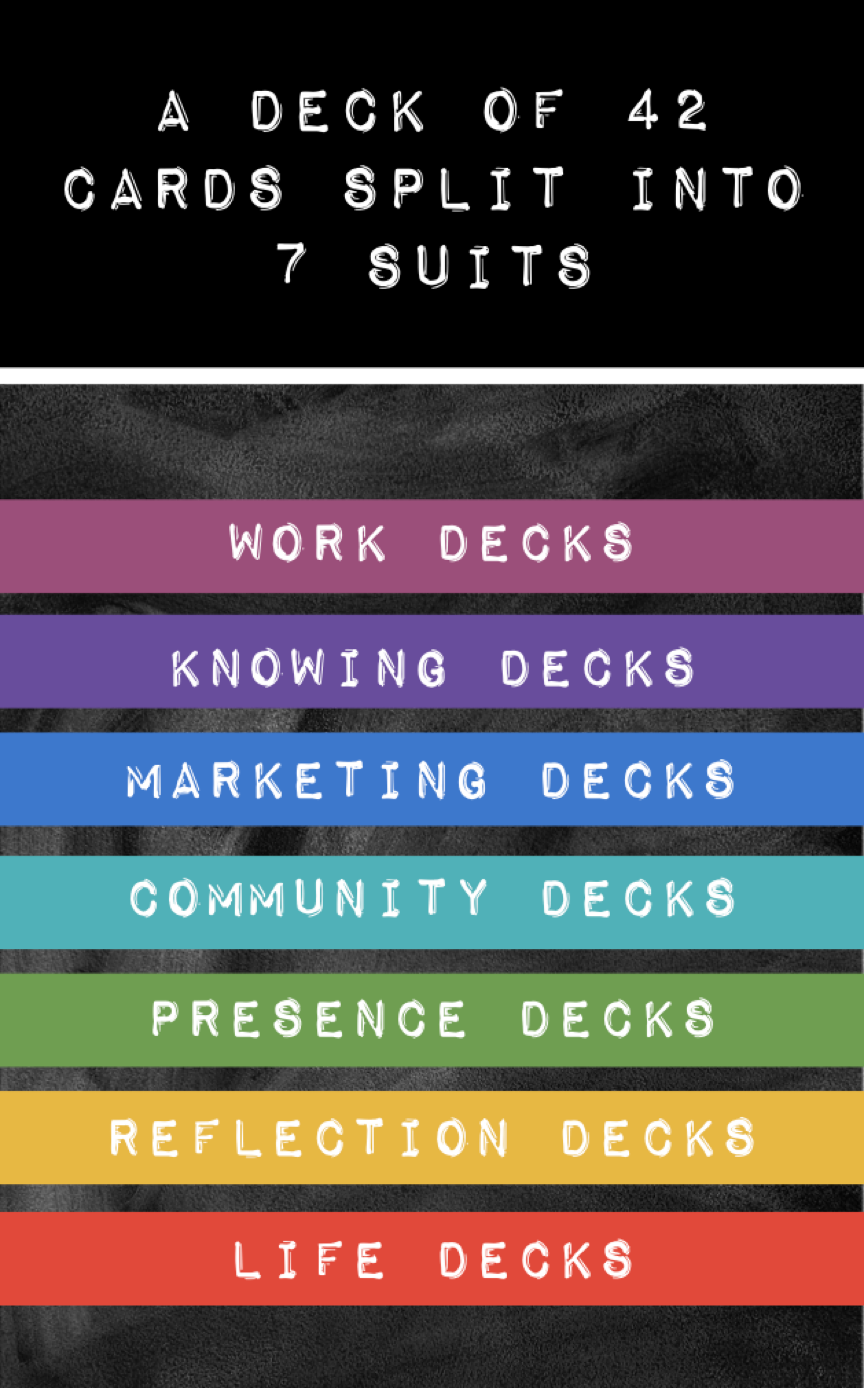 One side of the card shows the category(or suit) and an explanation of the value of this type of card deck.
The other side has a fun illustration and a random fun fact relating to the type of deck.
It's a fun way to engage people and this deck will be given free to all users.
Here's one card from the reflection suit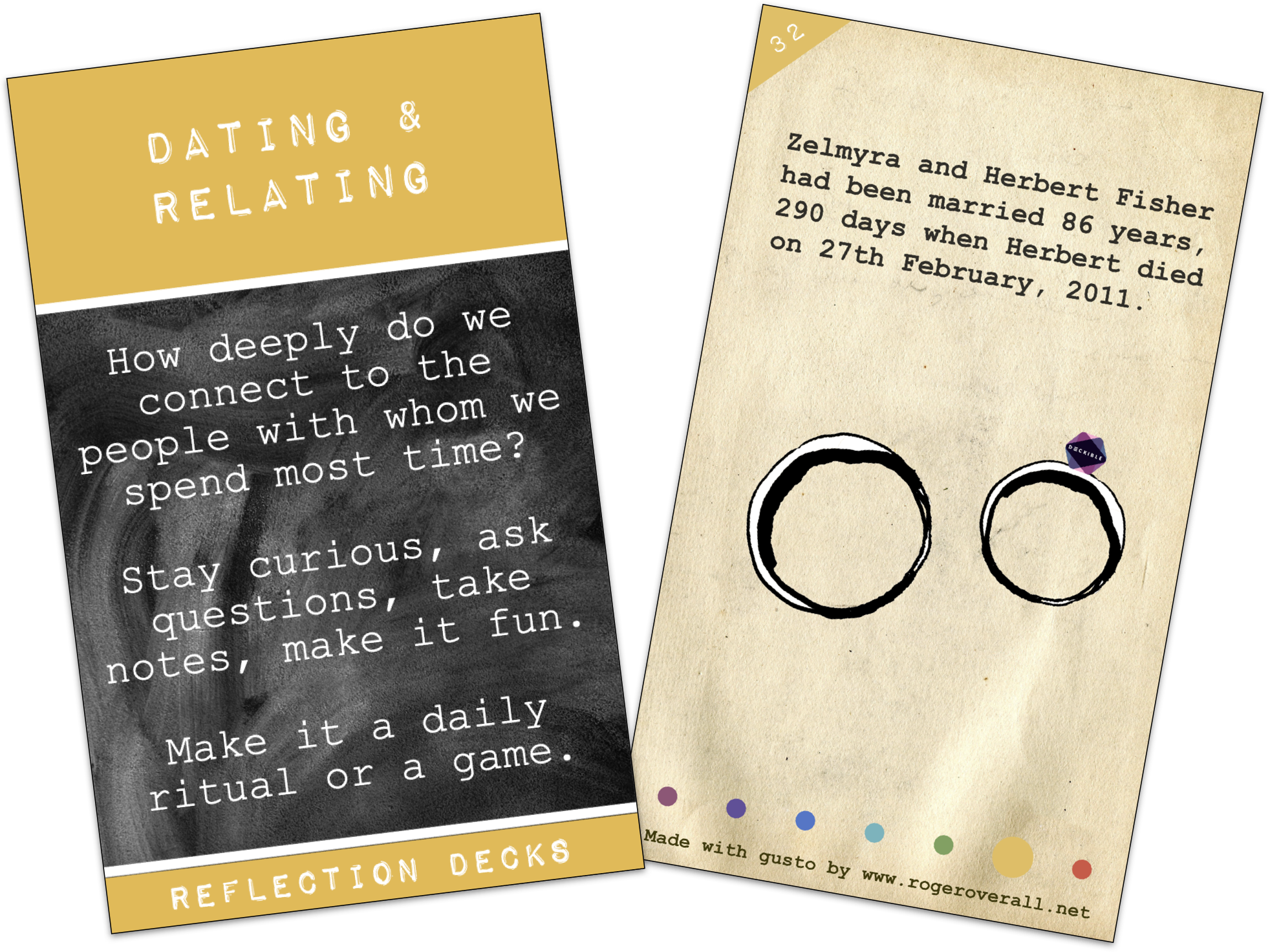 Huge thanks to Roger. We have had and are having a lot of fun creating this deck.
Roger is available for hire. Wine Unnotes is adorable.
OPT OUTS
I've just implemented the ability to opt-out from emails from Deckible.com.
It's a start there will be many changes here as we grow the preferences and subscribe options, but we needed as we grow.
EXPLAINER/ABOUT CARDS
The no-shuffle cards have proved to be more valuable than we originally anticipated. The integration of the guidebook for any card deck is one of the core problems that Deckible solves.
We plan to make these cards available for free from the "deck info" page.
We plan to tell you how many of these cards you have in the deck. It does this already on Deckible.com.
This will help would be purchasers of your deck learn more about the Deck's why.
When you click on "About Cards (n)" , we plan to let you open up the canvas and have all the about cards already set out in a grid. We will probably save this to your timeline.
This way you can zoom/flip on any card. All the features you know will be available. Simple, consistent & powerful.
This adds even more depth to the Deck Info page in the app.
I benchmark Deckible against audible and I strongly feel we have a richer solution and a more consistent offering with our first 300 decks than Audible has with it's million audiobooks. We don't compete with Audible for a second, but Audible and Amazon provide wonderful benchmarks.
We also updated the number of sample cards shown on the Deck Info page to 10 and we don't show the common spreads, only spreads unique to your deck.
You can exclude certain cards from the Deck Info page by setting SAMPLE to no in the google sheets.
We also plan to upgrade the Deck-Info page on Deckible.com to be consisten with the app.
There has been a lot of learning here, but I'm very happy with the experience and it's a wonderful starting point. It's going to keep evolving.
I mention this as you may not have "About" cards in your deck. It's a valuable thing to add to your deck and to help your deck sell.
So please check out the Deck Info page and compare your deck to others. Are you doing enough to let people know why they should buy your deck?
CHECKLISTS
We updated the checklist feature. Now critical items are in red and optional items are in green. This make things much simpler to know what is essential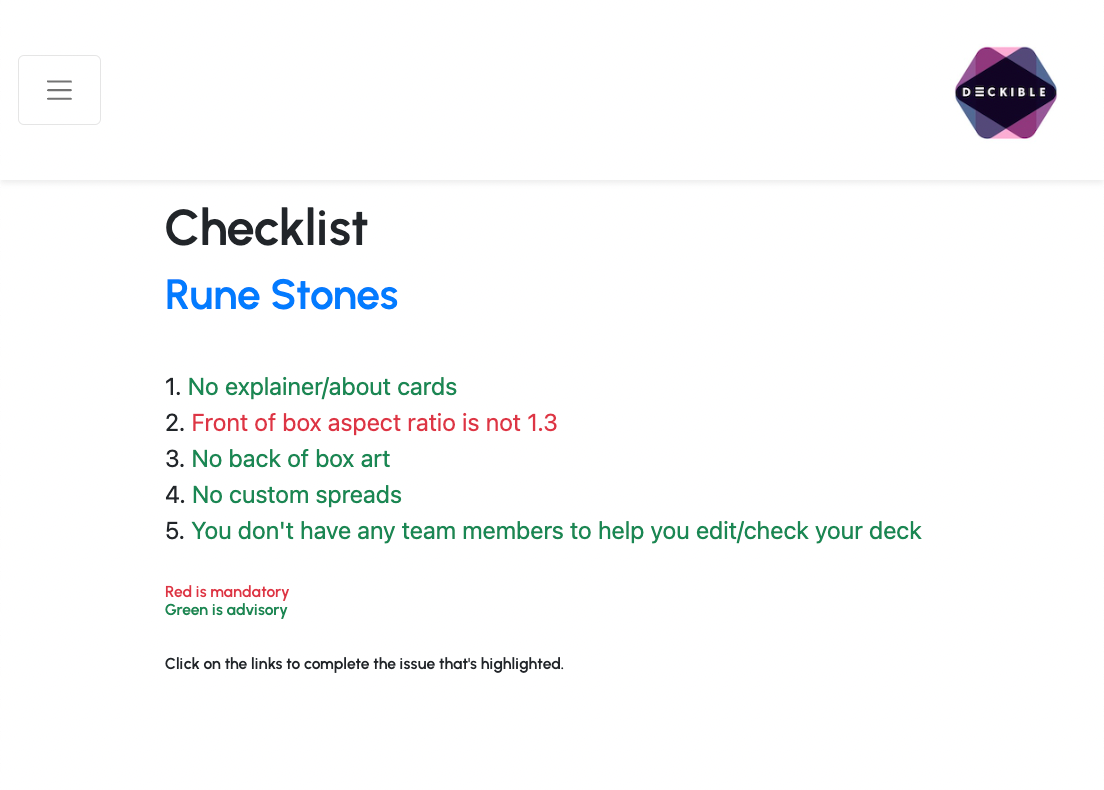 I suspect you won't be able to publish your deck if you have any red items on your checklist.
The checklist is proving to be a great feature to direct to the right place to complete your outstanding items. It's a contextual training tool. It is very likely to become the starting point when you open up your deck on Deckible.com
We will keep adding to the checklist to give you more control over your deck and to apply common standards to all.
600+ CREATORS & 300+ PUBLISHED DECKS
Another milestone. Next stop 10k user and 1000 decks.  Toot toot.
THE  EXPECTATIONS OF SUCCESS
I've been stressing a lot about the launch. I ask myself what more can I do
I landed on a simple conclusion. This is a matter of "we" not "I". We the Deckible community.
I was reminded of the JFK quote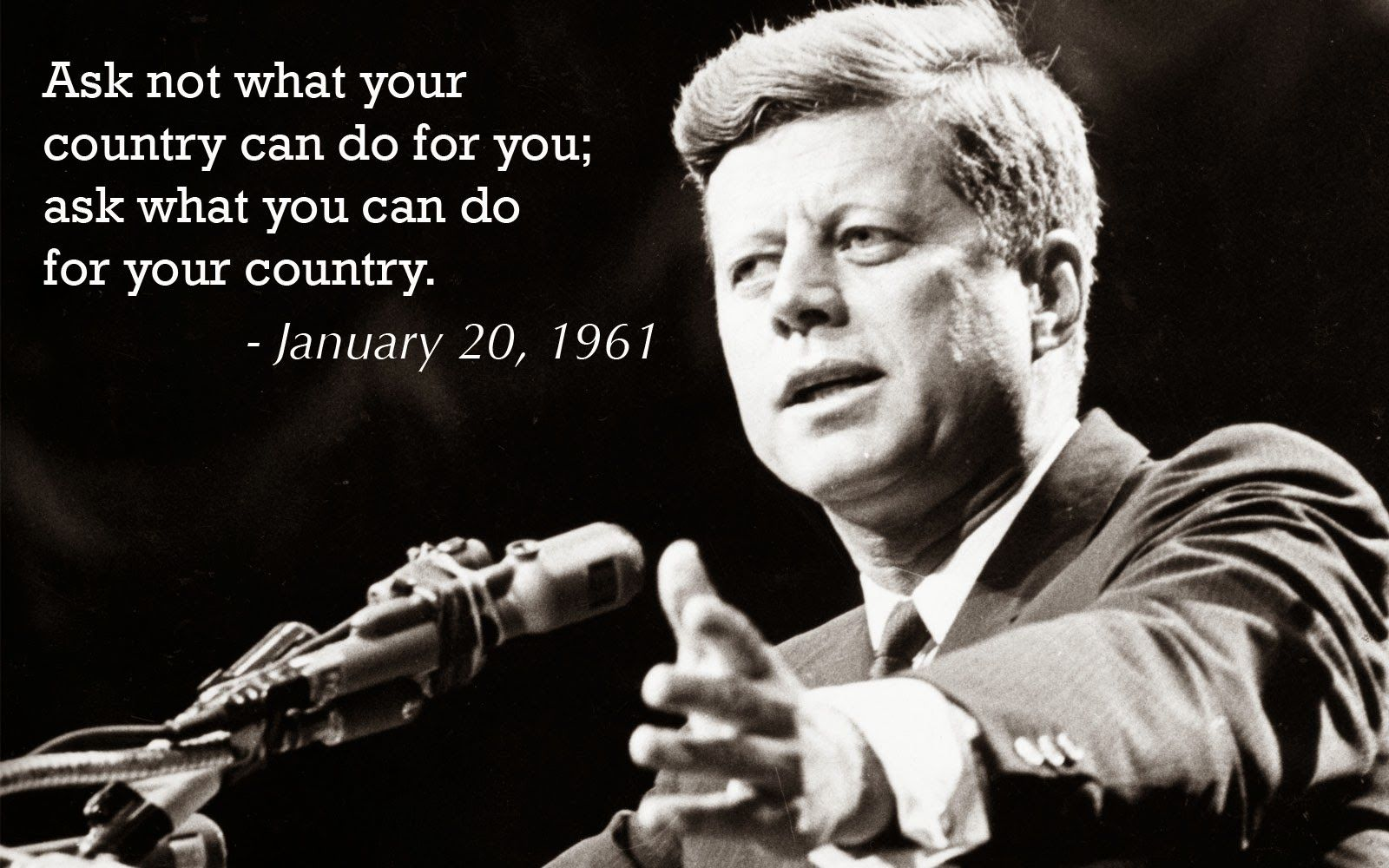 We were a hamlet, then a village. We are becoming a town, soon a city, a state and a country.
Deckible can do so much, but there are 600+ of we , 300+ with decks. And Deckible has momentum. You are Deckible.  
New decks and new users arrive daily and I've not be active chasing new people in a while. The word is out.
I know of people who have heard of Deckible from multiple sources pre-launch. That is an epic achievement.
Success is about all of us remembering that success if a collective / collaborative / community act.
If we work hard now to share, we are securing a revenue stream into the future.
Don't forget Deckible is a new medium for the mobile age. Yes we digitized decks, but Deckible is more. It's universal. It's a green field for content creators. And this is ground zero.
Perhaps I sound ranty, but now is the time for this kind of talk.
I want to restate something that I talked to many of you about. The is our collective manifesto
OUR COMMITMENT
Find creators and keep building the Deckible community
Build the best possible card-deck app and digital marketplace
Share best practices with creators to help create a bigger market for card decks
Promote the Deckible platform and define the brand
Seek out ever bigger partnerships and collaborative opportunities
We are building Audible for Decks. 100k of decks.  Many millions of users.
YOUR COMMITMENT
Create great decks and load them on Deckible.
Connect with and participate in the Deckible community
Promote your digital deck in social media
Collaborate with others in the community (and share their decks)
We both commit to having fun and playing nice and talking through our differences if we ever have any.
We are building a bigger market for card decks. We are democratizing decks. Putting decks in the hands of the masses.
You can choose not to participate (and that's fine) and the only person you are hurting is you. And don't ask why didnt your deck sell.
This is team effort and this is a marathon. So let's get ready. There is a climb ahead and its going to be amazing.
METRICS FOR SUCCESS
I've experienced startups having too many metrics.  Conflicting metrics.
I'm sticking to one metric for now. Deck creators / decks published. ie I'm focused on building community and out content catalog.
Deckible becomes more valuable to everyone with each new deck, each new creator and each new collector. This is simple to measure.
As a creator, your metric for success probably should be revenue. And the number of decks you have loaded. Creatives with a body of work always outperform those the a single product. This is good.
You can be safe in knowing I want sales too, I just know it may take time. We don't know how people will react to pricing, signup process etc etc. So many things could need fixing. And that's all good. this is a marathon not a sprint.
I have deep sense of the effort to find and get the decks of each new creator loaded. I can tell you the effort and time taken has gone down with time.
I believe  the effort reduce/time will  dramatically once launched.  1000 decks is my big goal. I believe we can achieve this by the end of the year.
At 1000 decks we will embrace a subscription model like Deckible and people can purchase a deck a month as well as buying decks above and beyond their subscription. My intuition says as this point  we will focus on revenue as our leading metric.
I own 600+ books on Audible and I'm on their Platinum plan. And I still buy more books. I buy into Audible because it is the go-to source for Audio books.
PRICING YOUR DECK
Some of you have not set the price for your deck. This may change over time
I suspect we will set a default price of $9.99 if we don't get your price by the time of launch.
ONE LAST THING
I talked before about one more big surprise we had in store
Well, here it is. Not quite complete, but we expect it will be in the release that we will share on or before the launch.
When Issac joined the team his first suggestion was this.
It took us a while to get here because all the changes needed had to be completed first.
Isaac noted that Tarot spreads drag from bottom to top (onto the canvas) and Card-Sort drag from the top into a card selector.before the cards are placed on the canvas.
What he suggested was that we invert the card-sort and drag cards directly onto the canvas and that also can close and open the select and ever pick a different deck.
this means you can revises your selection and add more cars. In addition you can also drag cards back into the deck.
We also enabled it such that you can actually drag the same card on to the desktop more than once.
This felt like a really valuable feature for gaming.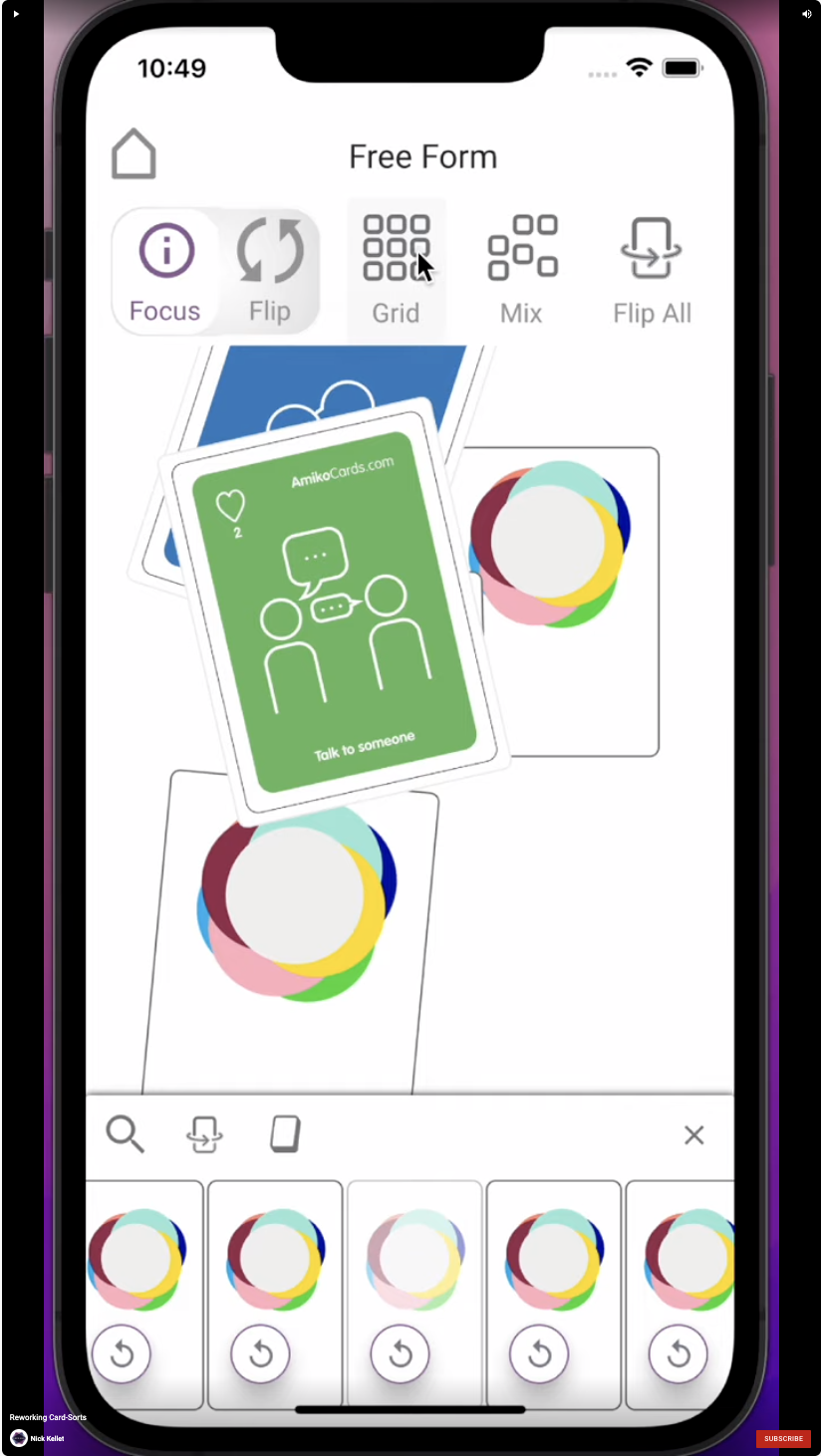 https://www.youtube.com/shorts/XzspoYJWlHU
Mix and adding and removing cards is an unexpected bonus. So fun.
For some reason this is youtube short and I can't embed it here. Click the link and enjoy. Let me know what you think.
So there we are.
I always gets to the end of these updates and wonder where it all comes from. There always seems to be so much more to say than I anticipated.
Just like a tube of toothpaste there always seems to be one more squeeze.
And here are too. Almost forgotten, saved by the bell
MANY DECKS IN ONE
There are probably 30 of you that I know want this feature. We are working on this actively. I shared a random fresh though with Isaac.
This is now complicated to code. It's complicated to decide what's the right approach.
Once we get the new support page created we will gather all the creators who want this and share more.
This is a feature where people want to pick one card from one suit, one from another etc
Surprising simple to explain, surprising hard to do right.
Watch this space.
SLACK / COMMUNITY SUPPORT PAGE
I am going to have to close down the slack. It's too expensive. And to use if for free people need to have an email from a single domain. In this case nickkellet.com. That's not practical and paying per month per user is not an option either.
I have to select another platform and get that live, hopefully before launch. I have a shortlist of two options. Watch this space
ZOOM CALLS
Yes there will be more calls. I'm sure we will have one on Friday, Perhaps Friday is one long zoom call.
More soon. Let me ponder.
THE GREAT "DECKIBLE" RESET
We have let all creators access all the decks of  other creatives during the beta for free. As of launch day we will do three things. This may happen Thursday to be clear.
Clear down your timeline.
Remove the decks you purchased.
Gift you the Launch Deck and a few other decks (tbc)
YOU ARE UPDATED!
PS: The version of the app you have is behind the version we submitted to Apple. We would give you that version but that would cause another issue. Not worth explaining.
Thanks again.
With so much gratitude
Nick