U15: Live on Google, Live on IOS App Store & Deckible.com / Stripe
IOS/ANDROID & DECKIBLE.COM
So there's where we are.
Deckible app is live in Google Play. This version does not support in-app purchases (that's longer story).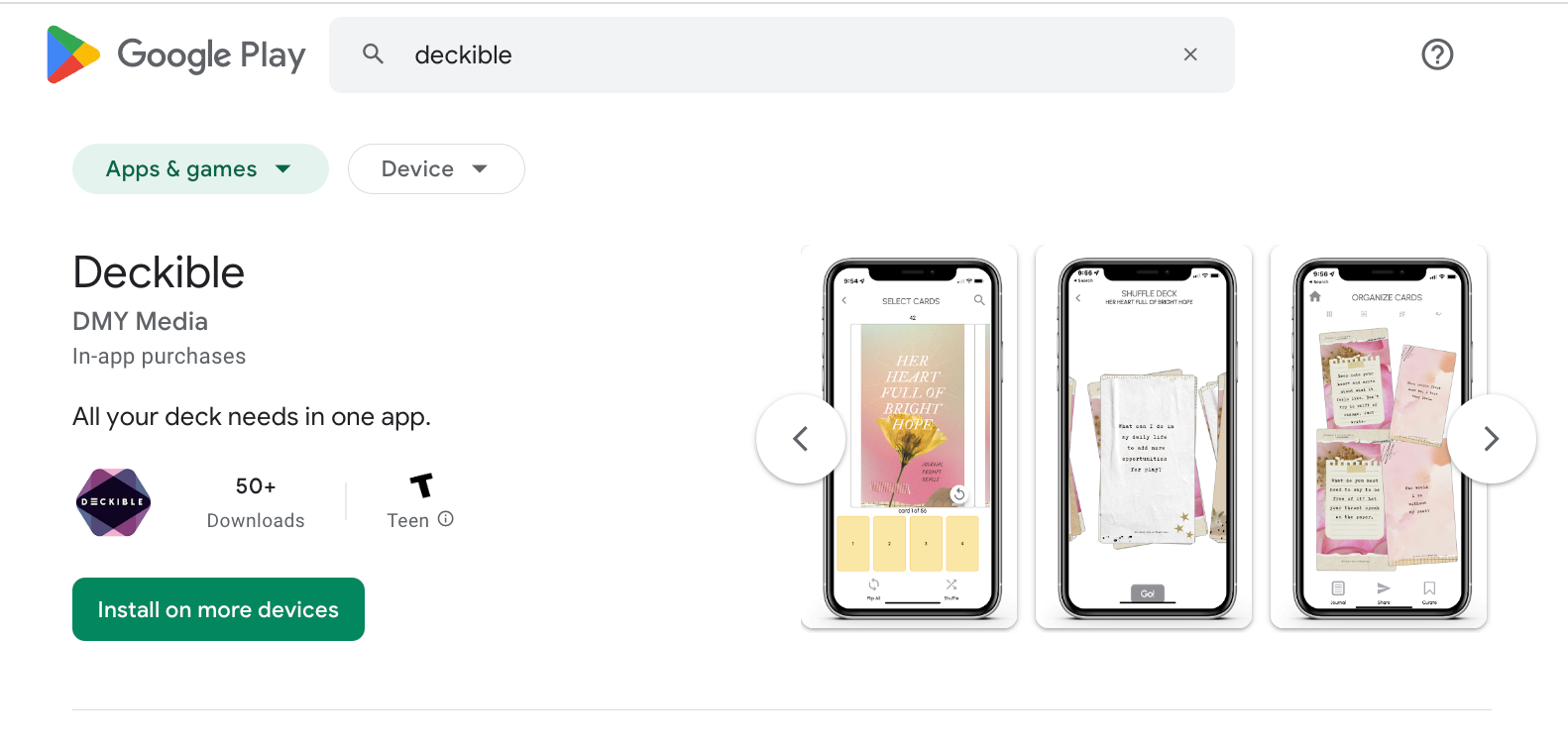 The IOS version got approved by Apple and was pushed live. I've not seen it in the app store yet. Propagation takes time I assume.
Correction. I can now find in the app store.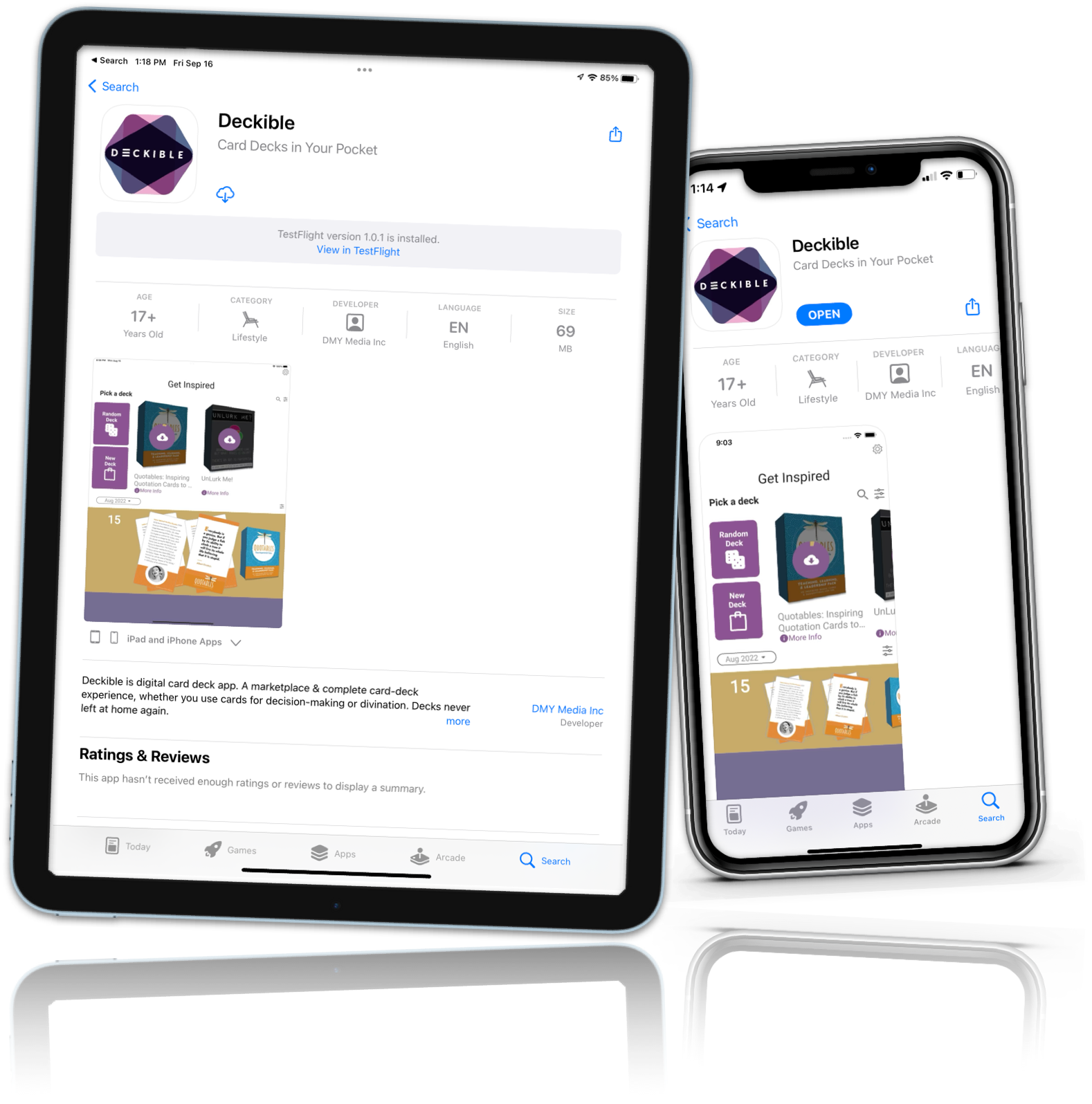 Deckible.com store is live and I'm seeing sales already via Stripe. So that' is exciting. You can buy decks now on Deckible.com. This is real money and real credit cards. No more test mode.
There are still decks with no price. I didn't get change to fix this and implement the 9.99 default price (if not price is set).
INTERESTING FACT
Yesterday I totalled all the decks in the app store. It was more than 4K $USD.
That is a significant amount of value creation.  Just the tip of the iceberg.
IOS ISSUE
On the version on my iPhone, I'm getting stuck with "Purchase in progress".  
We're investigating the cause and I doubt there will be an instant fix. As if we need to fix the app that needs submitting and re-approving by Apple.
It was reported yesterday and so it's perhaps not connected to the release.
We will figure this out. And push out a fix ASAP.
IOS WORKAROUND
So for now here's the solution:
You need an account of Deckible.com, that's not optional.
You can see all you purchases on Deckible.com regardless of where you bought the deck
You can buy decks on Deckible.com and those decks will be usable via both IOS and Android.
So that's the workaround. Buy your deck on Deckible.com
We will resolve the issue with IOS and will update the app for IOS asap. I'll tell you more when I know more.
11:11
Miraculously we we'd pushed code live and were processing all the decks at precisely 11:11am today. We got approval around 10:00am. Timing!
You will notice all prior decks/timelines got deleted.
You will now have two free decks.
All new users will get these free decks. We can update these free decks as we wish.
I didn't pick a deck of the day for today, because of the issues.
EAT YOU OWN DOG FOOD
I think I will make a deck of the 42 decks and pick a random deck each day. Eat your own dog food. Such a great expression.
I hope you are all journaling daily with Deckible. If we aren't using it with a passion how can we expect others to follow suit
I'll update you when I know more.
I was a consultant at Safeway UK for a while and their dog food buyer used to actually eat dog food. It' was  a great PR stunts, but it also reminded me of something very true
If you won't swallow a story, how can you expect someone else to.
GRATITUDE FOR A NEW ERA
I feel very happy to be here right now.
This has been one hell of a week.
We lost two days due to software stack update issues. Stuff out of our hands. Sunday 5pm to Tuesday 8:00am was hell. total tech uncertainly. Something that is normal, but still unsettling.
So that's what it is. This is the work.
We made the 16th. And we made it for 11:11am. We just hit a glitch on IOS.
It's Friday. The weekend. Time to recoup. And relax and begin again.
We are entering a new era for Deckib.e
Yes there are challenges, but when I look back at where we have come from I feel an intense sense of relief. This is what progress feels like.  We are at base camp. And we are beginning the climb to the summit.
I'm so glad so many of you have checked in on my well-being.
Thankyou. And thanks for the kind words and supportive reviews.
LONG TO DO LISTS
I have a mountain to do.
We have a long list for the app, but most of all I can honestly say I'm happy, content and totally at peace with where we are
SHIFTING FOCUS :
FROM CREATOR TO DECK FANS
I'm going to focus on the experience of new users.  Lots of easy wins. We have focussed so much on getting creators on board. And little focus on deck lovers.
It's an easy shift. And a fun one.
This is a marathon not a sprint.
This brings on a whole new list of things to focus on.