Deck of the Day No5: ORA+CLE by Jennifer Elsner - SOLD OUT - Now for sale on Deckible

Jennifer was one of the first people I spoke to about Deckible on June 5 2021. Not a line of code had been written. We were nameless and shameless at the beginning of our customer validation journey.
I'd found her deck and I thought it was awesome, but it was out of stock/out of print. Never to be printed again. Sold out. Never to be printed again.
That felt wrong to me. A problem we could solve.
So many decks fall into this category.
I remembered sitting and pondering long and hard how to phrase this important email. Here's an extract of what wrote.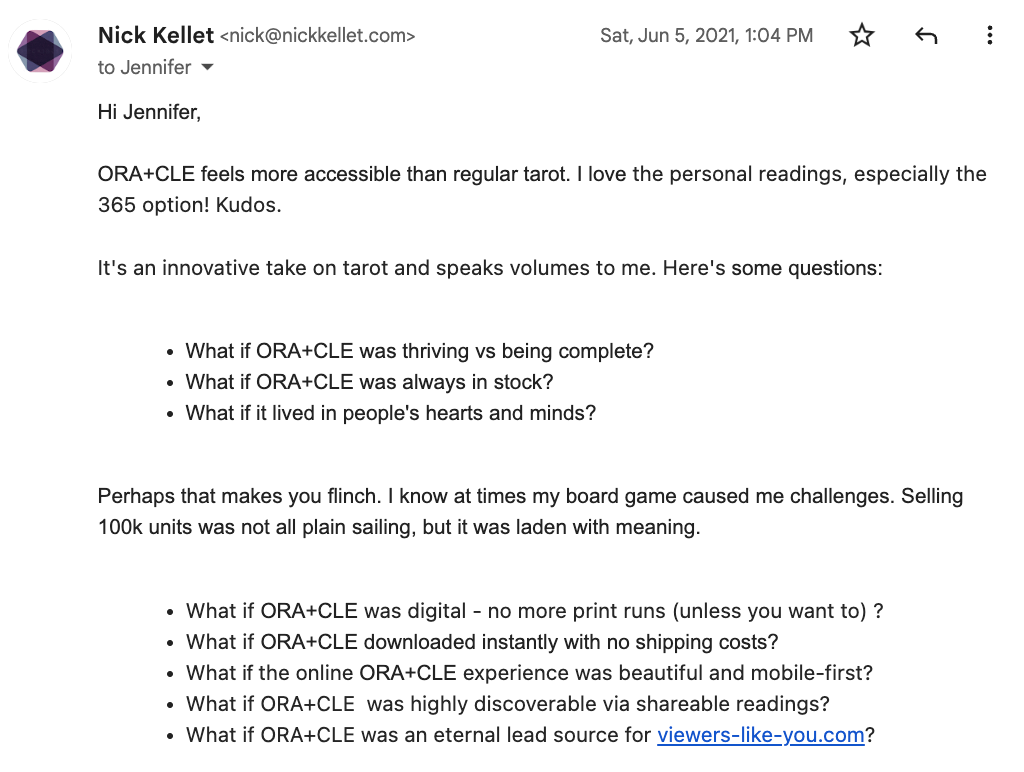 I was a noob at the time and not fully got down this distinctions between Oracle and Tarot! I love beginner's mind. Fearless ignorance really is bliss.
You have have Jennifer to thank for transparent cards and all the creative options that brings to Deckible
Here artwork is transparent. The white is not white, it's clear. She's a skillful minimalist.
For Deckible, that meant we either had to draw a white background to her cards, or tell Jennifer to fix her art. We opted to draw the background and make backgrounds optional. And we saw the possibility for transparency.
Deckible is full of wonderful moments of happenstance just like this one.
More than 2 sides to a card is another example. The guidebook is another.
Do you open the door when opportunity knocks? Do you know on doors? Do you take chances or better still make them?
Take one now and invest in ORA+CLE for the bargain price of $4.99.
Support Jennifer, and support in the Deckible Community. Invest in you.
She an awesome designer. She knows what to leave out. She knows how to create a brand and an impact. She gets color. She's bold and brave enough to be simple. I wish has had these design skills. At least I'm blessed with recognizing talent in others
I have a lot of time for Jennifer. She said yes when others said no. She said yes when we didn't even have brand name. I respect and honour her trust.
So if you need inspiration, if you want to support creatives, buy her deck.
I promise you it won't disappoint.
Best of all use it daily, journal on her statements. They are wonderfully thought provoking. I've done that many times.
I love how her deck makes me feel. Check it out.
ORA+CLE - Jennifer Elsner
Here's the link. And as of today you can now see featured decks in the marketplace. We will be adding the same feature set to the app.

https://www.deckible.com/card-decks/a-ora-cle-divination-for-humans-like-you-jennifer-elsner
Remember, you need an account on Deckible both buy the deck and to login to the app.
Here's some images. Share them on social if you like the deck.
Her words are inspiring.