New Deck Collage Images, Lucky Deck, Lucky Draw & Deckible App Update
Collages of cards help communicate a deck's value. Today we auto generate card-art collages & save these collages to your deck sales page.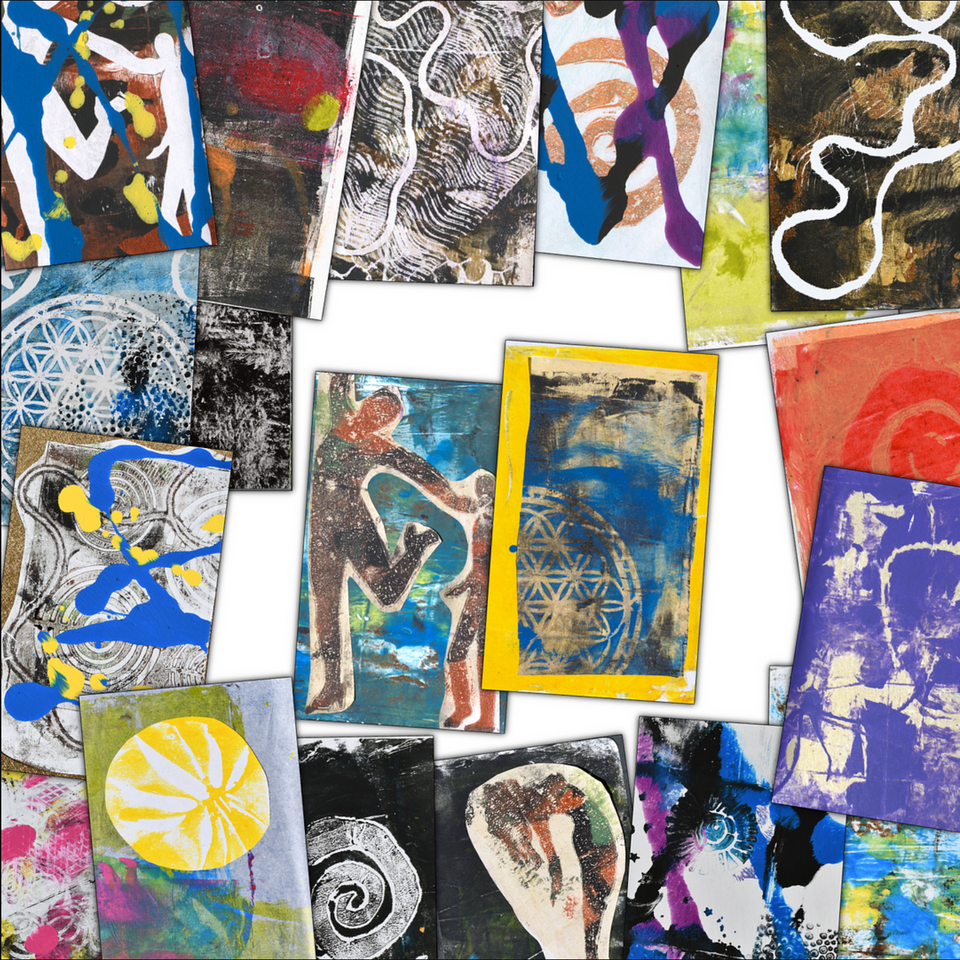 Directories are Challenging Things
Look at Audible, Kindle, Spotify, Netflix, Amazon.
There is a lot of information on each item in these directories. We use directories to choose things. Which book, song, movie etc.
We've been careful about the choices we offer creators to manage their deck sales page. There is a lot of information on each deck. Automation is key to offering a consistent experience for each deck.
Decks need images to communicate the value of the deck. Before today, the deck sales page was made up of a collection of upto 10 images showing box art, card faces and spreads. It was functional, but not exciting.
Today we let you pick collages and save collages. It's a very simple, quick process. It's largely random (saves time and it's less complex), but you can intervene and customize (you can move the images around). Then save the image to the collection for each deck.
Each deck can have a maximum of 10 collages.
This is an automated process, but you the creator needs to choose which collages to generate. So you won't see the changes on your deck unless you go through the process.
Anyone Remember MySpace?
It was pure chaos. Everyone's pages looked different. Different colors, images, layouts and sounds. It was mayhem.
Facebook came along and everything looks the same. It was comforting, even boring.
With Deckible we are trying to create a consistent experience from deck to deck.
So we can't let people load their own images or we risk chaos.
Instead we offer the ability to create collages from the card artwork. And this blends consistency with power and flexibility. Let us know what you think.
Social Sharing was the Driver
We made tools to make collages to let us share your deck artwork faster. You can see that on instagram. We mentioned this in the last update.
With Deckbile we have a huge collection of amazing artwork. We are approaching 500 decks. Collages let us share this artwork responsibly.  Collages are fun, but we are not offering up details high res images of single cards.
The tools we created are pretty powerful and make collages in seconds. Zero effort.
Collages show from 3 to 20 cards. And you we pre-arrange them so every collage is randomly unique, but you can jump into and tweak the cards  if you feel the need.
Here's some examples from our Instagram feed.
If you use artwork tools, you will know finding and arranging these images is time consuming work. No more.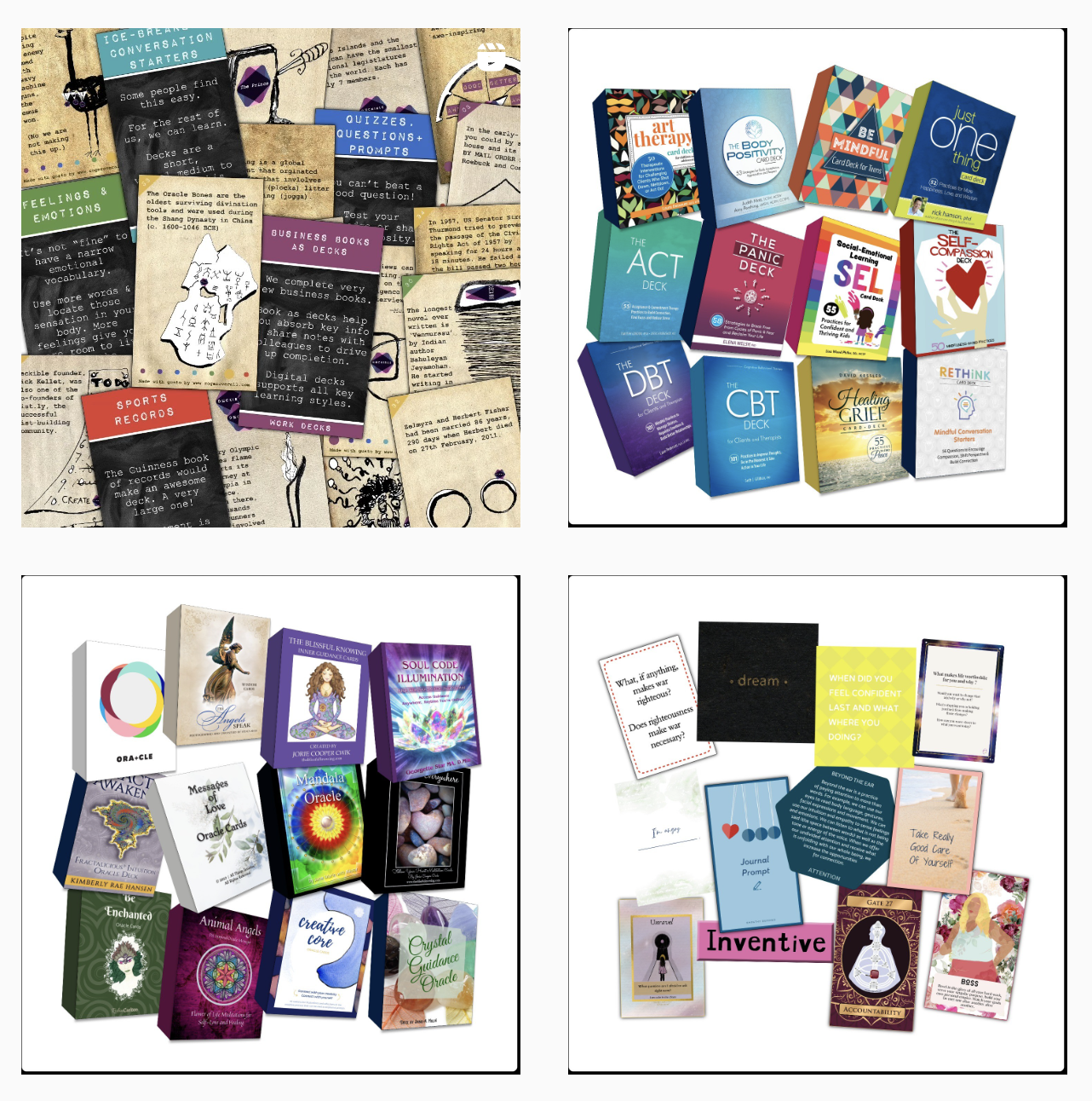 And now you can save those images to show them on your deck page.
Here's an example with Petra Martin's Mixed Emotions deck sale page.
https://www.deckible.com/card-decks/F7-mixed-emotions-a-compass-for-life-s-journey-created-by-petra-martin-illustrated-by-kris-wiltse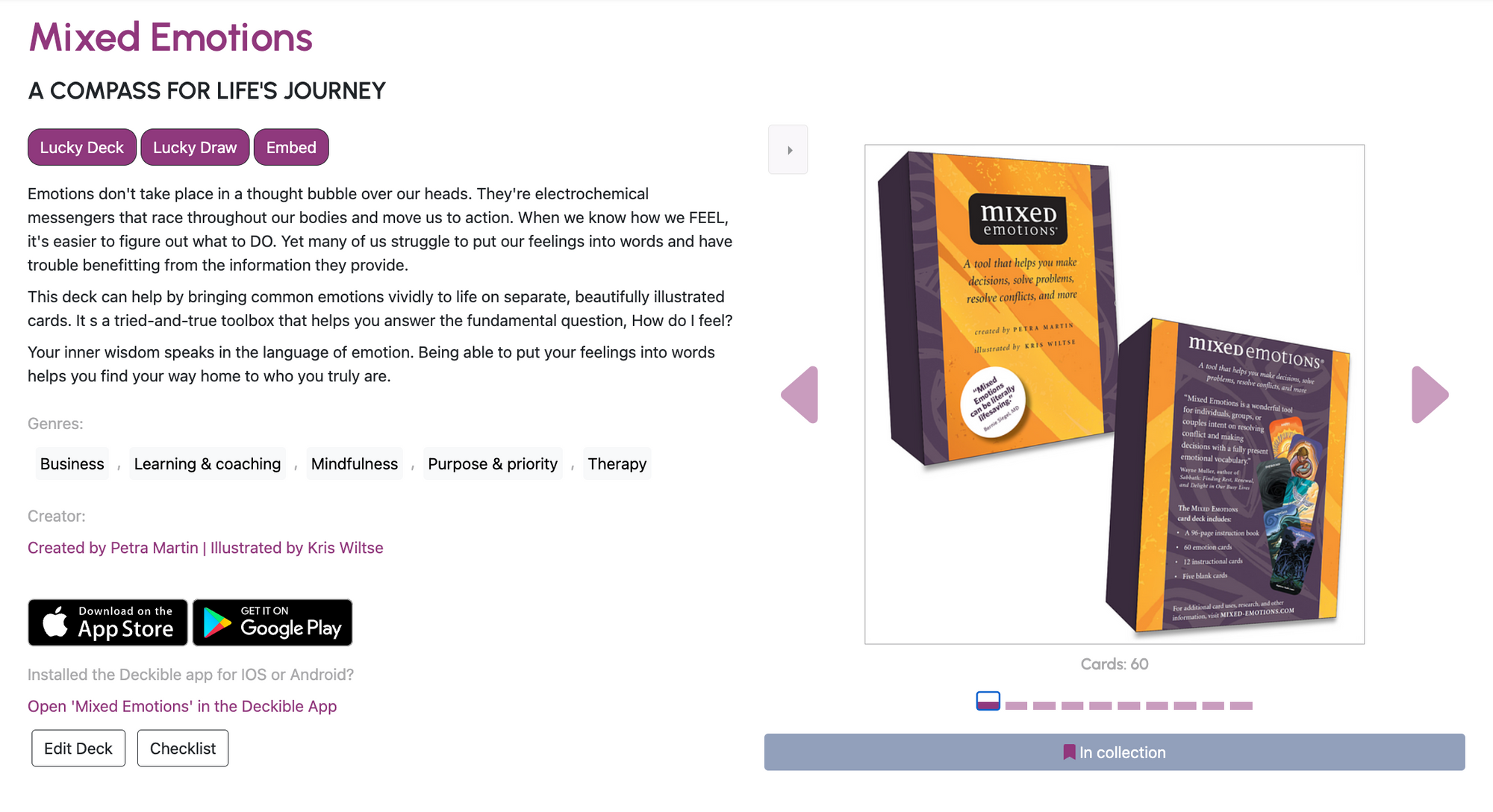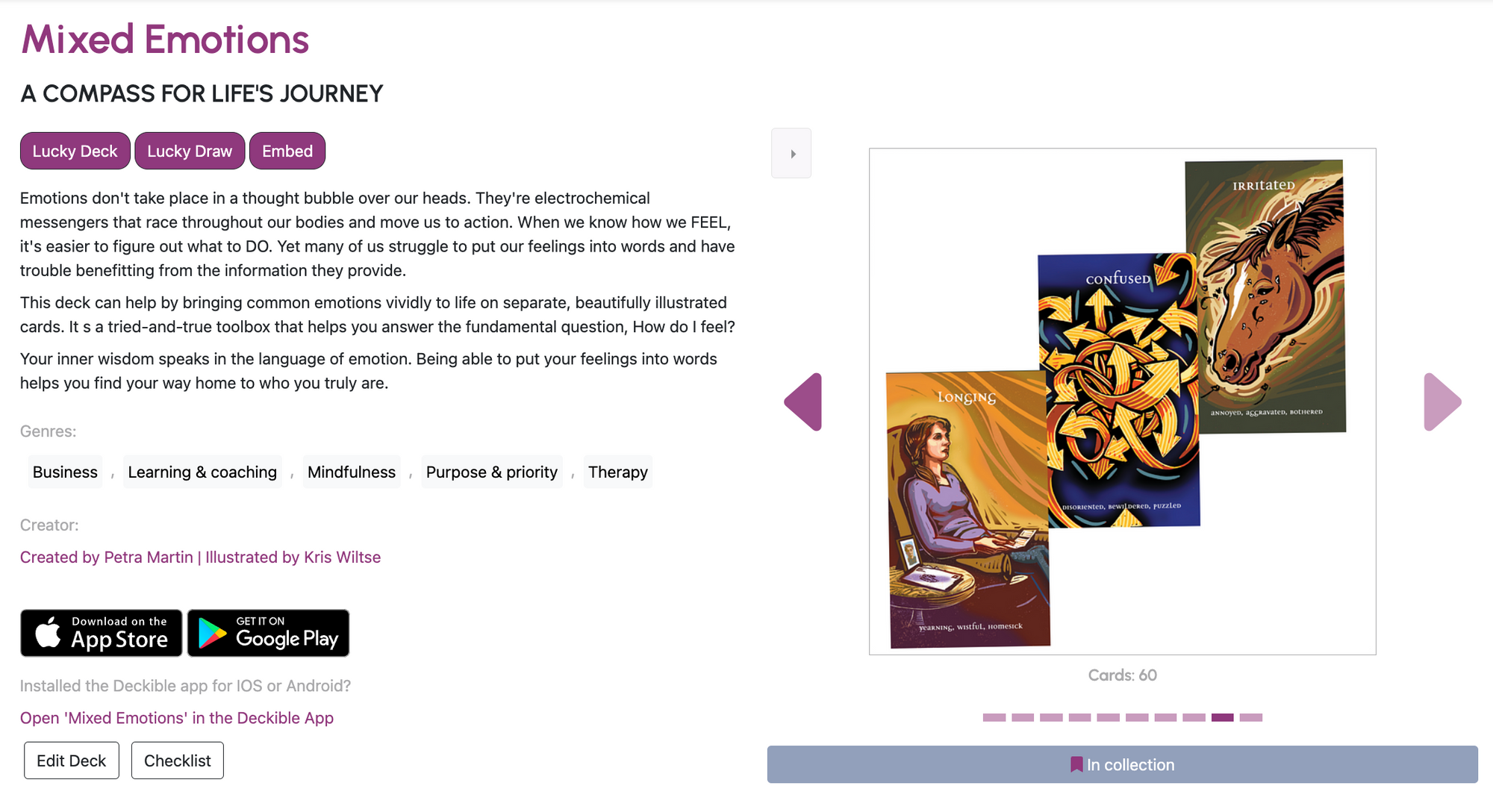 These same images are used in the app. Simple and consistent.
Lucky Deck
Takes you to a random deck. It's a fun way to find something new. A simple idea we borrowed from Google.
Lucky Draw
Gives you a collection of cards from the deck as a collage. Currently this is only available to the creators of the deck. i.e. you need to be logged in to create this and you can only access this for your deck(s).
When you pick lucky draw you get a screen like this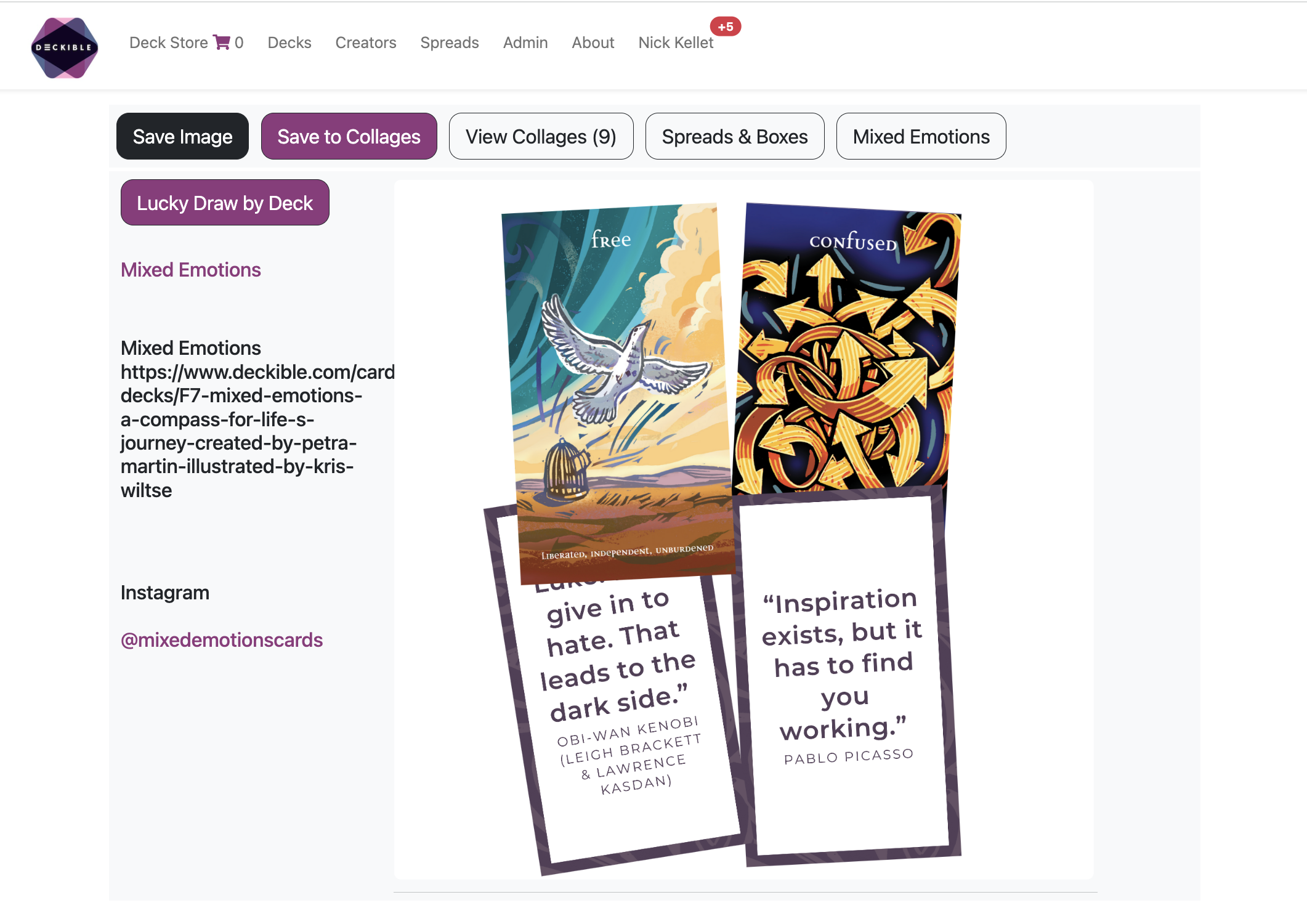 You can reload the page to get different cards and even specify how many card.
This feature will keep evolving. Tell us what's missing. We think its super cute.
Save Image
This lets you save the image to a png for sharing socially via other channels. It save the image as a png to your computer. Then you can do with it what you like.
We know it's quicker than using Photoshop, Illustrator, Canva or Powerpoint/Keynote. We've tried all of these. So we know this rocks.
Save Collages
This lets you save the image shown to your collage collection for this deck. This saves the images to the deckible image library.
You can move the cards around, but you probably don't need to.
When you save it the button will go gray and disable. Wait a second and it will direct you here, once the image is saved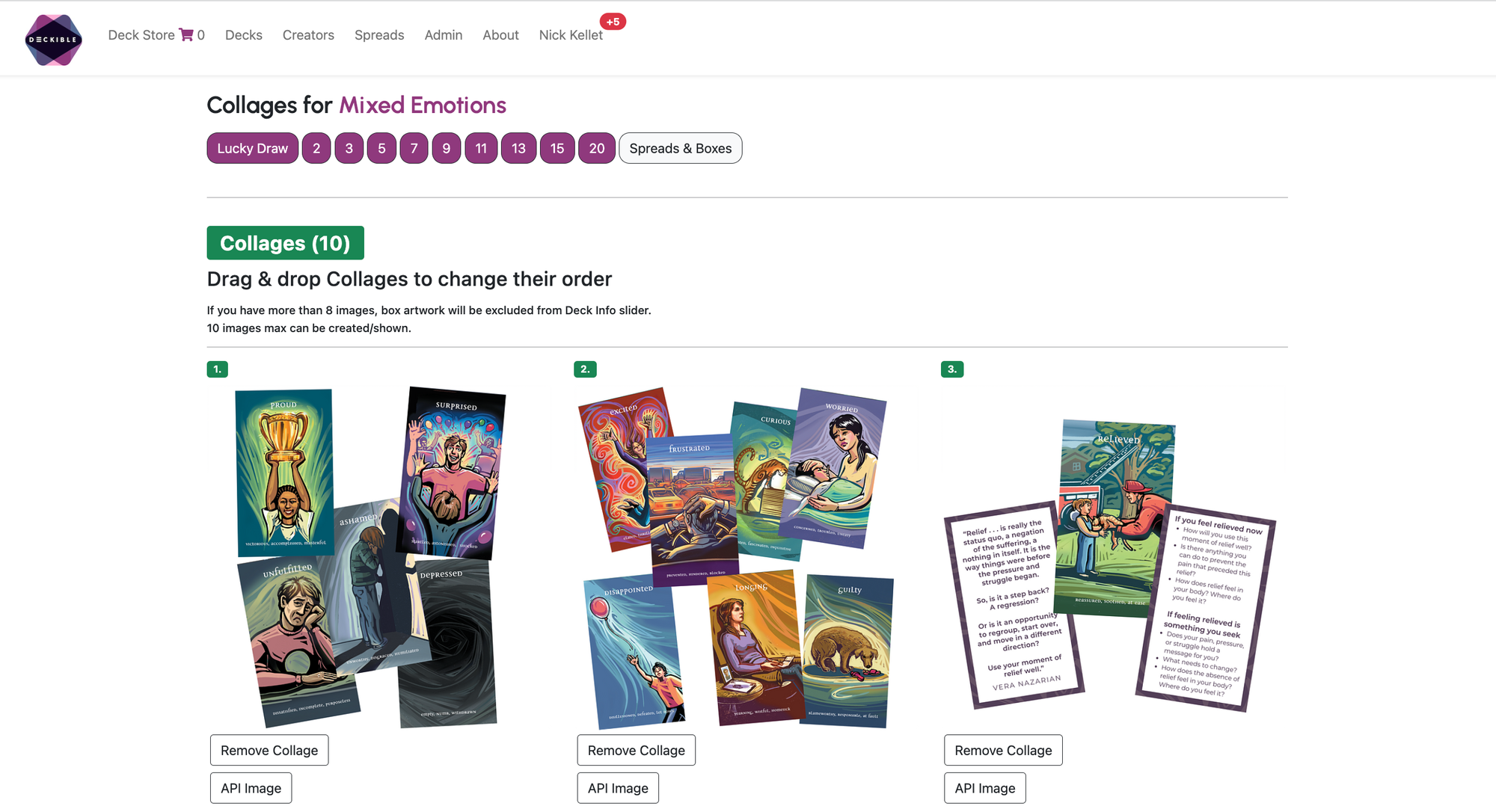 Here I see three images, but you can drag and drop the images or remove individual collage images to let you manage upto 10 images. I can scroll through all the images in the browser.
You need to delete images before trying to add more if you hit the "10" image limit.
These images will show on your deck info page and also in the app.
To see the latest images in the app, you may need to remove the deck and re-download  it.
If you have more than 9 images we wont show the back of box image. We always put your box image first in your collection. We have options to show front and back of box as a collage. Or front and 5 cards. We will create other options to blend you box with the cards.
This is fun, powerful and flexible. And it will just get better with time. We has an option Promote and Share and this evolved into what we have now.
Collages are also better for IP protection. The images of each card are too small to be copyable. The collages communicate the value of your deck more effectively and because they are collages then overlap other cards, so again more protection from IP theft.
This opens up so many possibilities for us moving forward, but that would spoil the plot if we told you exactly what it enables, but this is fun, creative. In a world of social media visuals are so important it's a powerful tool for creators to promote and share their decks.  Watch this a space.
Spreads & Boxes
If you have spreads then click on Spreads & Boxes
You can choose from your spreads, and pick which face to render. Here's an example from Awake in the Darkness by Aubrey Marcus.
This decks is on special right now for 7.99. Normally 17.99. This deck is exclusive to Deckible. It's pretty amazing. All art from the documentary.
Here is a zodiac spread filled with random images from the deck. Remember you can design you own spread layout just like the Zodiac spread and use them with your deck.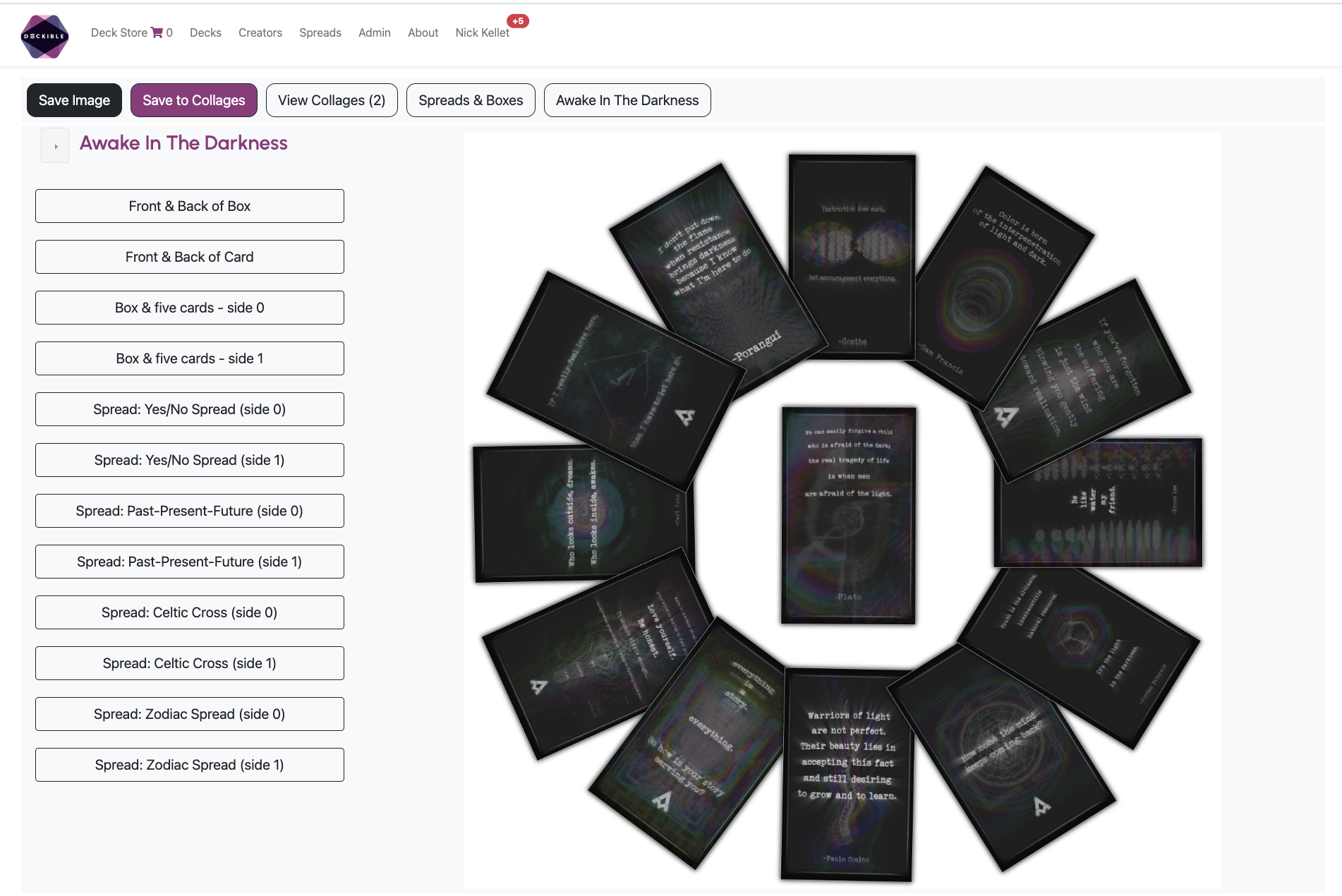 This is how the design tool looks if you want to create your own spreads.
That's pretty wild. No other Tarot app offers that. And Deckible does not just do tarot.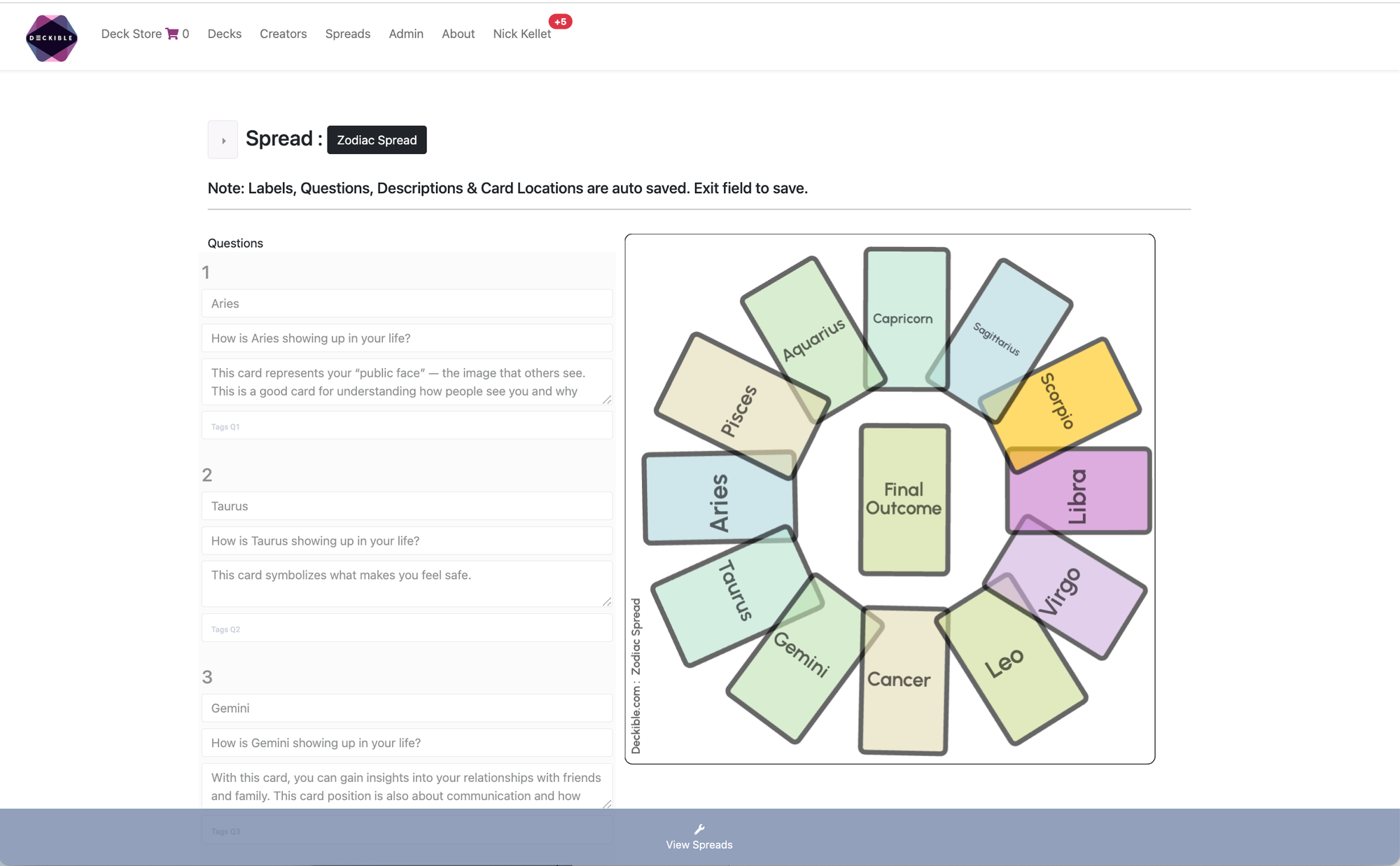 And here is the deck info page showing this images. Simple.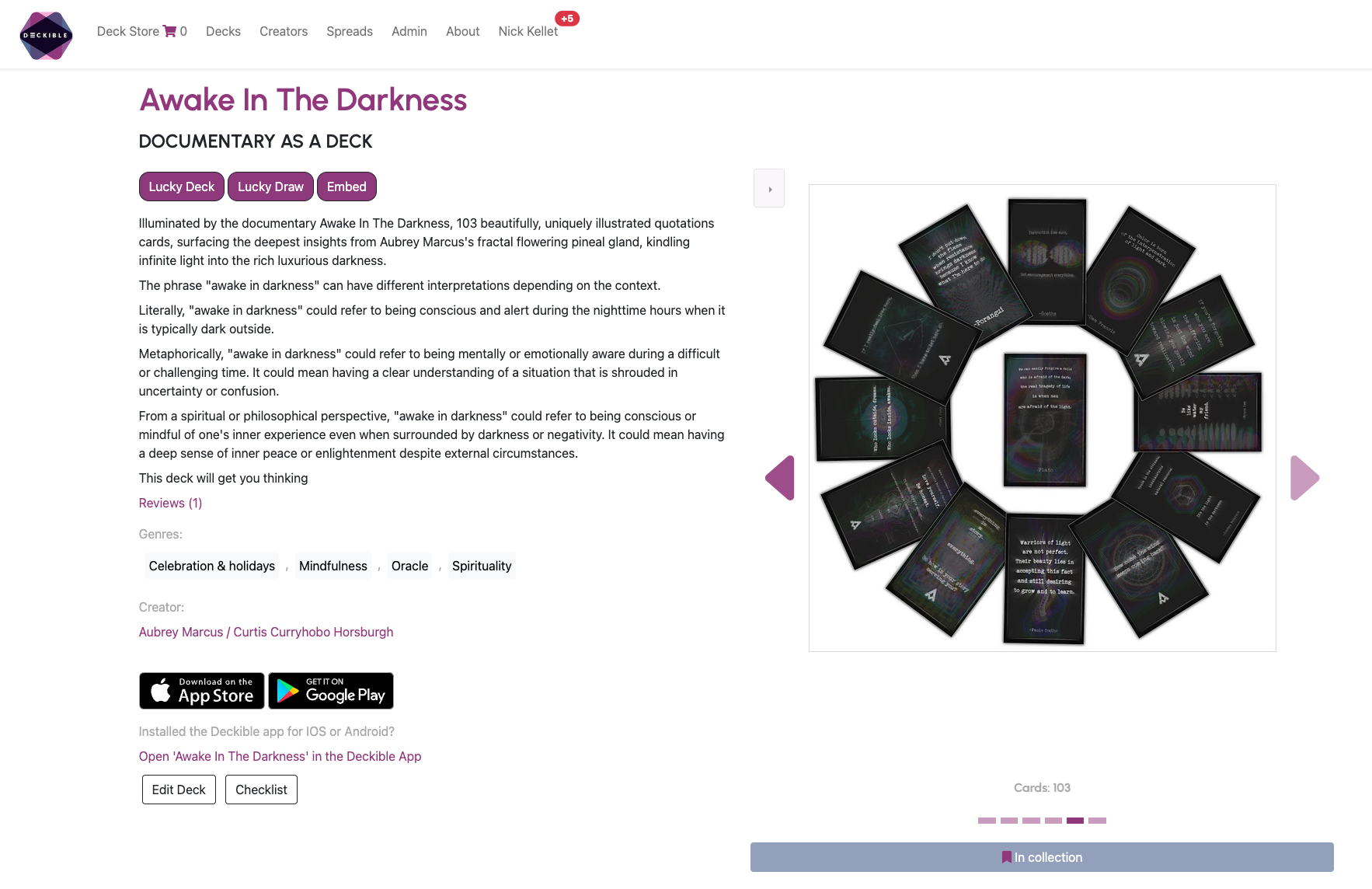 https://www.deckible.com/card-decks/FL-awake-in-darkness-documentary-as-a-deck-aubrey-marcus-curtis-curryhobo-horsburgh
This is very cool deck.
So that is the new release. We thinks it's very cool. And there's more...
App Update
The app got updated too .
Two mains issues.
Some enhancements/fixes to the downloading process. Speeding up and stabilizing.
There were problems completing another transaction in the app if you boughts a deck and it did not complete. Perhaps a credit card issue, or password of face recognition issues. It would not let you start a new purchase. You needed to quit the app and begin again. This is fixed.
We just keep iterating based on feedback. This is a complex product that does amazing things.
We have some nice UX changes for tablet in the works. And we think the desktop app is not that far off. So we just keep on trucking, because we believe with a passion for the vision for Deckible.
A wellness app, that is card deck centric, that integrates spreads and card sort with journaling and meditation.
Next Three Releases
We now have a much clearer view of the next 3 releases. And I'll be updating you shortly and seeking feedback on some of these features.
Not seeing what you want? We'd love to hear why not.
or message me on what's app and ask me a question.
We want to hear from you.
Tell us what you need.