Deckible to Sponsor & Keynote OTALOCO ( the Oracle and Tarot Lovers Congress)
AKA the Card Addicts Gathering, is an enchanting online Congress & summit for tarot & oracle card enthusiasts. This extraordinary gathering brings together a vibrant community of individuals who share a deep passion for card divination & all things related to tarot & oracle decks.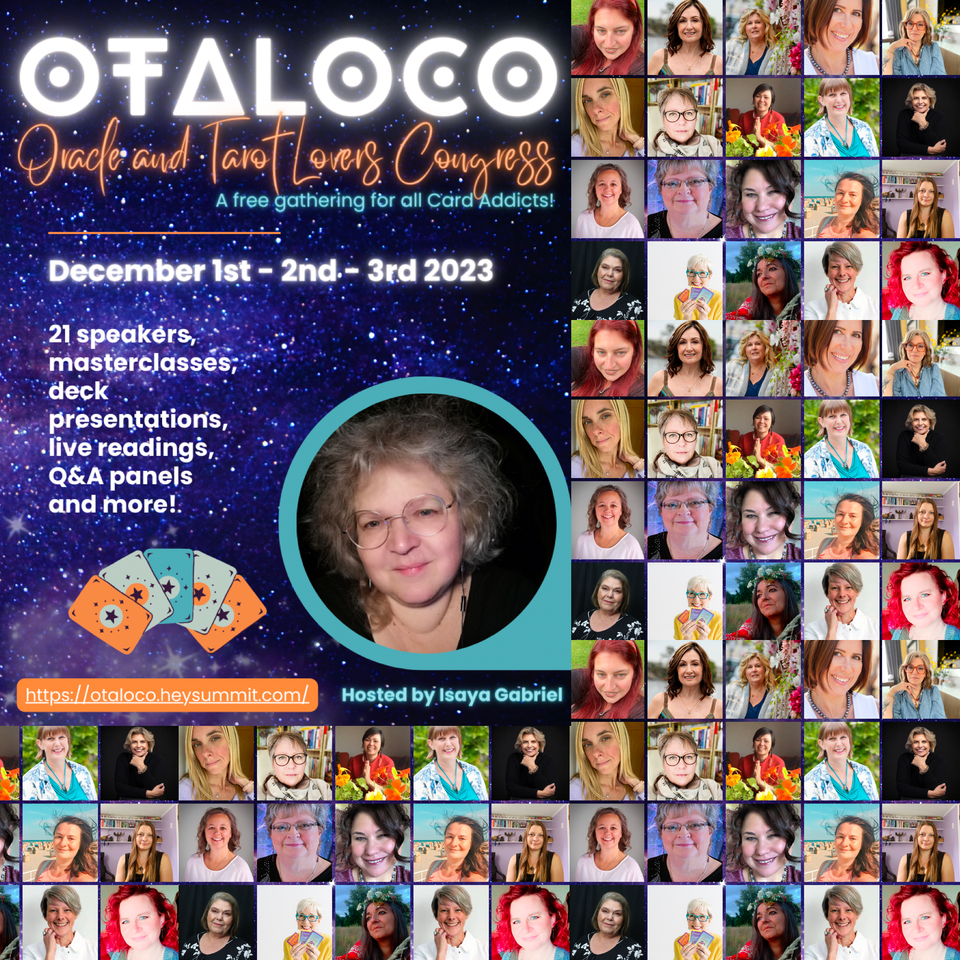 OTALOCO, the Oracle and Tarot Lovers Congress (OTALOCO), also known as the Card Addicts Gathering, is an enchanting online Congress and summit for tarot and oracle card enthusiasts. This extraordinary gathering brings together a vibrant community of individuals who share a deep passion for card divination and all things related to tarot and oracle decks.
OTALOCO features an impressive lineup of esteemed tarot readers, deck creators, illustrators, artists, oracle deck creators, and avid deck buyers or everyday users. These luminaries of the card world captivate the audience with their wisdom, experiences, and insights into the fascinating realm of card divination.
Attendees have the privilege of:
Hearing from renowned tarot readers who share their expertise on interpreting the cards and enhancing one's intuitive abilities.
Engaging in profound discussions on the historical, cultural, and spiritual aspects of tarot and oracle decks.
Learning about the personal stories of how the cards have played a massive role in the speakers' lives.
Witnessing deck creators and illustrators showcase their unique creations and share the creative process behind their captivating card designs.
Exploring the innovative themes and approaches of visionary oracle deck creators.
Connecting with like-minded individuals, exchanging stories, insights, and recommendations at a vibrant marketplace filled with exquisite tarot and oracle decks.
OTALOCO is more than just a Congress; it is a sanctuary where card enthusiasts can come together to bask in their shared passion for tarot and oracle cards. It is an empowering and transformative experience that nourishes the soul, deepens understanding, and celebrates the art of card divination in all its captivating forms.
Additional Highlights
Live tarot and oracle readings from experienced practitioners, providing personal guidance and insights into participants' own journeys.
Interactive Q&A LIVE Panels with knowledgeable speakers and fellow enthusiasts, allowing attendees to ask their burning questions and receive real-time answers.
OTALOCO is happening ONLINE on December 1st - 2nd - 3rd 2023!
DECKIBLE release. We will be showcasing the next release of Deckible and so much more.
Register Now
via HeySummit.
We will have some very special offers for all the attendees.
Here's a sample of the decks from the OTALOCO creator community. More to follow.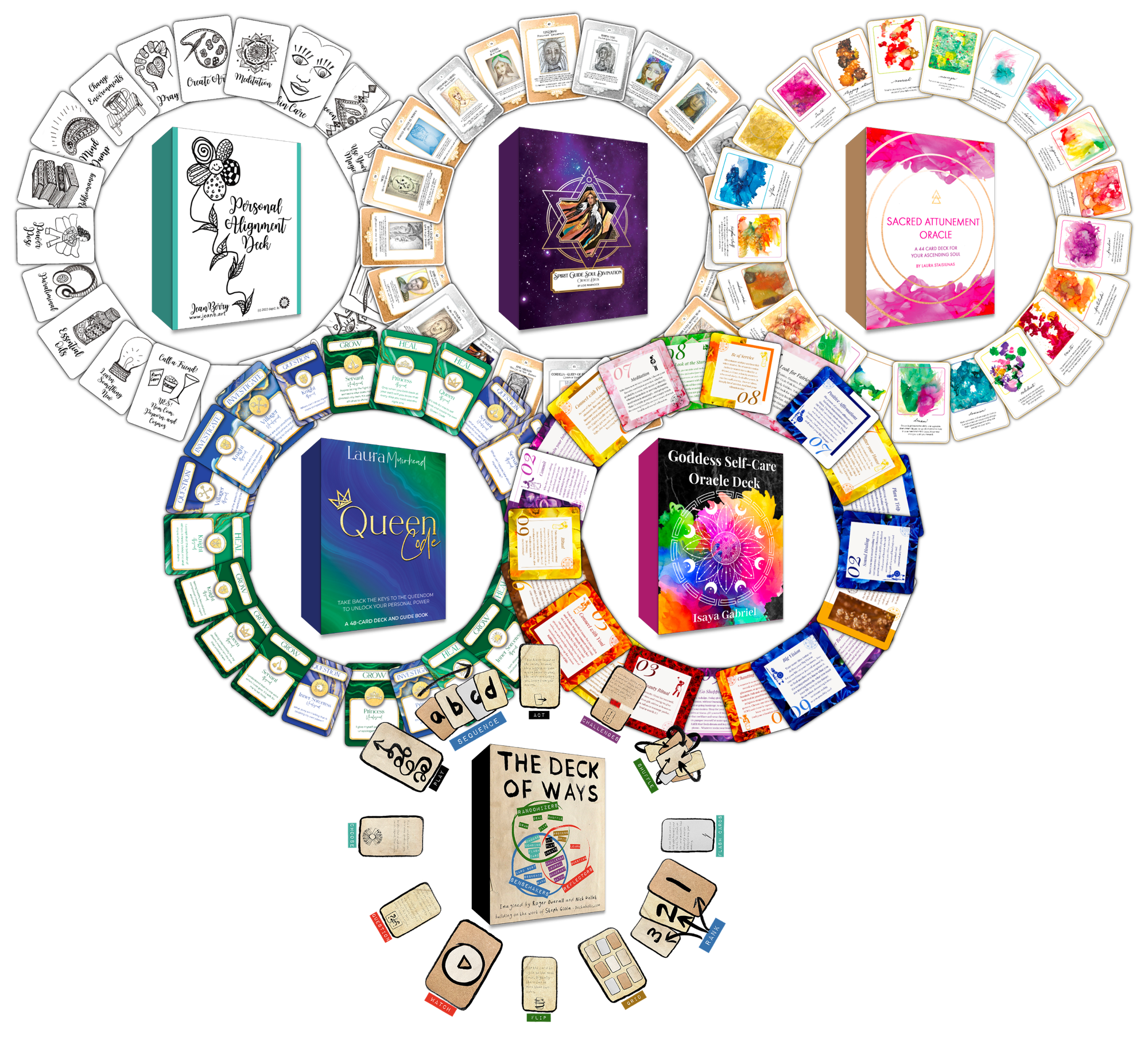 You will also get a copy of the Deck of Ways (explore the 21 ways to use card decks)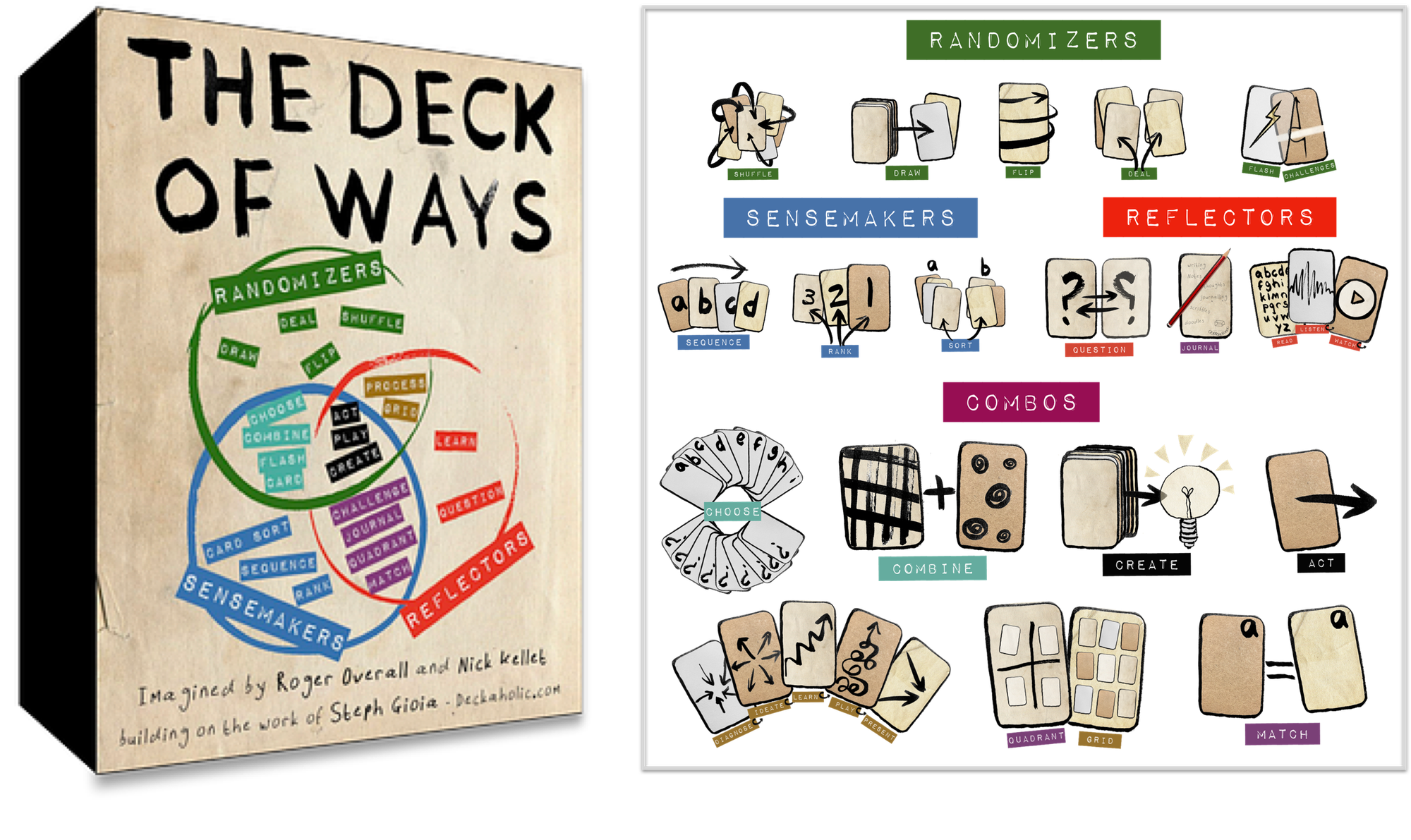 And a preview copy of the FEEL WHEEL, a fun way to express your feelings using round resizable transparent cards!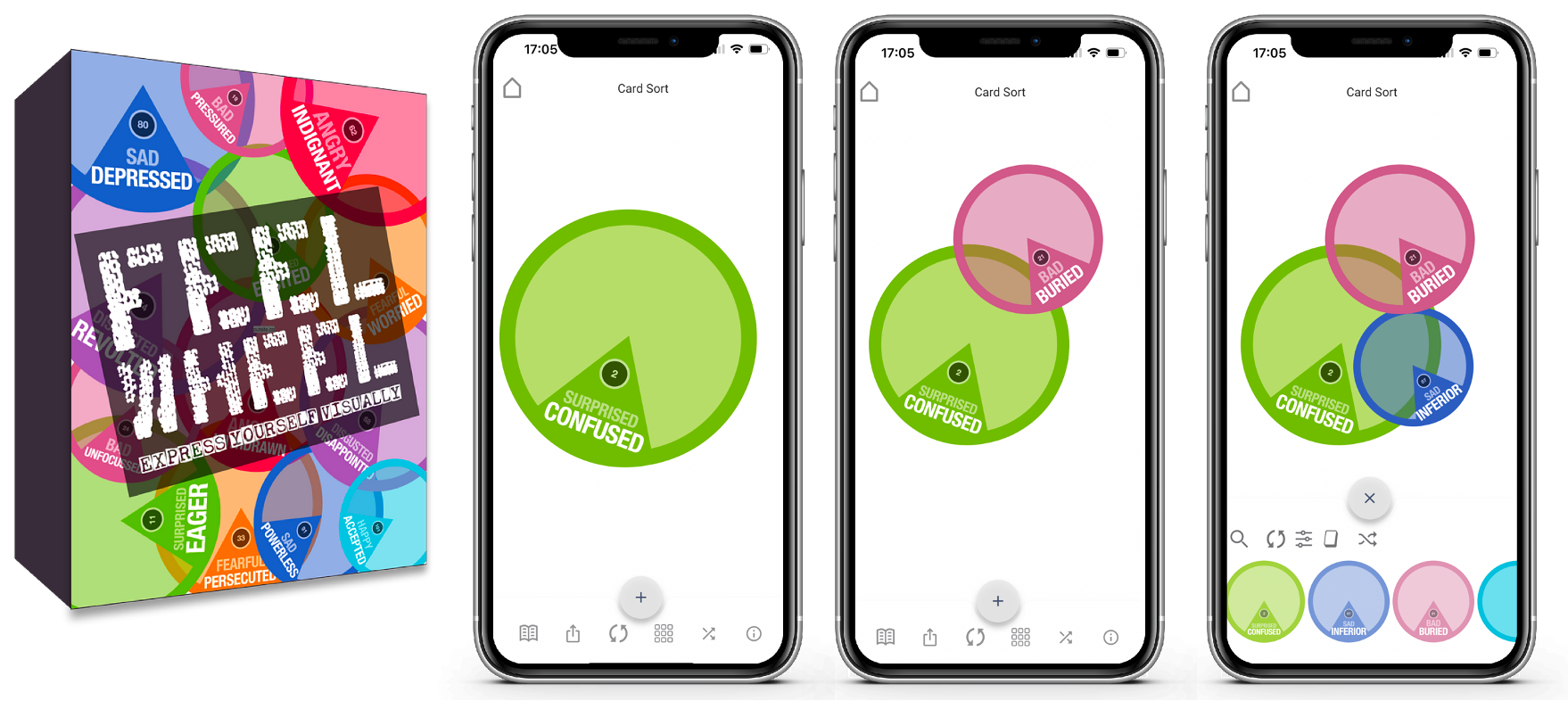 Here's a selection of the Oracle and Tarot Decks on Deckible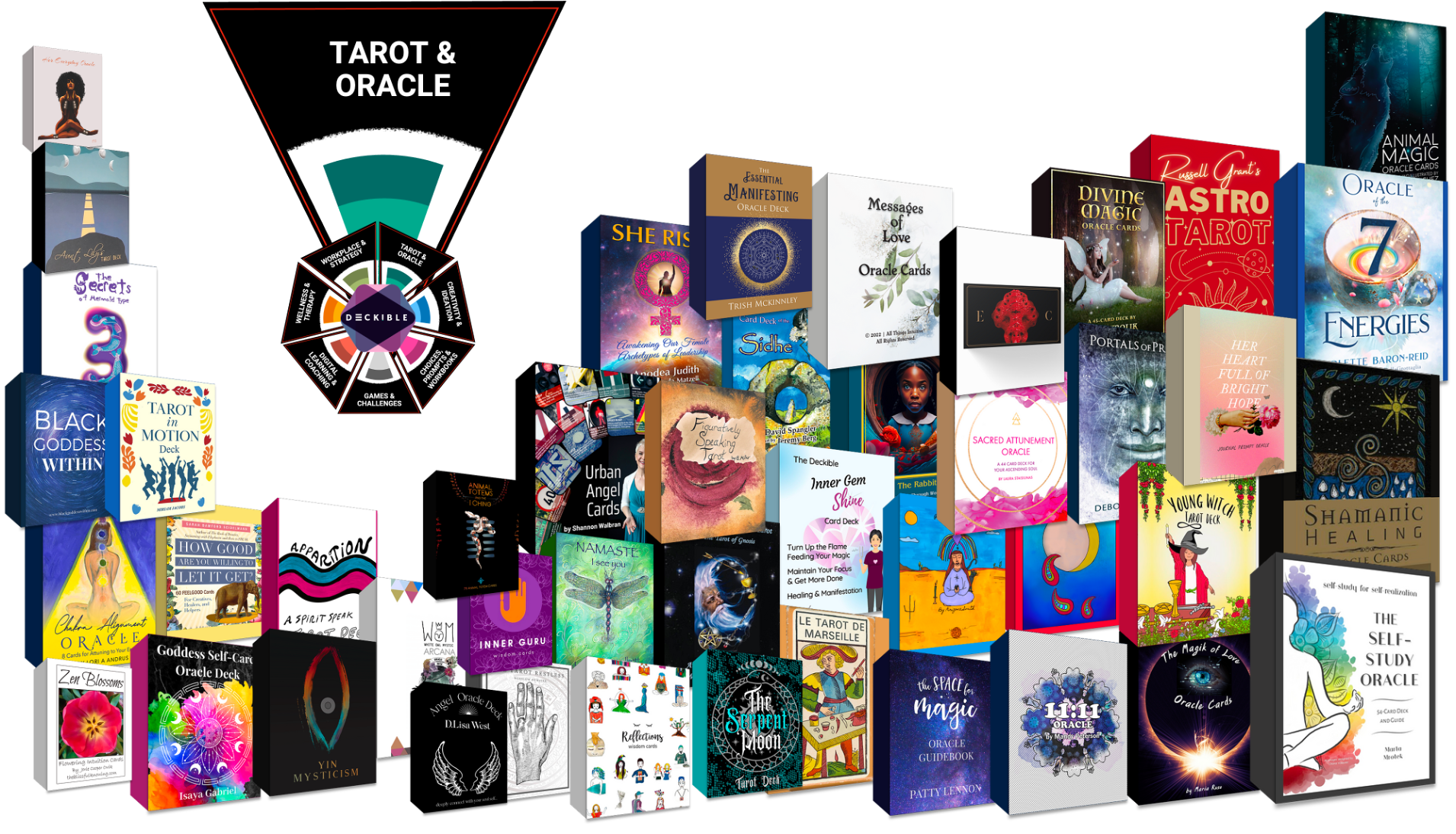 On a Personal Note
I'm so happy to be supporting this event.
I have a lot of respect for Isaya and her multi-year vision for the event. She is inspiring. I appreciate her energy and her intent.
Isaya learned of Deckbile from the Deckible Community and when I heard of it 3 Deckible creators were on the speaker list. We've added 2 more decks already including one from Isaya. There will be more.
I believe Tarot and Oracle are broadly misunderstood. Whatever your level of "woo" there is value to be through from the massive human effort and commitment of the global community that OTALOCO speaks too.
I've described Tarot as the world's oldest and biggest meme. It's so true. Never before have so many people created their own versions of a single meme. And that meme has grown and lived for centuries. It's global, it's cross-cultural. That is worth celebrating. One needs to ask the question. Why is that? And then learn about what that tells you about human nature.
I see Tarot and Oracle infusing so many other domains. Business decks with a Tarot infusion is a good example, but also that Spreads are really just a wonderful way to structure questions.
There is a lot to learn from Tarot even if it's not for you.
I know it's taught me a lot on my journey into card decks and personal growth.
I feel there are many Oracle decks that are more neatly placed in Mindfulness. Some decks push the boundaries or Oracle and that's actually healthy and to be respected.
I'm excited to speak and share my insights on the future of Tarot, Oracle and Card Decks and to share Deckible's vision for world where there is a card deck in every pocket.
Card decks across all the main domains have much magic to offer the world.
Here's is our high level segmentation as we see the entire deck market. I will dive into this in my keynote.