A shorter update from me,  this time.
So U5 was a big hit. We hit no really serious bugs, which considering the number of moving parts, the number of people and the magnitude of changes, that's amazing.
Pure gratitude
Today we have a handful of updates, all based on your feedback.
SCALING IMPROVEMENTS
UX Scaling improvements for small phone. Please let us know if you see unexpected text wrapping or underability issues. It's time to start getting picky.
If you see things like the screen on the left, please let us know.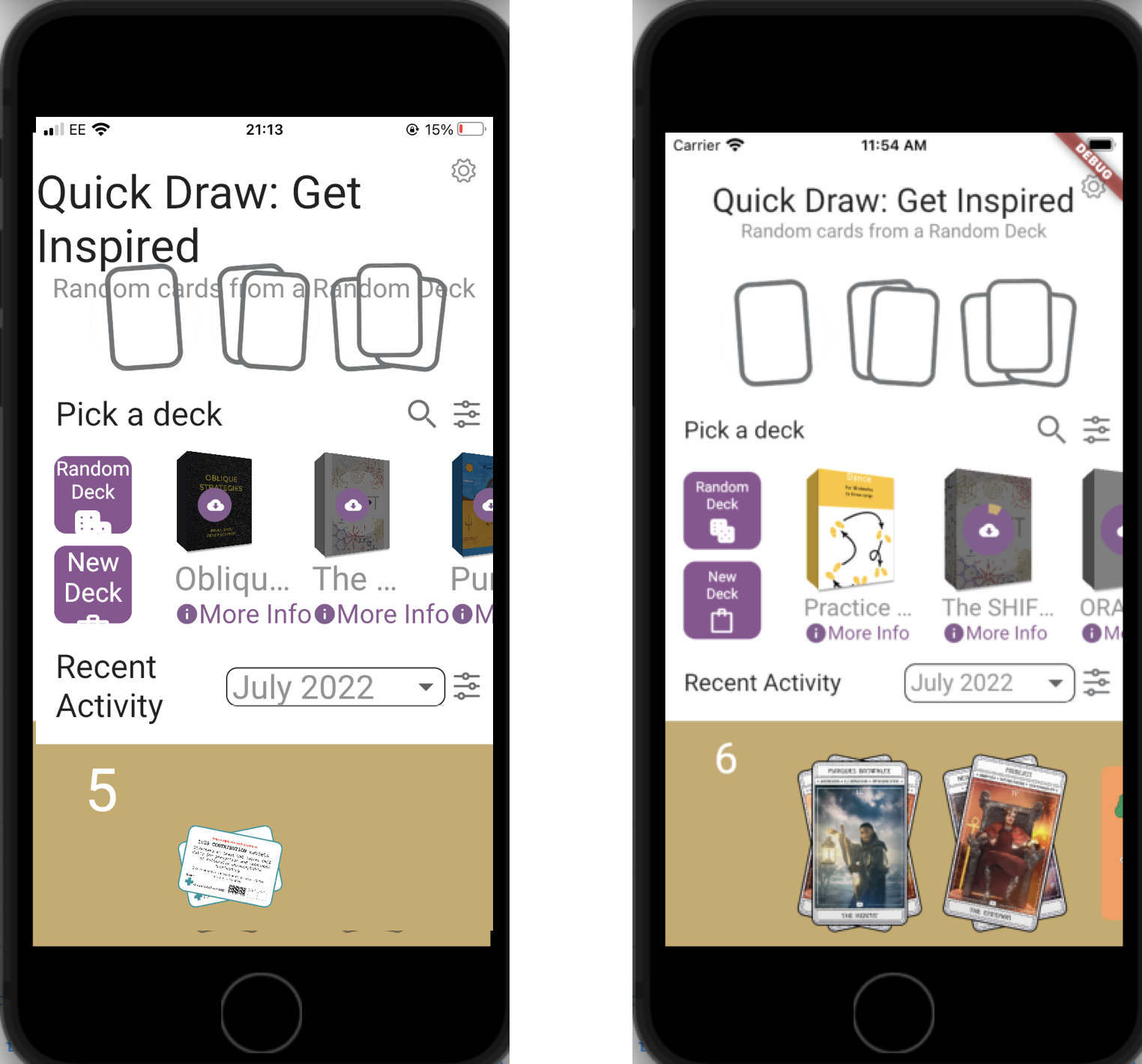 You will want to check Accessibility and Display Text Size. This has an impact on font size that's out of our control. Please report your issues and we can take a look.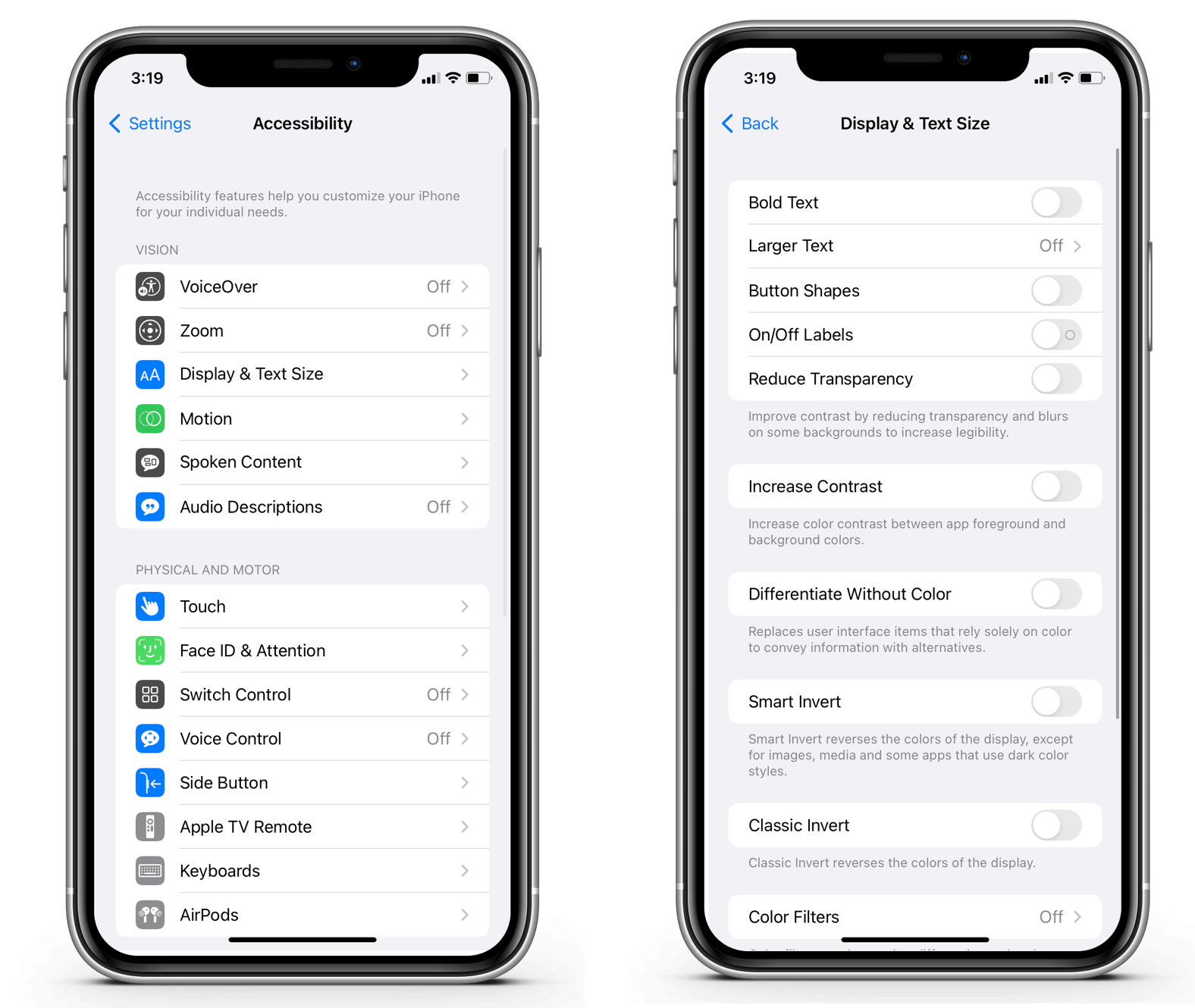 FLIP/INFO MODE
at U5, we added a mode button on the canvas in a freeform card sort and the two modes were.
1. Info Mode: which takes you to the card info page and lets you read the text description on your card and also access audio / video and the bonus content links.
2. Flip mode: which is a single click method to flip a card
We set the default to flip and this was a mistake. People were not finding the descriptions on each card. Possible, but not obvious.
So now Info is the default.
We enhanced the Grid option to implement smart scaling.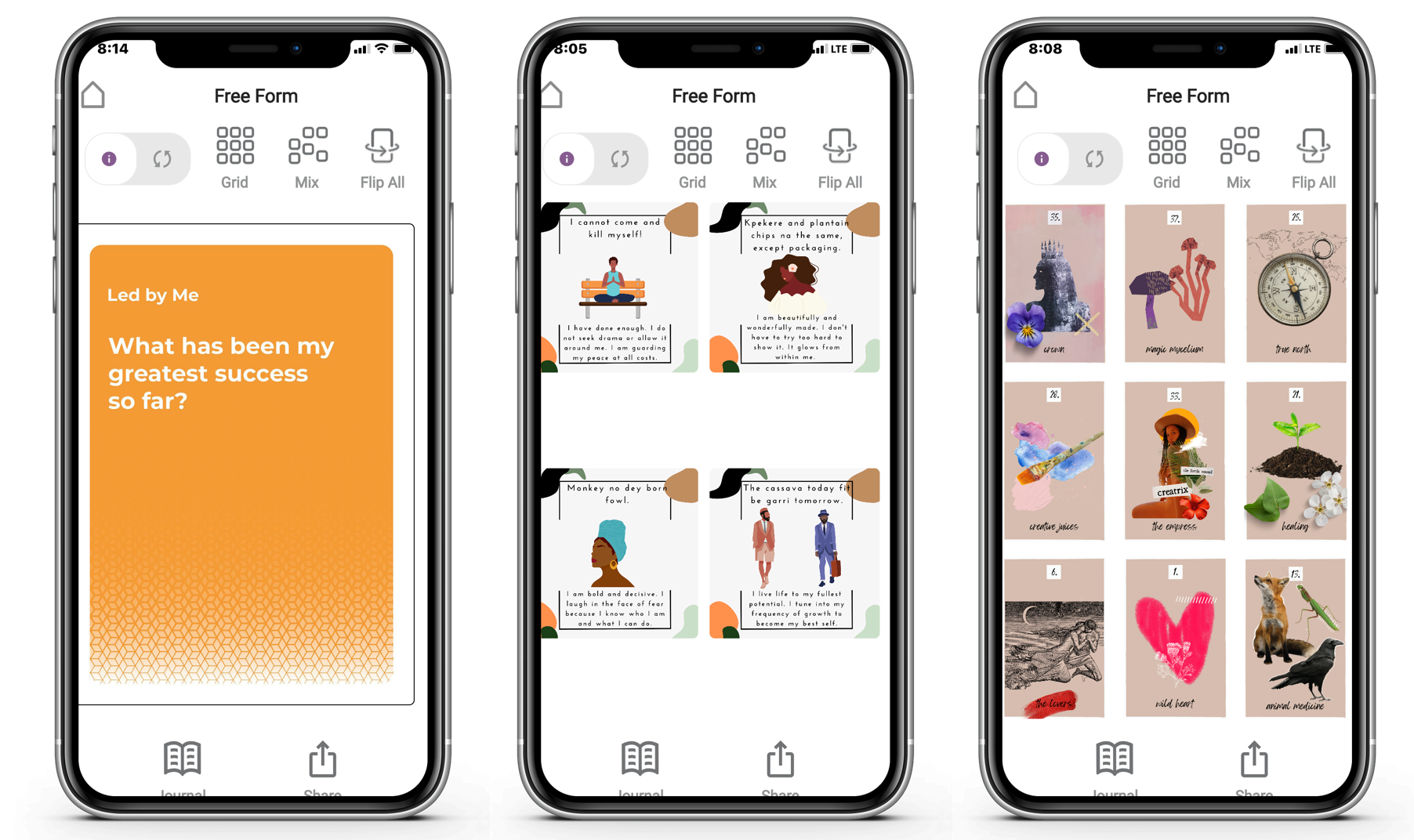 4x4 = 16
5x5  = 25
6x6  = 36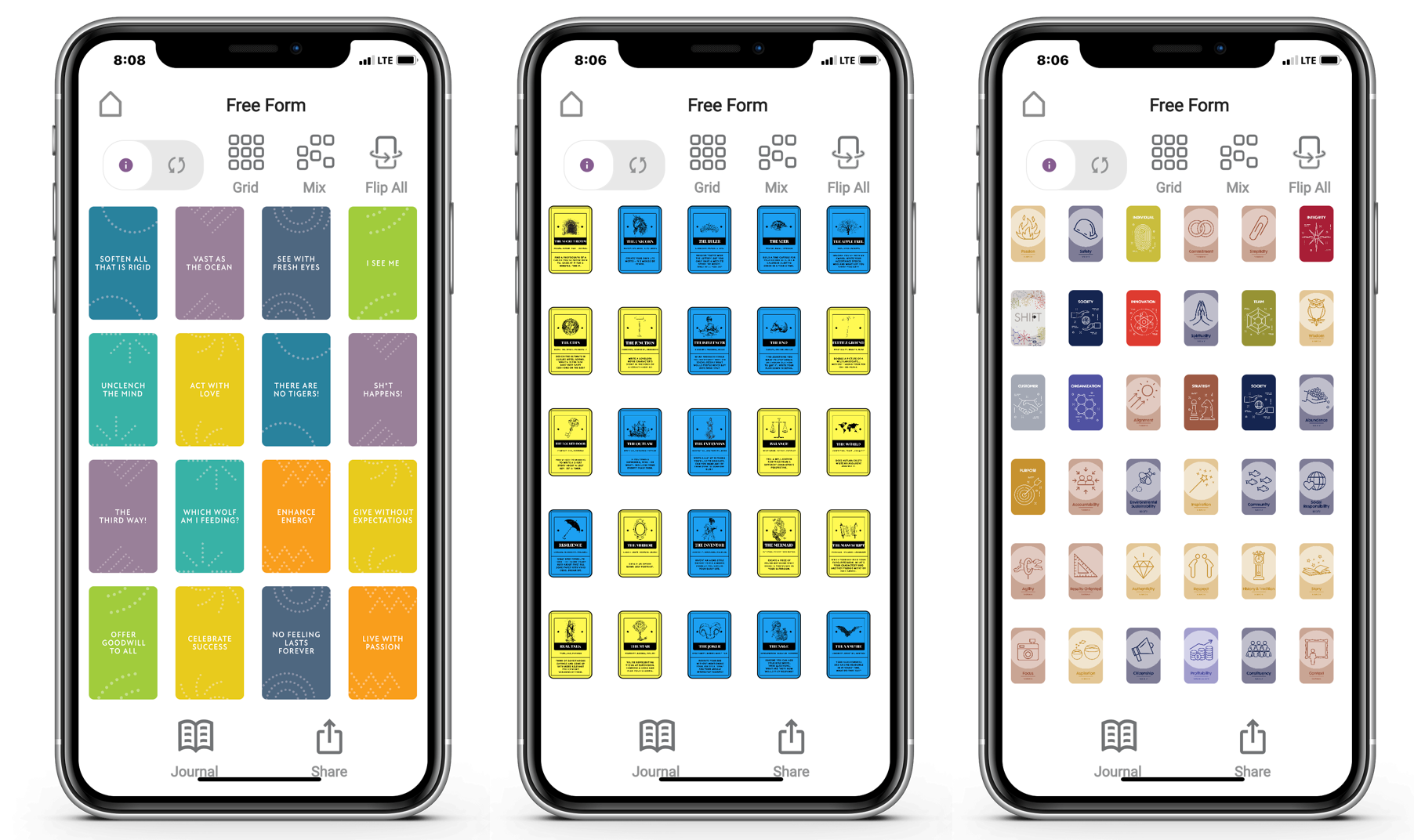 So now it scales the cards based on the number of cards. It's slick, simple and visually pleasing.
We also reworked Mix. It  does not stop mixing until you choose to stop and also you can interact with the cards while you are mixing. So you can flip all, or interact with individual cards. This is incredibly useful if you want to record a fun video to share. Super fun animations for next to zero effort.
Mix and Grid play together really nicely. Watch this video so see what I mean
https://www.instagram.com/p/Cf7oSL2JFLs/
Click back and forth between Mix and Grid. Try it. Let us know what you think.
OPTIONAL QUICK DRAW
Space is tight on the home page and not everyone wants to lead with a random card, so we will be adding a setting to let you turn this off. You will still be able to quick draw on the deck. And we will ultimately let creators turn off quick draw for their deck.
This means what if you have no spreads and no quick draw that you begin with a free form selection. It's all about saving clicks and getting to action fast.
For coaching / business use-cases this is a valid enhancement. Thanks to Dov Tsal for this suggestion.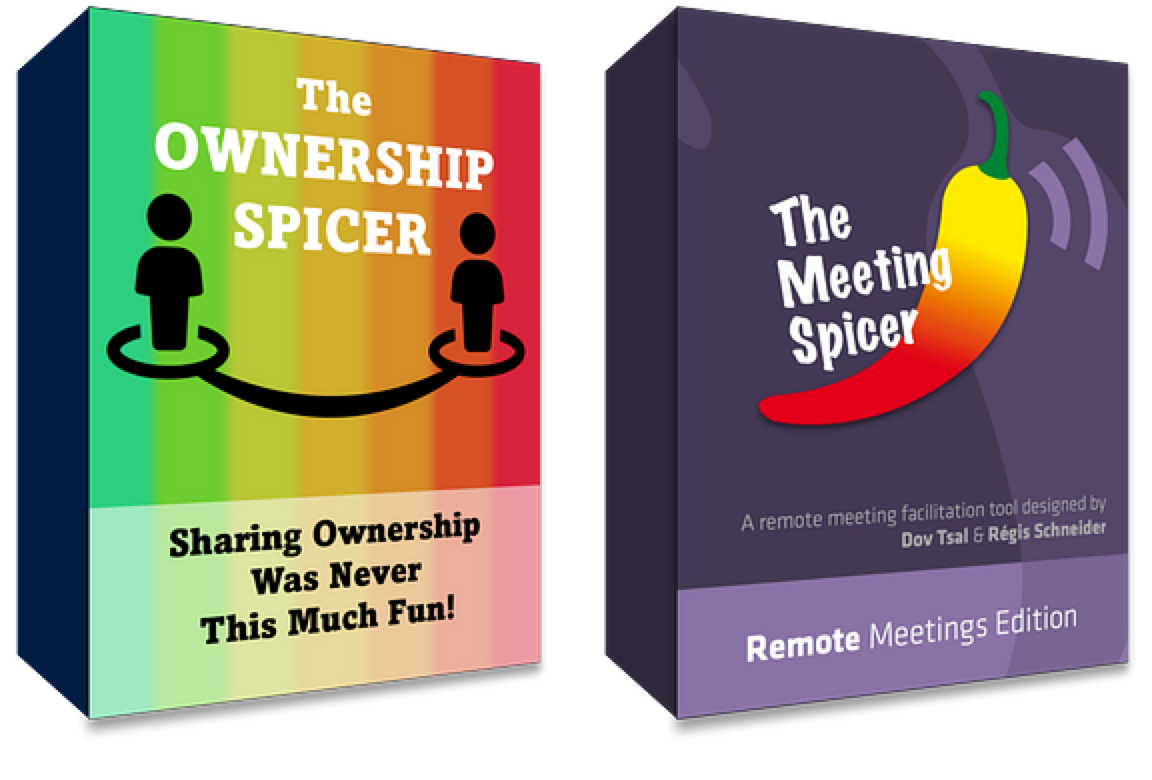 His decks are highly unique and have amazing utility in a business / meeting setting.
This didn't make the release, but will be in U7
UPLOADING FILES
Previously if you uploaded an image with an incorrect name it would process the file and quietly reject it. This was not helpful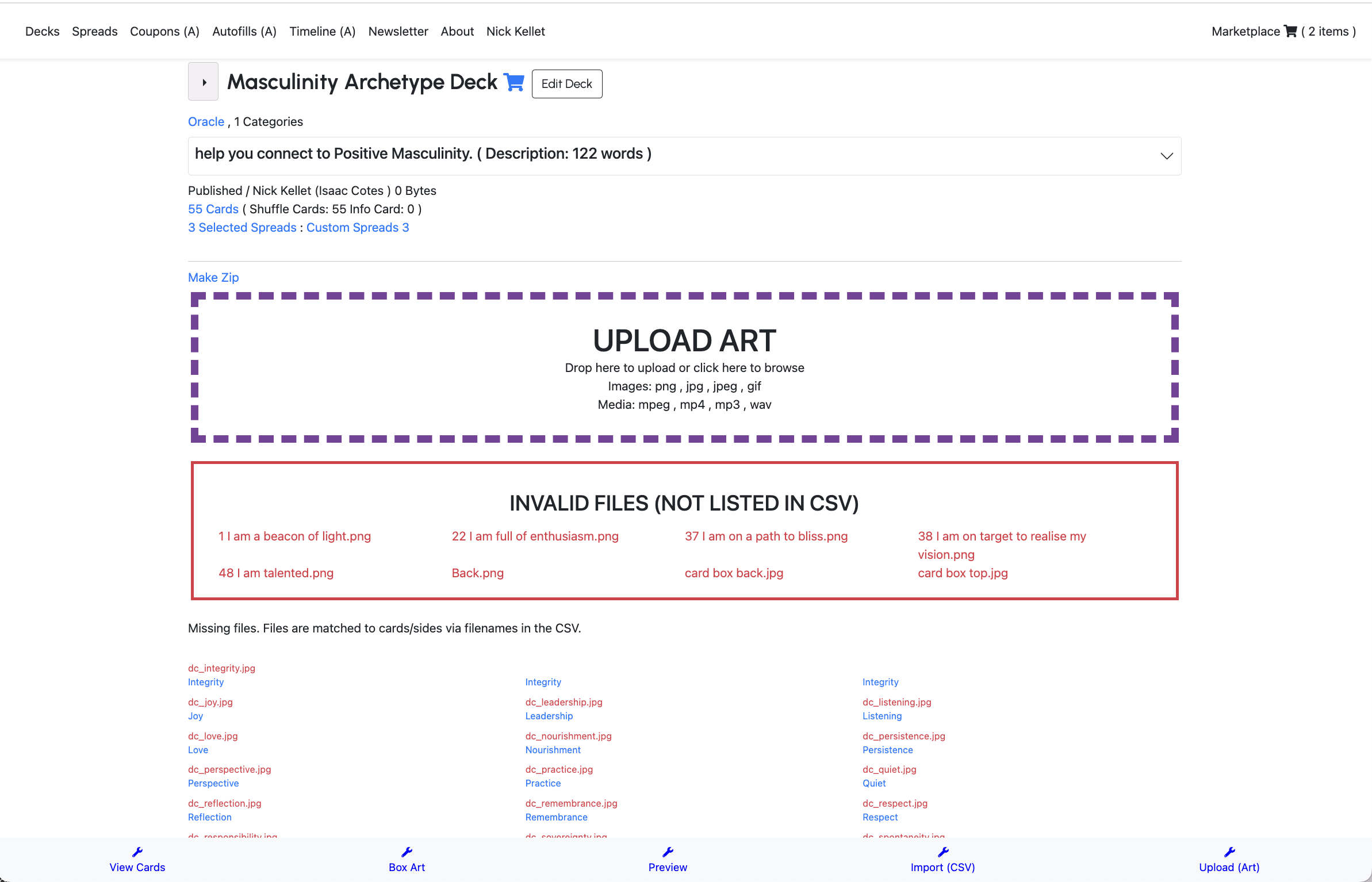 We fixed it so now if a file name is invalid (i.e. if it's not included in your CSV), then we reject it instantly and show you the errors.
I think quite a few people had experienced this problem, so it was well worth the effort to fix this.
And moving forward this will give new creators an easier time of things.
Please don't type the files names into Googlesheets. Copy and paste them in one action. Learn how to do that in Isaac's video.
USE GOOGLE SHEETS NOT EXCEL
I've detailed this before, but please do not use Excel.
It does weird things and that can make the CSV unreadable.
Stick with Google Sheets and download to CSV. That also make it easy for you to share your Google Sheets with us, so we can help you more effectively
FROM WHATSAPP TO SLACK
In case you aren't aware slack is another form of community and messaging platform. This is the link to join the Deckible slack group.
https://join.slack.com/t/deckible/shared_invite/zt-1c5s4vvmf-ThgwmaQzqLIjpJdEGbmIdQ
I'm no slack expert, but Dov volunteered to get us going here on slack and I think he's right, it's a better solution for Deckible into the future.
The main challenge with Whatsapp is you get too many messages and you can't control it.
this is normal as you scale. You hit a bump, you fix it and sometimes the fix just leads to another bump and another fix.
Hopefully we can stick with Slack. It's a much more robust solution.
OUR FOCUS
We will continue to focus on completing the marketplace features and also reviewing usability.
SHARING #DECKIBLE
We really appreciate those of you have begun sharing your decks by making videos and images and using the hashtag #deckible
There's a growing list here
https://www.facebook.com/hashtag/deckible
SURVEY
Please complete, share and embed the survey
https://cards.deckible.com/annual-card-deck-marketplace-survey/
COMMUNITY PAGE
https://www.deckible.com/community
We now have 108 creators listed on this page.
Please complete your profile if you have not already done so
You need an approved deck and a completed profile to be listed.
PUBLISHED
We have 177 decks published as of today. That means they are approved .
We have 30+ decks pending approval.
If your deck is not approved, there is likely a reason and that is generally one of quality,
Please do not submit your deck for approval if it is not complete. Please wait until you have card art and a box and a description etc.
GENRES
We pick the genres for your deck. We are open top input and the evolution of genres over time, but it is our decision.
DECK QUALITY = PROTECTING THE VALUE / INTEGRITY OF THE DECK INDUSTRY
Your decks need to be professionally designed. Does this mean you need to be a designer? That's hard to call. Probably. It depends if you have a design eye.
It's definitely a domain where artists have a head start, and we think that's a good think
Some simple rules:
No clip art.  
Text on images is always challenging. There is no hard and fast rule here, but rather a 100 technique to solve the problem. One solution is to avoid place text on images.
Please don't submit a deck that looks like it was created in Powerpoint in a few hours.  Please provide more value than a word or two on the card.  Cards with no descriptions do not seem to represent value
Please consider the value of what you are creating. We are  seeking high values decks with a strong design esthetic.
Please don't submit a deck that's made on Canva using all the same templates and visual other people use. We love Canva, but it can devalue the distinct branding of your deck.
Please avoid stock images if you want your deck to be unique then make the effort and source unique images. We all have amazing photos.
Please no personal branding on back of the cards. Put this on the box.

Number of cards does not have to be on the box front, this is generated automatically in the app from the data.

Make sure cards are graphically interesting on all sides.
Please make sure the design from one side flows to the others. Don't make anyone guess which deck this card is from. We often see a wonderful shared back with distinct visuals and then no reference to this branding on the second/third side. Design the whole product.

Please add a complete, rich description of your deck. This is scrollable, so there is no reason to be brief.
You can add value with a short poignant professional video - this speaks volumes about you…do it well…and only if you have something important to convey to enhance the value of your deck.

I simply ask myself and I ask you, "would you print 2k or 5k of this deck as is?". If there is hesitation then we should not approve it and you should not submit it. Create a product you are proud of that can live forever in the digital world.
Some of our earlier decks possibly don't meet these criteria. And that's called first-mover-advantage. We have gone back to people who's decks are published and likely will still do so.
Our goal is it keep raising the standards, so don't be offended if your deck gets called out and send back to be reviewed/tweaked. It's digital - you can do that.
We are here to protect the industry and raise our standards.
Please also don't turn up and load many decks and expect them all to be approved. If they are great decks they will get approved.
If you have more that one deck, be sure each stands alone with its own valuable information — if someone purchases both, they should not be disappointed.
We have yet to fully reject any author, but it's possible and it will happen one day. Usually we connect people with a designer and we give people specific feedback.  We are here to help you.
Please implement the feedback. We are not picking on you, but rather supporting the community and you.
RULES ARE MADE TO BE BROKEN
If your decks is freaking awesome, you can break any rule you want. One word on a card is just fine if your deck was work, looks like work and shines head and shoulders above the rest.
Be an artist. Shine like an artist. We are here to support you.
Be a thought leader, just make sure it looks good. We can match you up with artistic talent. Join the Slack group. Ask for help.
In doubt? Ask! Share your idea. Share you art. We will let you know pretty darn fast if you are on the right path.
We don't have to like your artwork, but we want/need to appreciate it.
We want to see/feel the value that is represents to its audience.
REFUNDS VIA THE APP STORE
Please remember people can ask for a refund. Refunds are not about simply returning the cost of the deck. We get surcharges. These surcharges will be passed on to you.
If your deck is refunded multiple times we may well de-list your deck to save you and us from the costs of surcharges.
This is new for us and for you, so please be supportive and mindful of the process.
If a user refunds / returns excessively we will ban them.
DECKIBLE DIGITAL DECK DYNAMICS

Digital Decks are different. They are experienced differently than a physical printed deck. Think outside the box for the strategy that will best work in this new experience.

Take a breathe. Don't rush it. Be clear on the experience you're creating for your audience.  

Do it well. Use these guidelines to prepare the best digital deck creating win win for you, your audience & the Deckible Community of
Creators.

Brainstorm and strategize your plan for your digital deck - how will it be experienced? How will client use it? Make a list of the benefits they get from using your card deck.

You can have less or more cards than your physical deck - how many make the most sense?

The right time to upload to Deckible is when you card deck is ready to rock. Uploading only a few cards is not a full experience for your audience and will not be published. There may be exceptions to rule with known creators we we know will add to the deck over time.
SUPPORT AND INPUT ON DECK QUALITY
I've had help from many of you on defining quality. Thanks specifically Jennifer Barnfield, Rosie Batista & Ayesha Hilton.