QUICK VIDEO INTRO
WELCOME RECENT JOINERS
Here's a link to the previous update  U3.
If you are new read this, and the slide deck which contains U1 and U2.
This is important as you need to know this background information to use the app during beta.. If you don't want to participate in the beta that is fine. If you wish to participate, please read or you'll  end up frustrated or asking question that are already answered.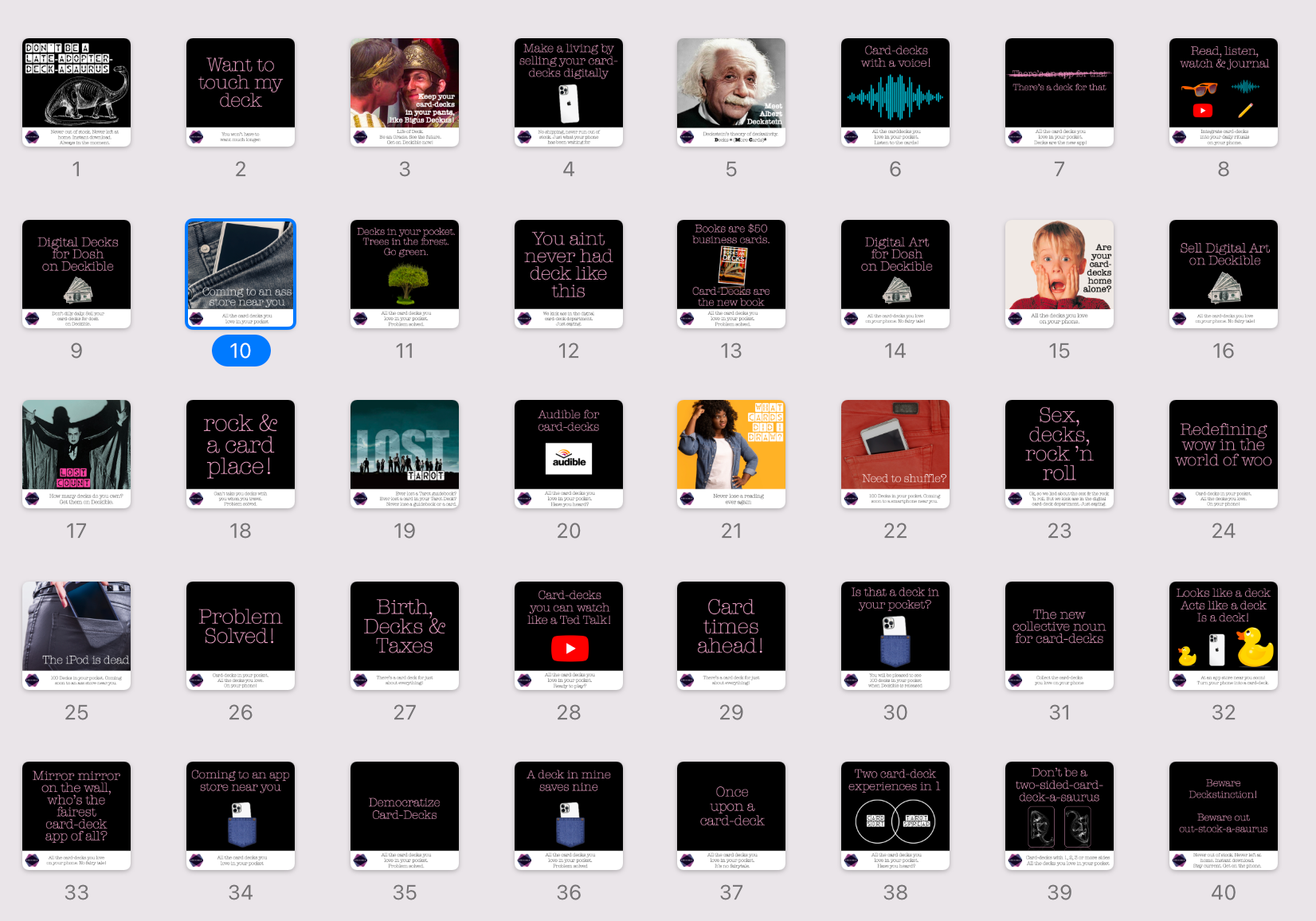 USER TESTING / EXPECTATION SETTING
Right now there is no value in you testing the current app.  
We are maybe a 1-2 weeks away from giving the next major update. I mention this in case you are new.
You are welcome to explore the decks. There are a lot more decks.
Just to remind you the decks are free to all deck creators during this phase. We will remove all decks and begin again for real once we go live. Read prior update for more info on this.
This update is about sharing our progress. It's very real.
It's taken a little longer than expected, but it's beyond my expectations. I can't wait to share this major update with you.
COMMUNITY ACTIVATION
My intention was to write a shorter update this week. That didn't  happen.
So much to share. And as I write this new things some to mind and I get excited by working on them and bringing them to life. This is definitely a work of love and extreme focus.
I'm aiming for shorter and more frequent updates as launch gets closer.
U5 will be short, I promise!
We are starting to need more from you.
More collaboration and community building. Launch is edging closer.
1.  HASHTAG #DECKBILE
Please use #deckible as the hashtag for all posts.
It's simple,  and it helps us track and amplify activity on the social.
Please look out for other people's shares and amplify accordingly.
Any referrals and connection at this point really help.
We will collectively thrive from a launch involving more creatives
2.  SOME ASKS THIS WEEK
So my asks are:
3.  SERIOUS SOFTWARE
I need to remind you, Deckible is one serious piece of software engineering.
It works offline, it streams downloads in the background. It arranges cards and never forgets. It shuffles and spreads. Not only that, but it does deep sharing. And so much more. This is so not a minimal viable product (MVP)
I could write as essay on the process queue. This app is doing a lot and making that look smooth is no mean feat. Kudos to Paul and team.
We are modelled on Audible, but heck this is so much more. Listening is a very passive experience. This is anything but passive and that is the magic.
Prior MVP's have failed because they failed to create an engaging experiences.
Sometimes these things need saying:
Deckible will be hard to ignore - it's remarkable.
No other phone app in this space has this level of tactile interaction. No consumer app. There are design apps, but that's a leap more technical.
We are all privileged to be part of the launch. It's a team effort
App + Decks + Community = Win
I think we have our workflow dialled in.
Thank-you one and all.
4.  QUICK DRAW - ONE CLICK
I was using the new Quick Draw feature this week.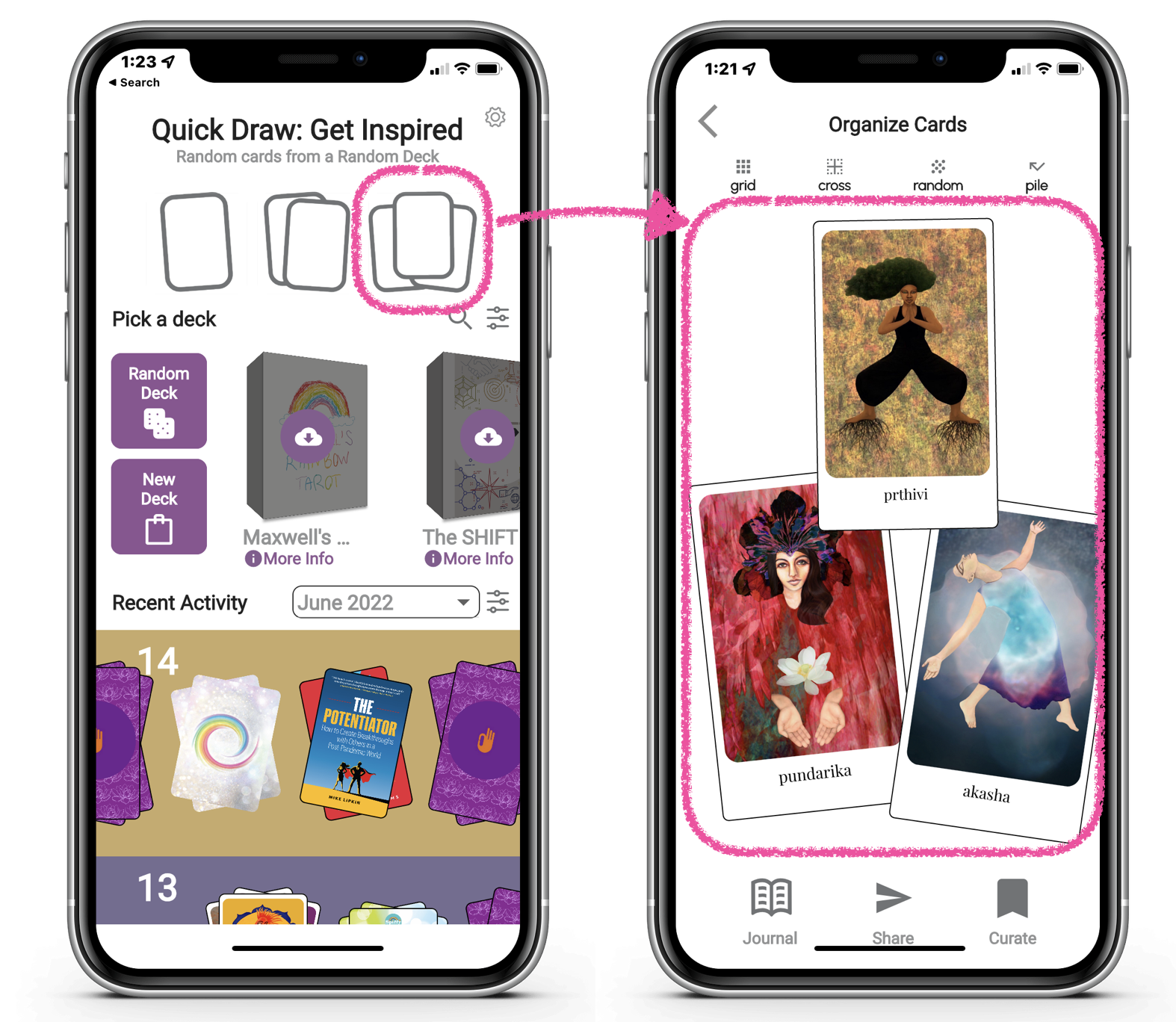 I created 50+ readings in a single day. That's vastly more than ever before.
One click gets me one, two or three card(s), drawn from a random deck.
The simplest and most common use-case for Card-decks is quick draw.
You can also pick your deck first, then do a quick draw.
Easy. You decide how much random you need.
Pure joy to experience the ease, then to arrange the cards and journal. All the usual good stuff.
5.  BACKGROUND LOADING
I was using background loading (yes we've built that in in too). I was flitting from deck to deck with ease. No waiting. More joy. Click download and get on with other things.  
Below, I'm looking at the new Deck Info page. I'm midway through downloading a deck, and it's showing a progress dial. Sweet!
You don't have to watch the cards download. It's just like Audible. Simple. Easy.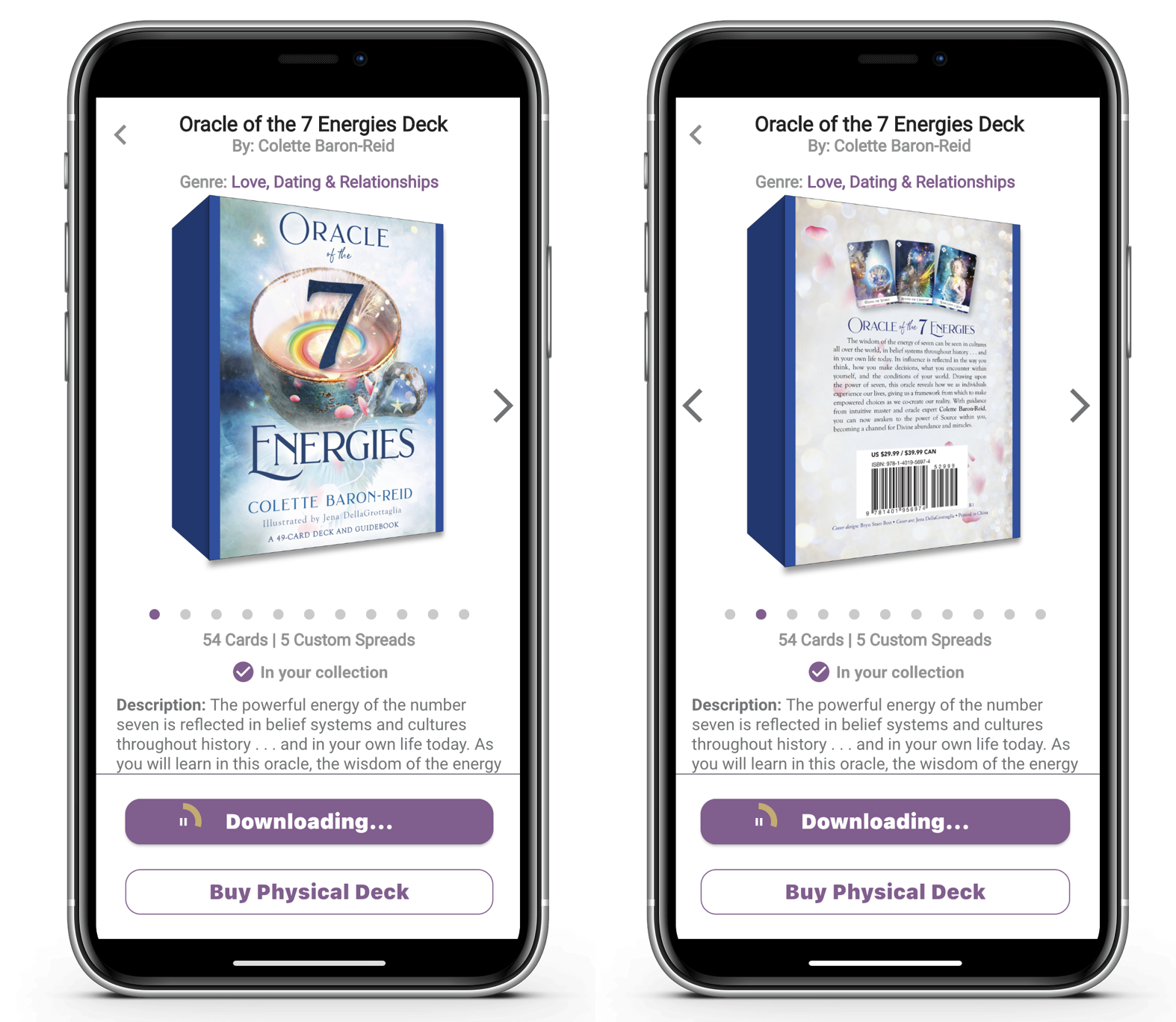 OK, yes, I'm teasing. You don't have these features yet.  Sorry. Not sorry. Soon!  
P.S. The eagle-eyed amongst you, can ignore the genre on this deck. The app is still getting synced to the new genres.  See below more on genres.
Some of my joy is novelty, but the experience is fast, simple and fun. Worth waiting for, but deck info is cool too.
6.  DECK INFO PAGE
You can get to the deck info page from outside the app. You can get there if you don't own the deck. It's your selling tool.
There's a buy deck button if you don't yet own the deck.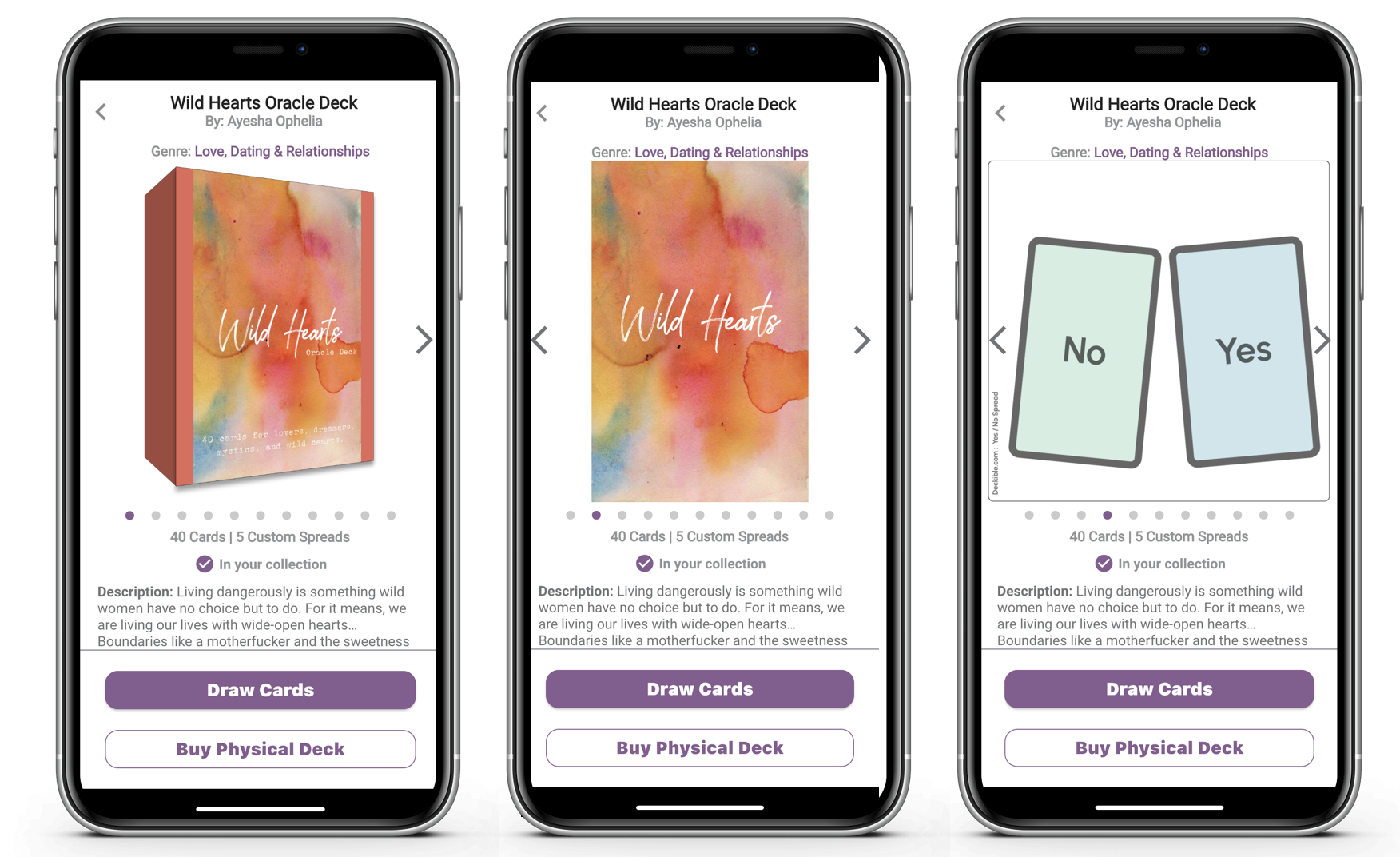 You can include audio or video to sell your deck. At the top of the screen is a slider with all the information you need to learn about the deck.
This is highly scalable and very slick. All your decks will have a consistent experience and it takes no effort to set up.
We are defining what it means to publish digital decks. It's not been done well or at all, and certainly no digital mobile marketplace.
Here's the list of what's displayed in the slider if relevant:
Front of box
Back of box
Shared back
4 random cards
Visuals of your deck's spreads
Author Card (coming soon)
Audio or Video
And from here there is a link to "Draw Card" and to your Physical Deck.
We will also be splitting out the count for shuffleable cards and information cards, so it's super informative. It also shows a count of the number of spreads.
We have definitely made decks and guidebooks so much simpler. It was not a goal, but it's something that's just fell out from working on the project.
7.  SPREADS & LAYOUTS
This is an area of serious change. No longer do we ask you "Card Sort" or "Spread"
There two methods have been unified into one workflow.
Simply choose a layout. And click start. You can even pick a random layout. And quick draw is an option here too.
Spreads now show the label or name of each card instead of a number. That's not shown below, but its coming.
Below you can see I've picked a spread, then the cards, then I reveal. And I can zoom to each card (Card Info) and then my reading is saved to my timeline.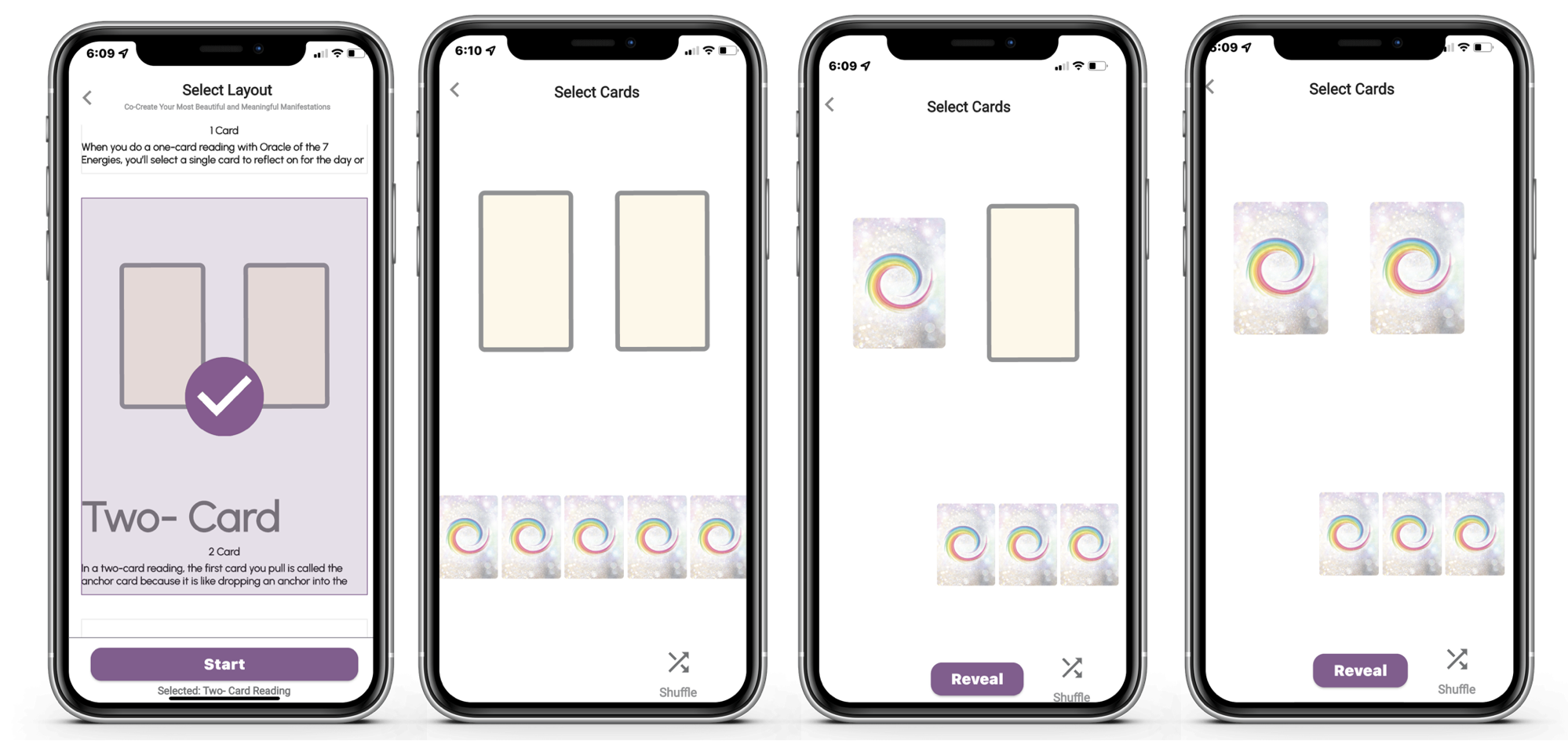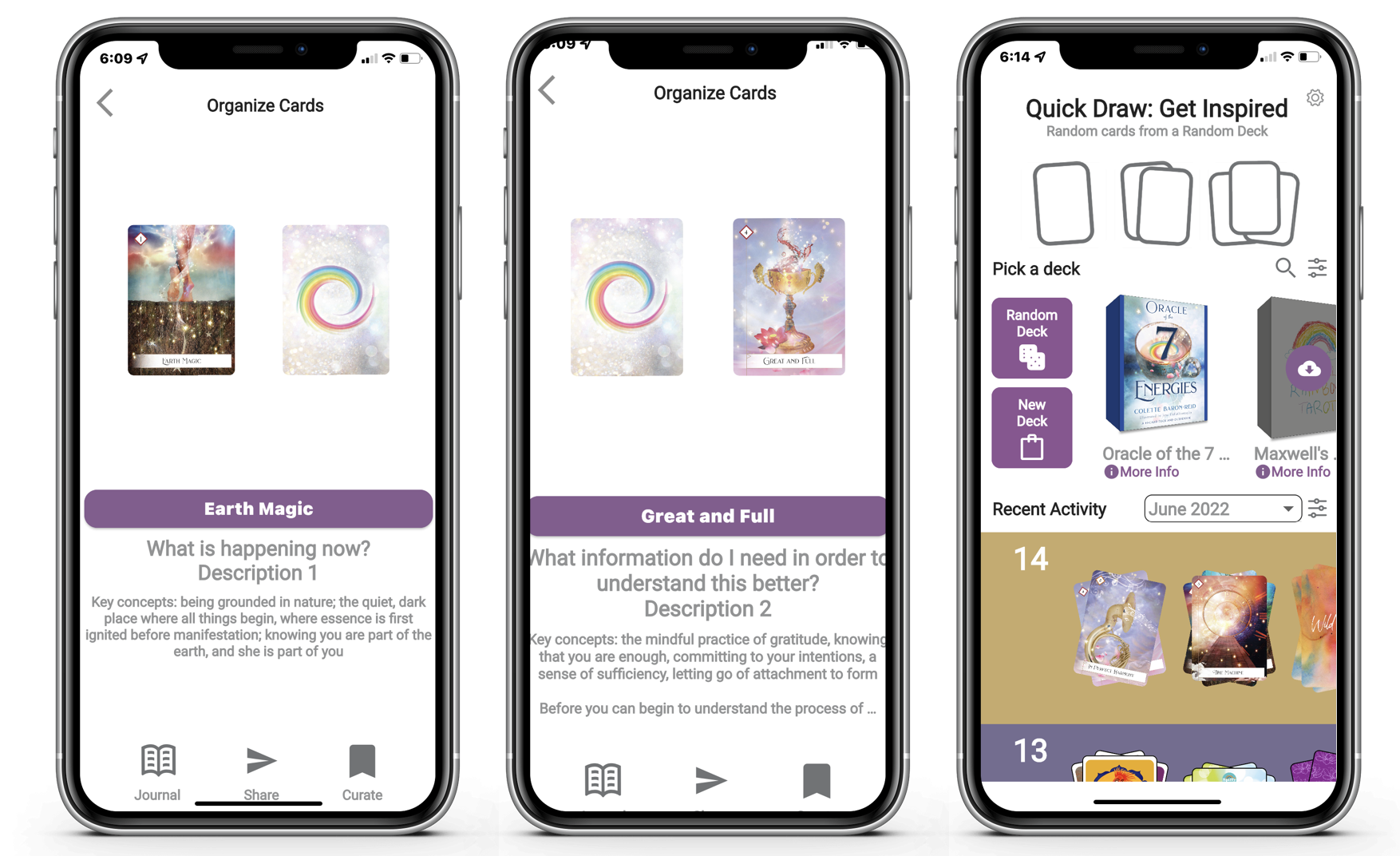 Isaac has put a lot of work into spreads.
Designing a core set of 10 spreads that will be available to you to use with your decks. In addition you will be able to create your own custom spreads using the same tools we use to build these spreads.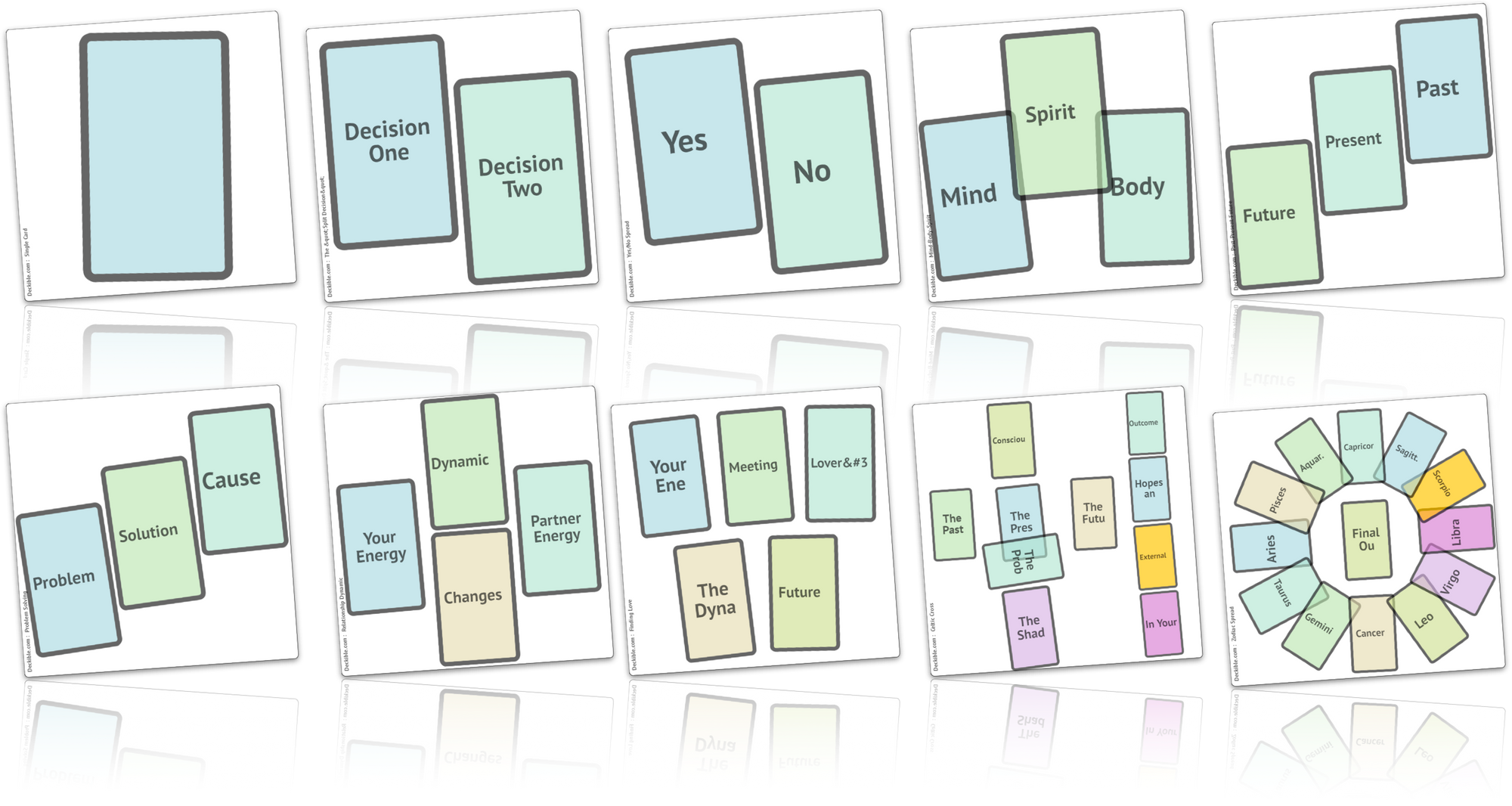 8.  CARD INFO
Card-Info is just like Deck-Info.
There's a slider, with one element per side, plus a special side for audio or video.
And Card Info links to Deck Info links to Buy Deck.
Card Info lets you slide between the faces of the cards and play the optional Audio or video associated with the card.
Both these decks are exceptional and include audio.
Elena has been a super supporter of the project which included reformatting her deck for the phone and including short audio tracks for each card.
UnNotes is hilarious. Think multimedia comic meets podcast with a twist of newsletter thrown in. Roger is a cool guy.
It's so exciting to see and explore all the new decks when they are of such high quality.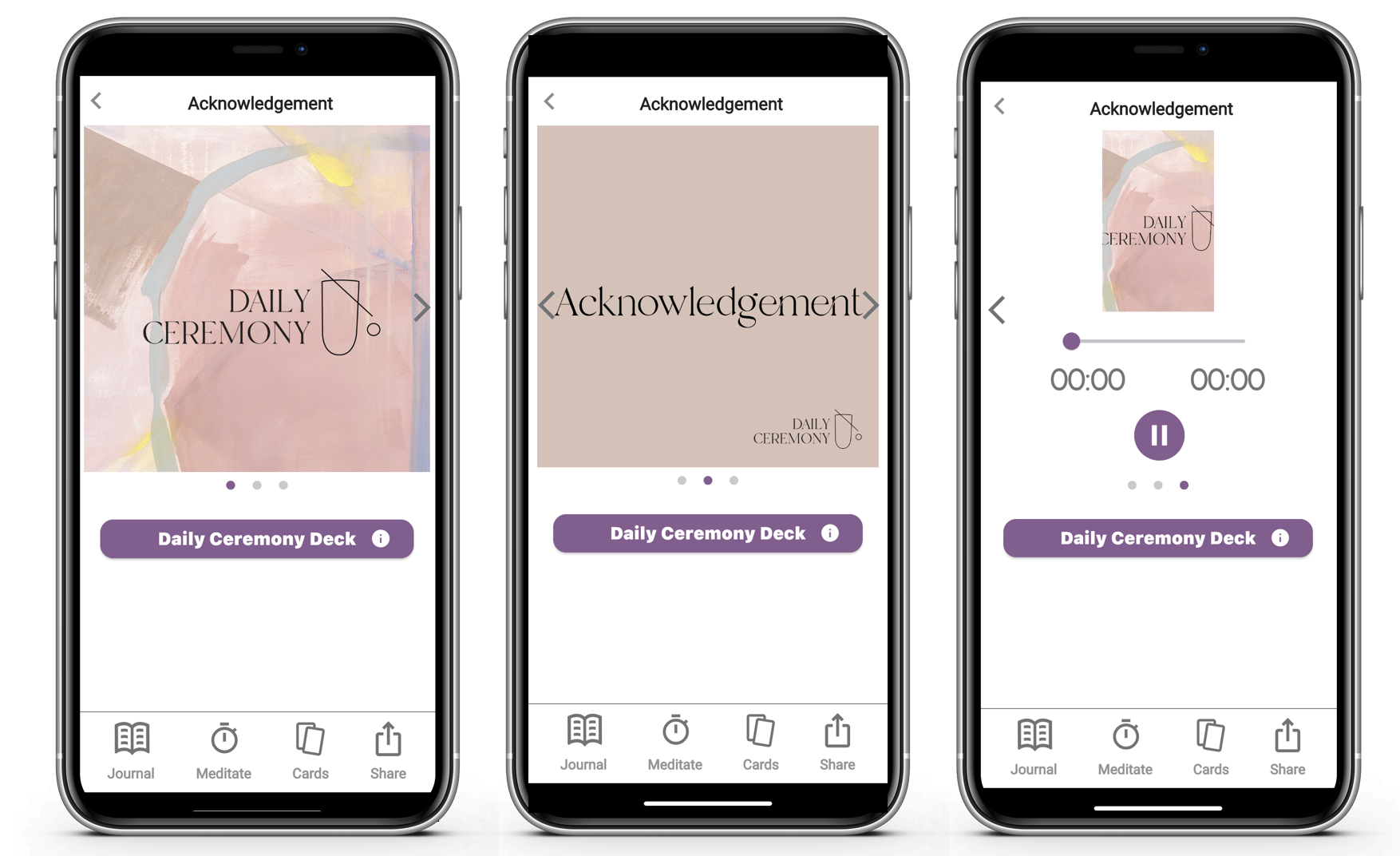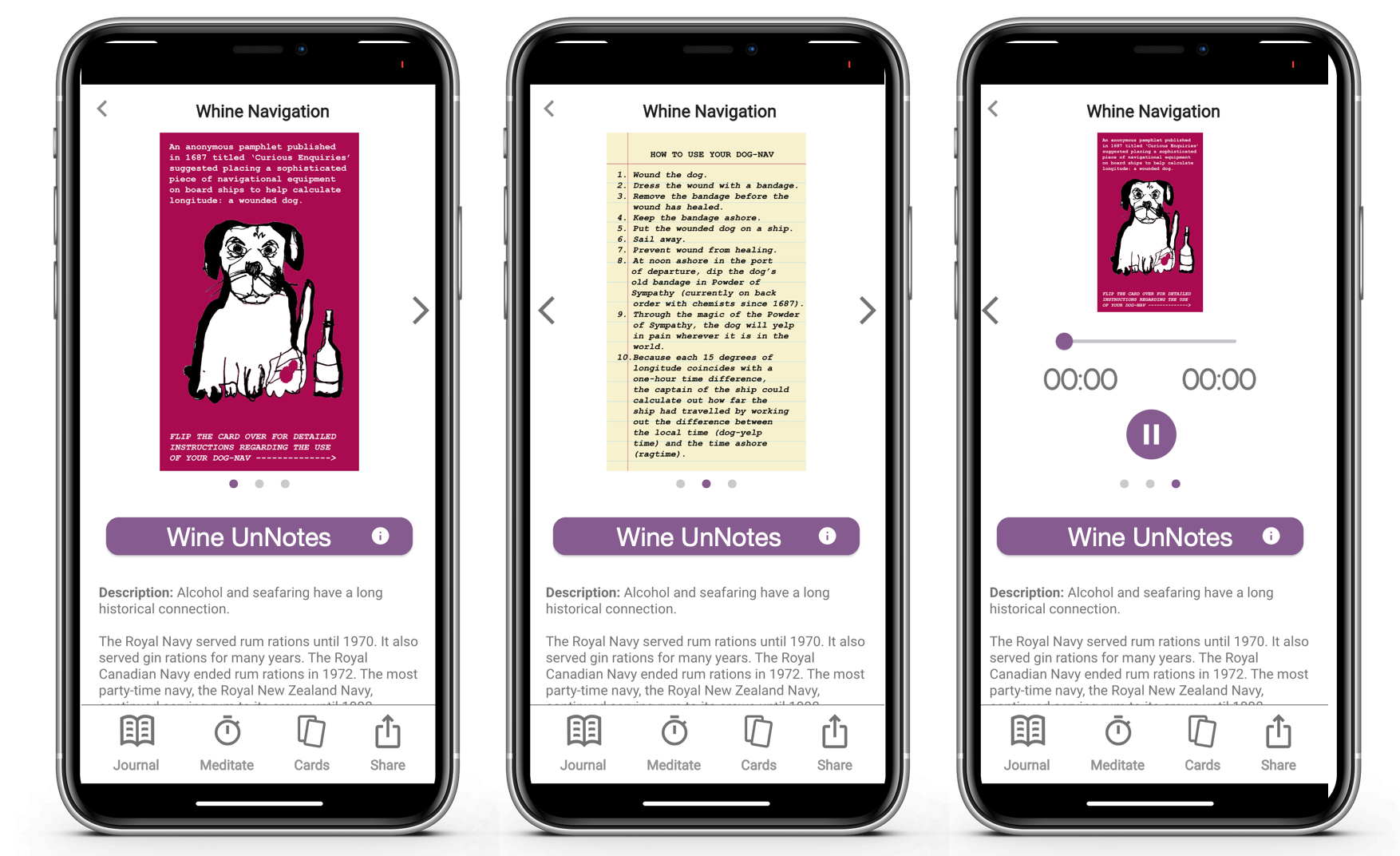 9.  GRATITUDE & PATIENCE
Simple is hard to achieve. Less takes more effort.
Today, I just want to be grateful for where we are.  I'm also thankful for your patience and support.
We have landed somewhere truly special and it's really beginning to shine.
I'm as grateful for the development team, as I am you you and the the amazing decks you have created.
The universe is really pulling things together, and helping us get found. I see the momentum building daily in my inbox.
10.  COMMUNITY / ARTISTS HELPING ARTISTS
Hillary Sciscoe, who manages Patty Lennon's community asked me this question:
"I am wondering if you know of other Deckible creators that are interested in doing podcasts or that have books? Is there a list of the other deck creators somewhere that we can look at and offer a partnership with?"

Great question. Hillary has the perfect mindset. We are working to cultivate a community of artists helping artists.
Culture begins by one person taking an action, and others following. So follow Hillary's lead. You will hear a lot more from me on this topic in the coming weeks, months and years (yes this is a marathon not a sprint).
Good news, I was already thinking similarly. Check out the new community page. It links to each community member and their deck pages.
It's just the beginning.
300+ creatives have signed up to Deckible right now, but only 30 on this page at this point, because, to be listed, you need to complete the following :
[ X ] Photo
[ X ] A write-up about you
[ X ] Links to your socials
[ X ] One or more published Deck.
We have decks loaded from 150+ people at different stages of completion. More sign-ups, more collaborations and more progress each day.
It's all moving along  really well. I'm keeping the bar high on this as we want to be a wonderful showcase of the card deck community globally.
11.  GENRE LIST
Here's the revised list of card-deck genres;
Brainstorming & Ideation
Business
Celebrations & Holidays
Erotic & Sensuality (18+)
Health & Fitness
Humor
Kids & Parenting
Learning & Coaching
LGBTIA+
Mindfulness
Oracle
People Of Color (POC)
Purpose & Priority
Relationships
Social Games
Spirituality
Tarot
Therapy
We will be adding more information on each genre. We will include images to match the app. And a description of each genre.
Here's an indication of what to expect in the app, where you can filter your decks by genre and explore new decks in the marketplace just like you can here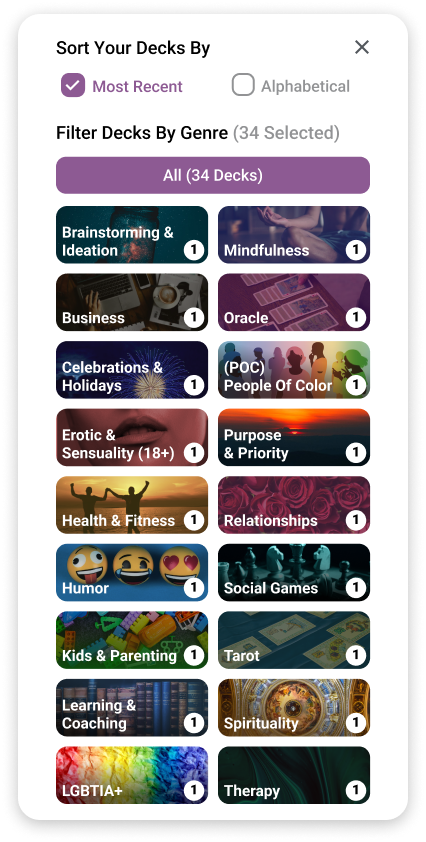 12.  CARD-DECK SURVEY
We are running a survey. Surveys are  effective tools for gathering information, building community, getting found and helping people learn more.
They are also a great tool for the media. Media love to quote surveys.
People will complete the survey to see the results.  We will also be gifting a free deck to people who complete and their email and elect to be signed up to Deckible.
When you complete the  survey you can opt to automatically create account on Deckible with your email, if you don't have an account already. Easy. We thought that was unique and cool.
We have created 4 surveys:
Deck Creators (that's you)
Professional Survey for people who use Card Decks in a work setting.
Card-Deck Readers
Collectors - people who use and collect card decks

I ask that you complete the survey and share it with your community.
If you have a blog, you can embed any of the surveys there.  The script for each survey is below the survey link. Were's using Airtable and their API to connect to Deckible. Cool stuff, me thinks!
13.  PUBLIC SEO-CENTRIC  URLS
Decks and Community members work in the same way. Each has the following attributes:
A name
A tagline
An bio image (or a box image)
A description
These are smart URLs that can be changed. ie you can change your tagline and the URL update.
I picked a random deck. Your profile and your decks have equivalent URLS. In time we will build really strong SEO ranking and Deckible will come top for anyone searching for a card-decks.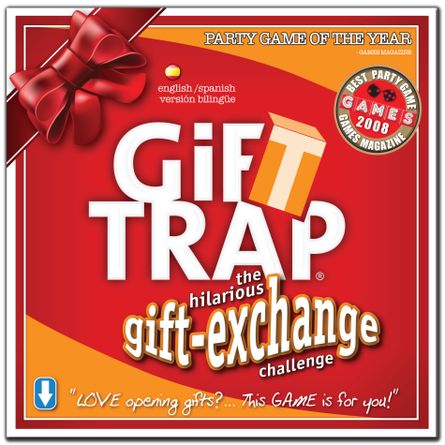 We are simply following in the footsteps of Boardgame Geek. Here's a link to my game. If you search for any board-game the geek comes top.
There's a lot more to this strategy than I'm sharing now, I achieved amazing SEO for GiftTRAP and Listl.ly is wicked for SEO. Listly is a top 5k website globally. And 1 million+ users. I was co-founder. Deckible feels like a download. It's a sequel.
So explore these links. I embedded these in this blog ( I'm using Ghost.org ),  just by adding the URL as I type.. The same will work on Medium etc.
Notice those two links follow a similar format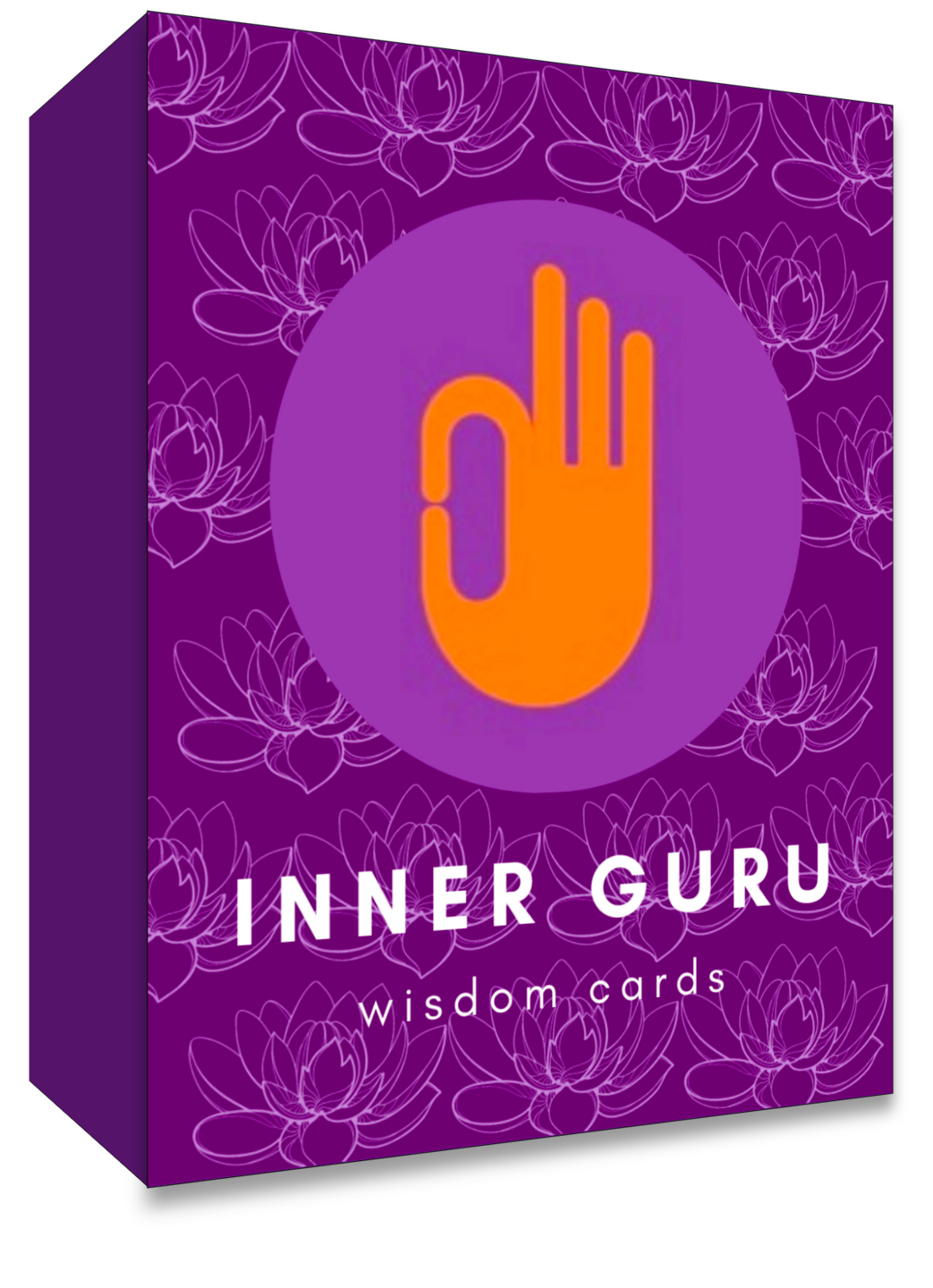 I also grabbed some auto generated images from INNER GURU (more on that feature soon).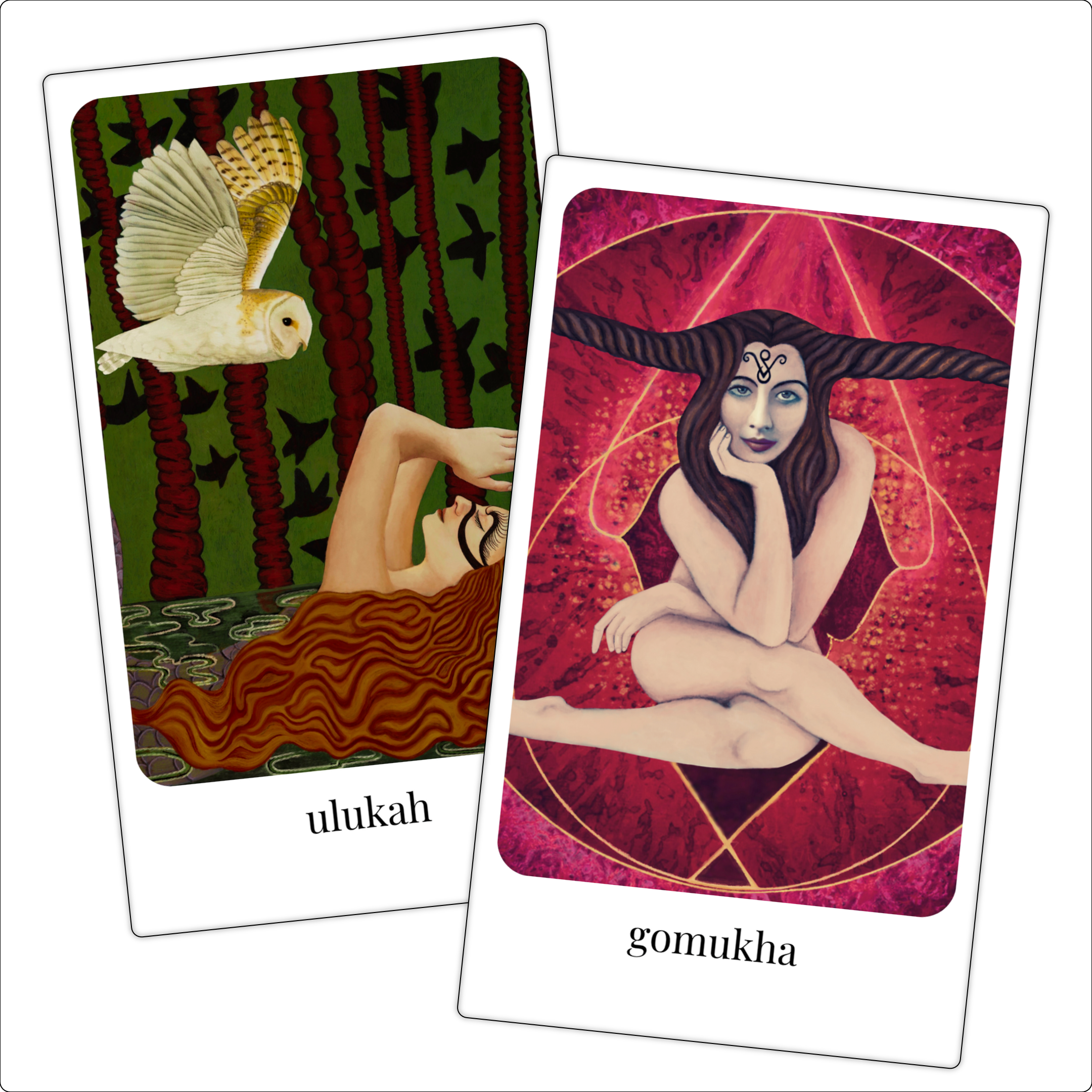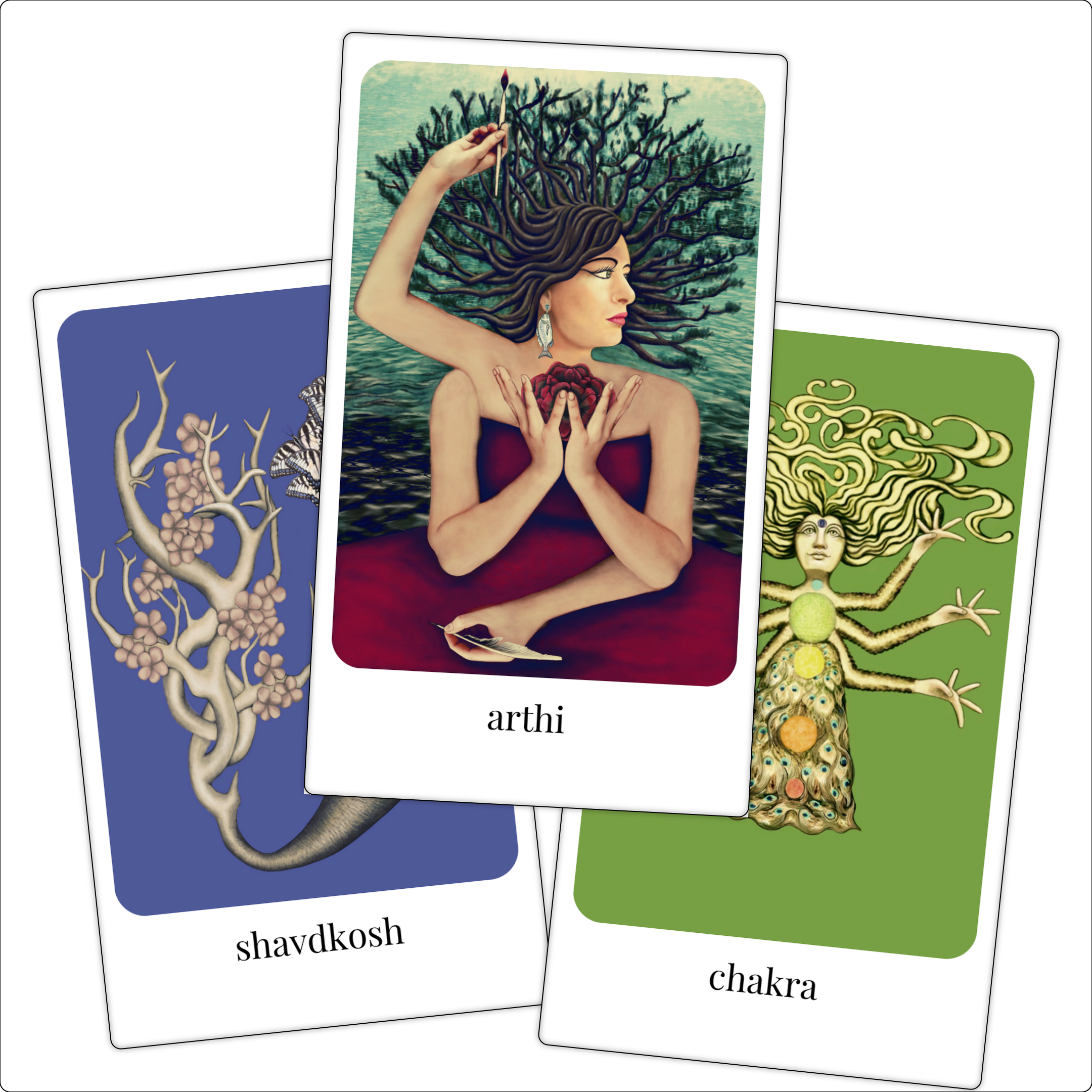 Looks so good! And so easy to make and share.
14.  SPREADSHEET UPDATE
In a single day I can experience people loading a deck in minutes. I often load a deck in 20 mins, but I'm nerdy, I wrote the code for the import and I've done it a 100 times. I see new people turn up and load a deck within 40-50 minutes of signing up
Here's an example.  50 mins from signup to a loaded deck.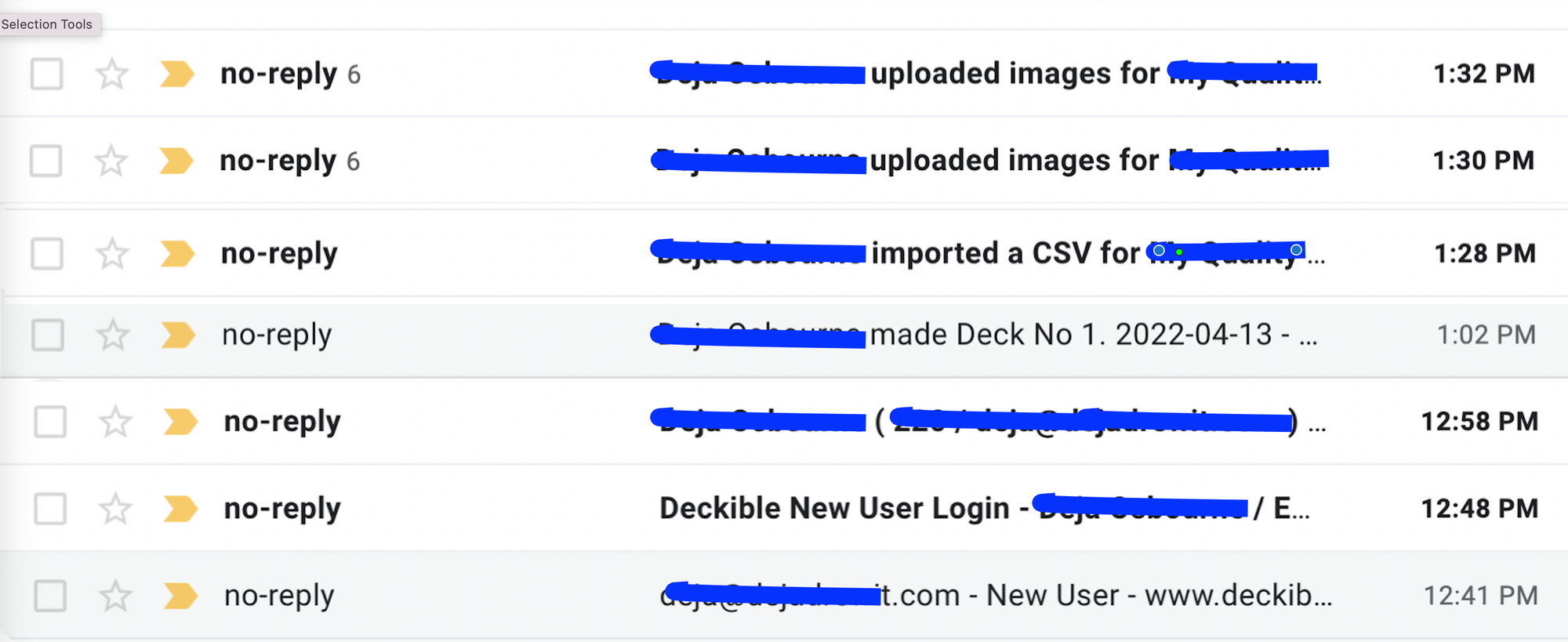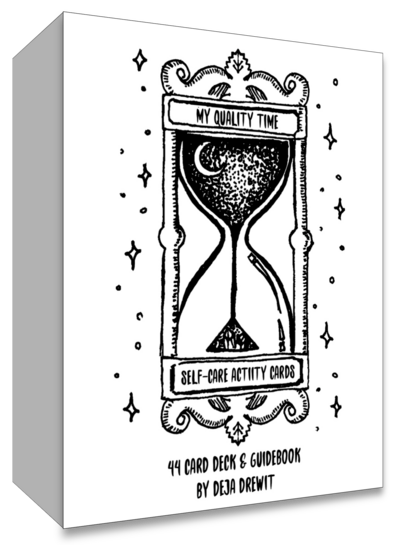 This was the deck. Great job Deja!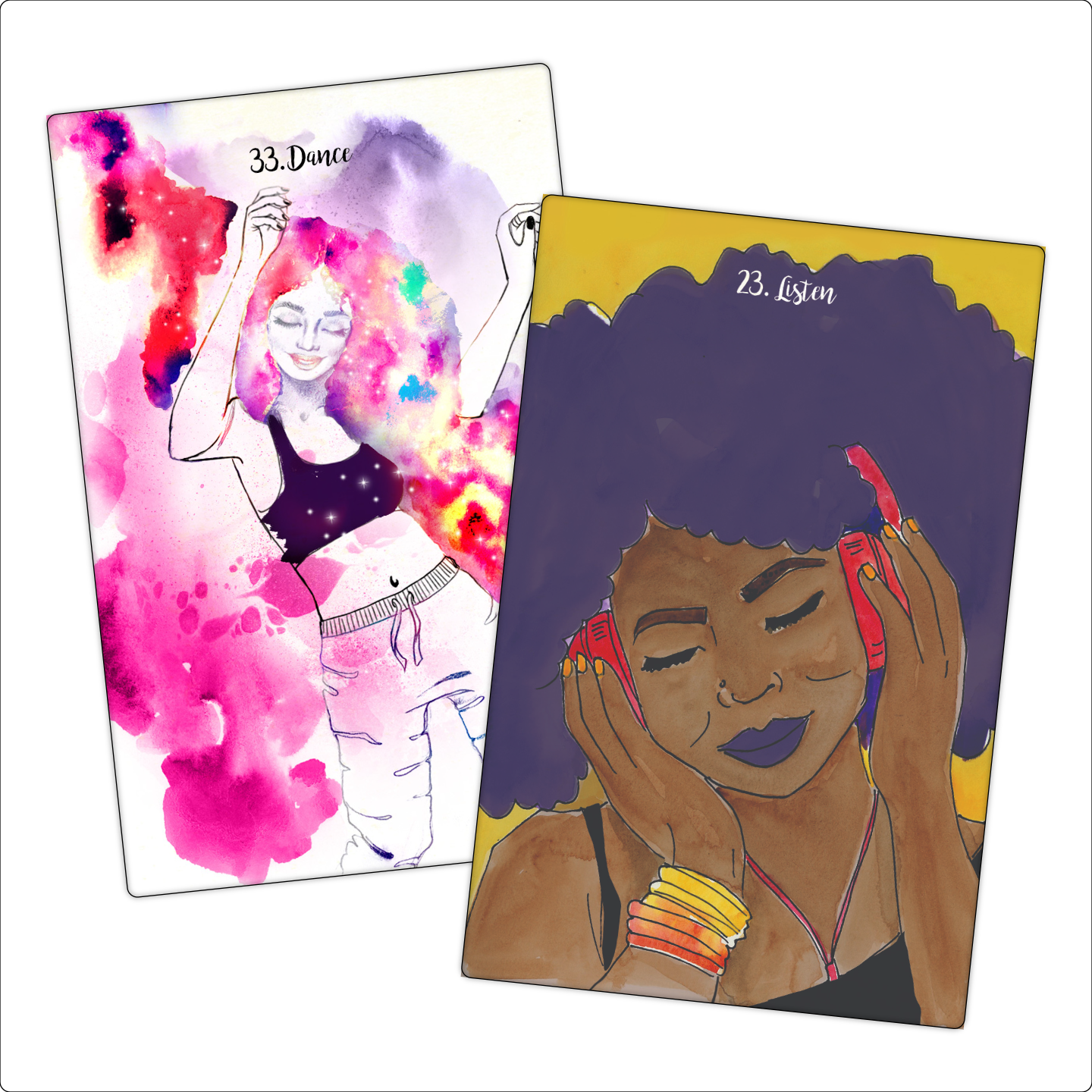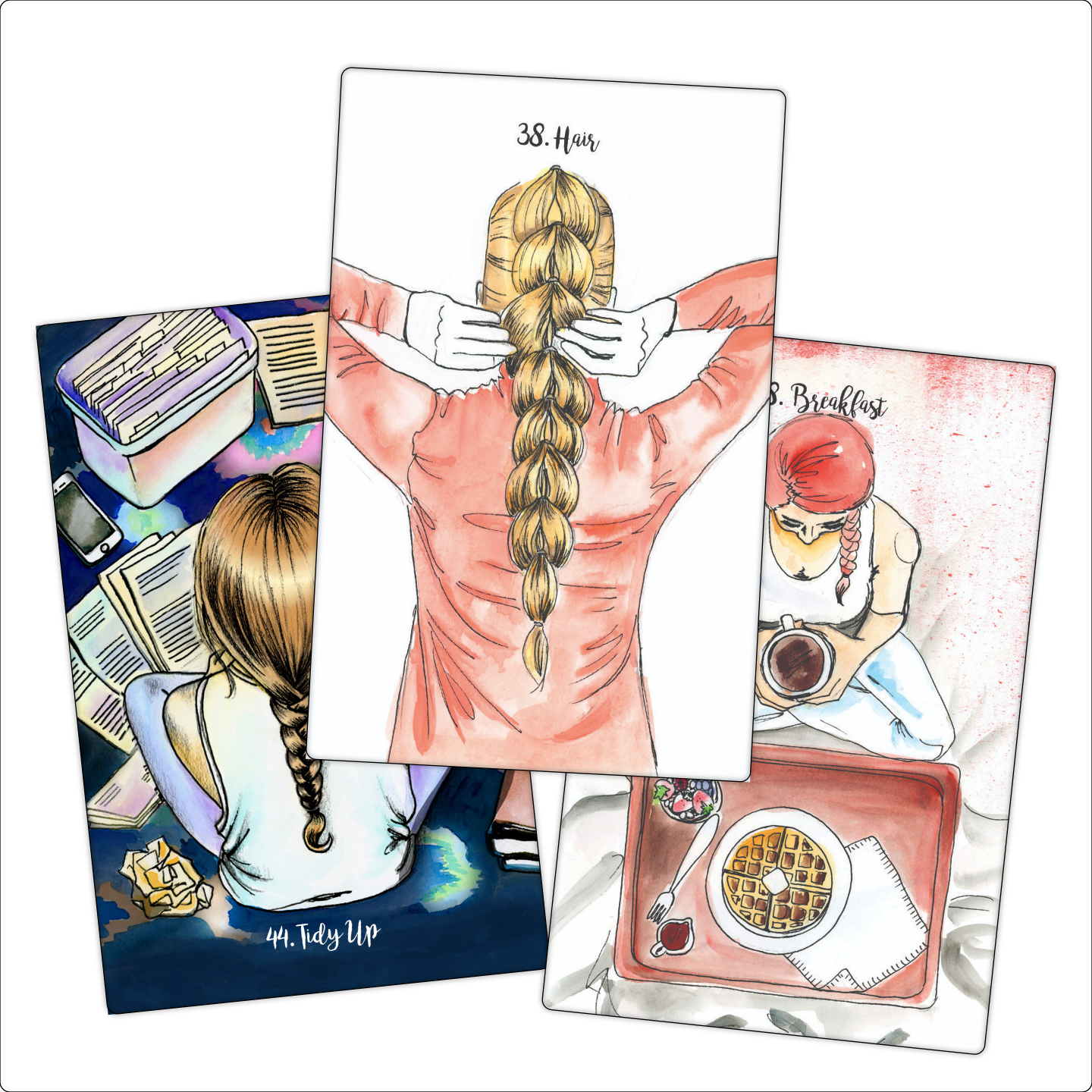 In the same day also I experience people struggling.
We all have different skills. And different approaches to tech problem-solving.
Some of us are comfortable with Googlesheets and spreadsheets and data. Many are not. This is all good.  
We have spent a bunch of time to enhance the end-to-end process to make it cleaner and simple.
Updated spreadsheet  & video (thanks to Isaac). It's the same link as before, but it won't look like the versions you have copied.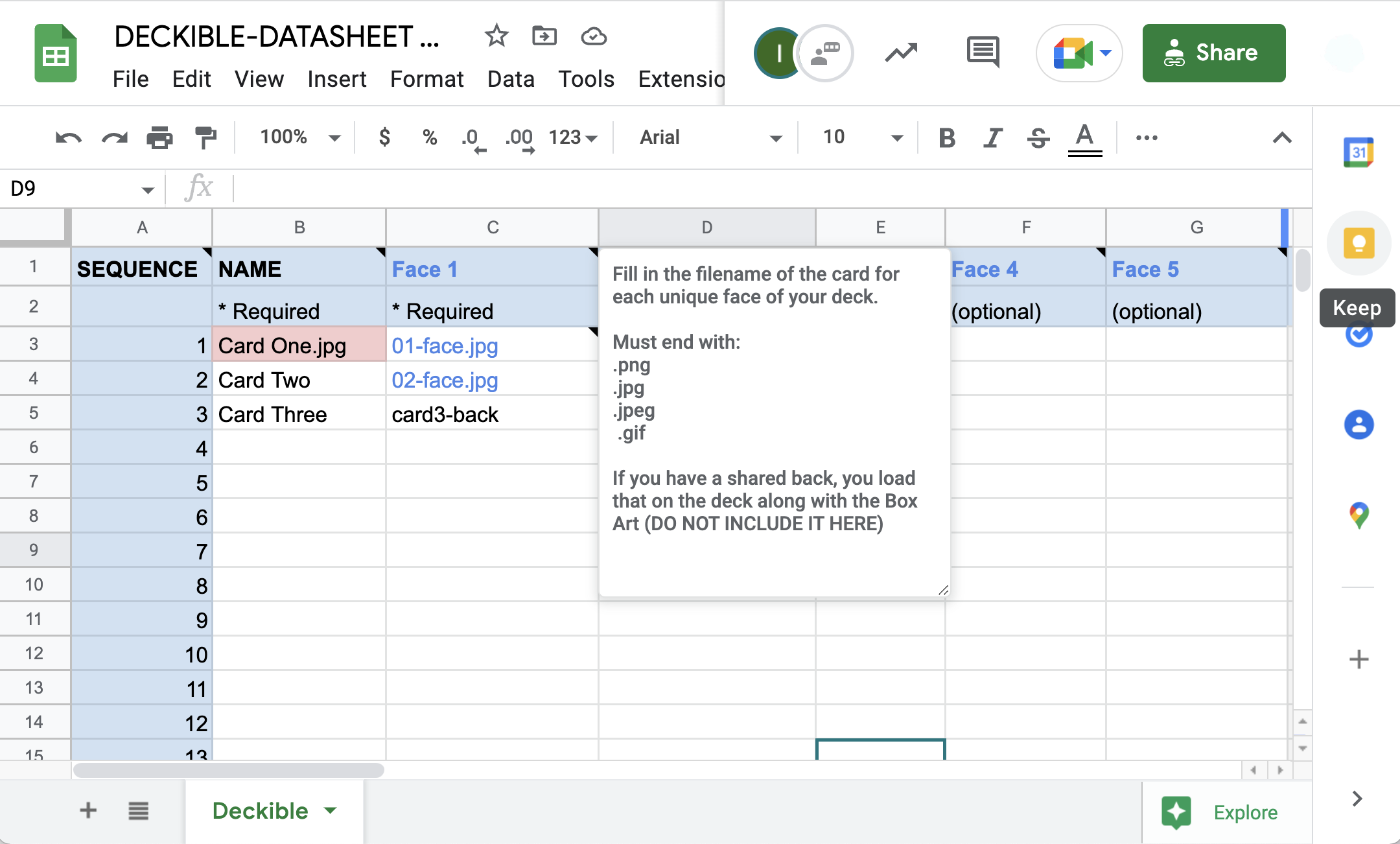 The spreadsheet now caters for up to 5 sided-cards.
We  decided we'd have one spreadsheet (not one for 1 sides, and one for multi-sided). You can't go wrong. Just use this.
We added tool tips. We froze the key columns. We locked the formulas, so you won't mess up accidentally and remove formulas.
And we also updated the video.
It's been 4-5 months since Isaac made the original video. Multiple tiny changes made it worthwhile to remake it and make things simpler / more consistent for you.
15.  REVISED IMPORTING PROCESS VIDEO
16. IMPORTING/UPLOADING PROCESS
Not much has changed here, it's prettier, more functional and it reports things that are wrong or missing much better than before. Less distractions.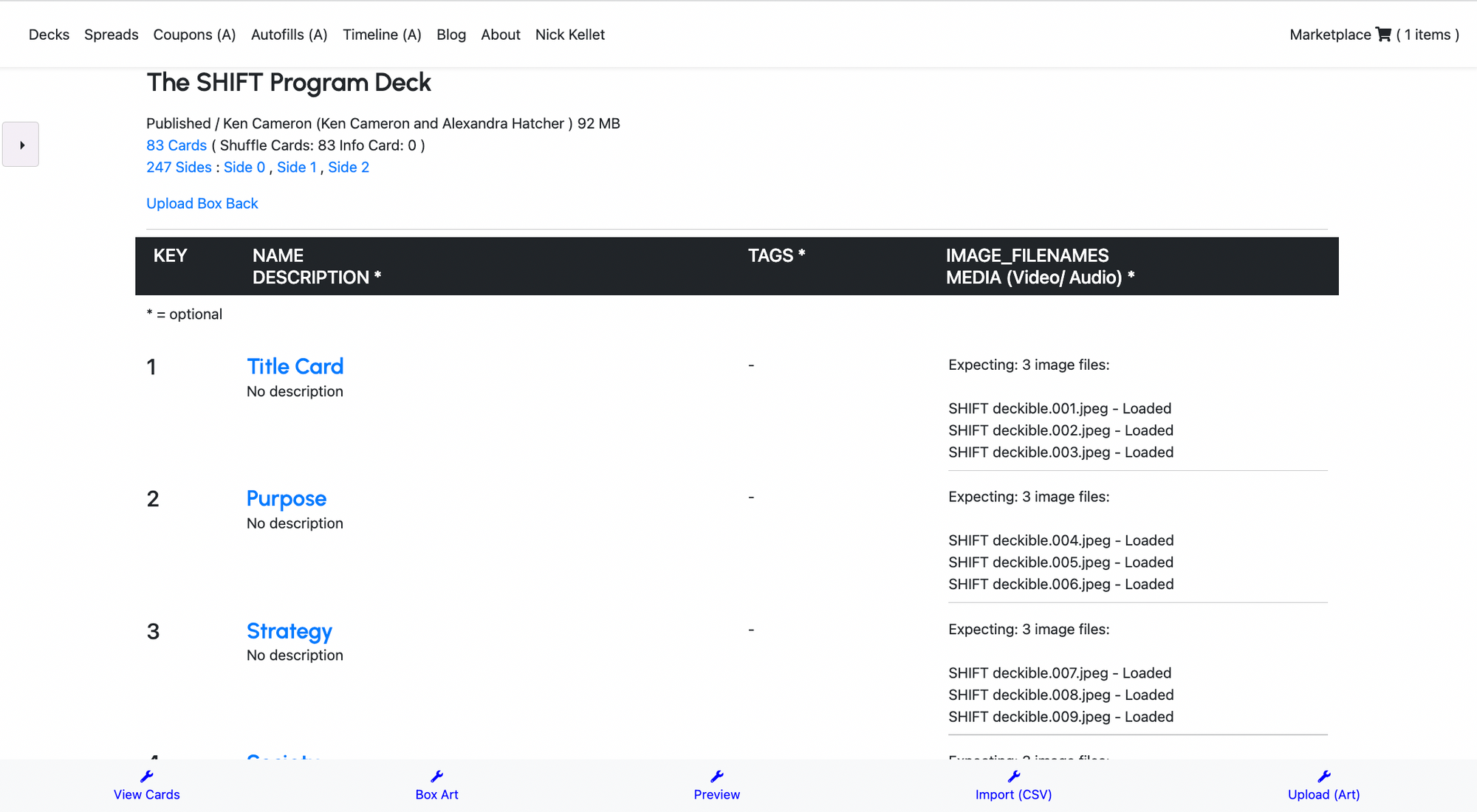 17. EXPLORING CARDS BY SIDE
We added an easy way to view all the images for a single side. That helps with checking for omissions. This is hard to explain, but it's now easy to see how your card deck is put together. Are all faces of the right side.
Anyhow it's useful if you have multi-sided deck. And if you have some card with more sides that others.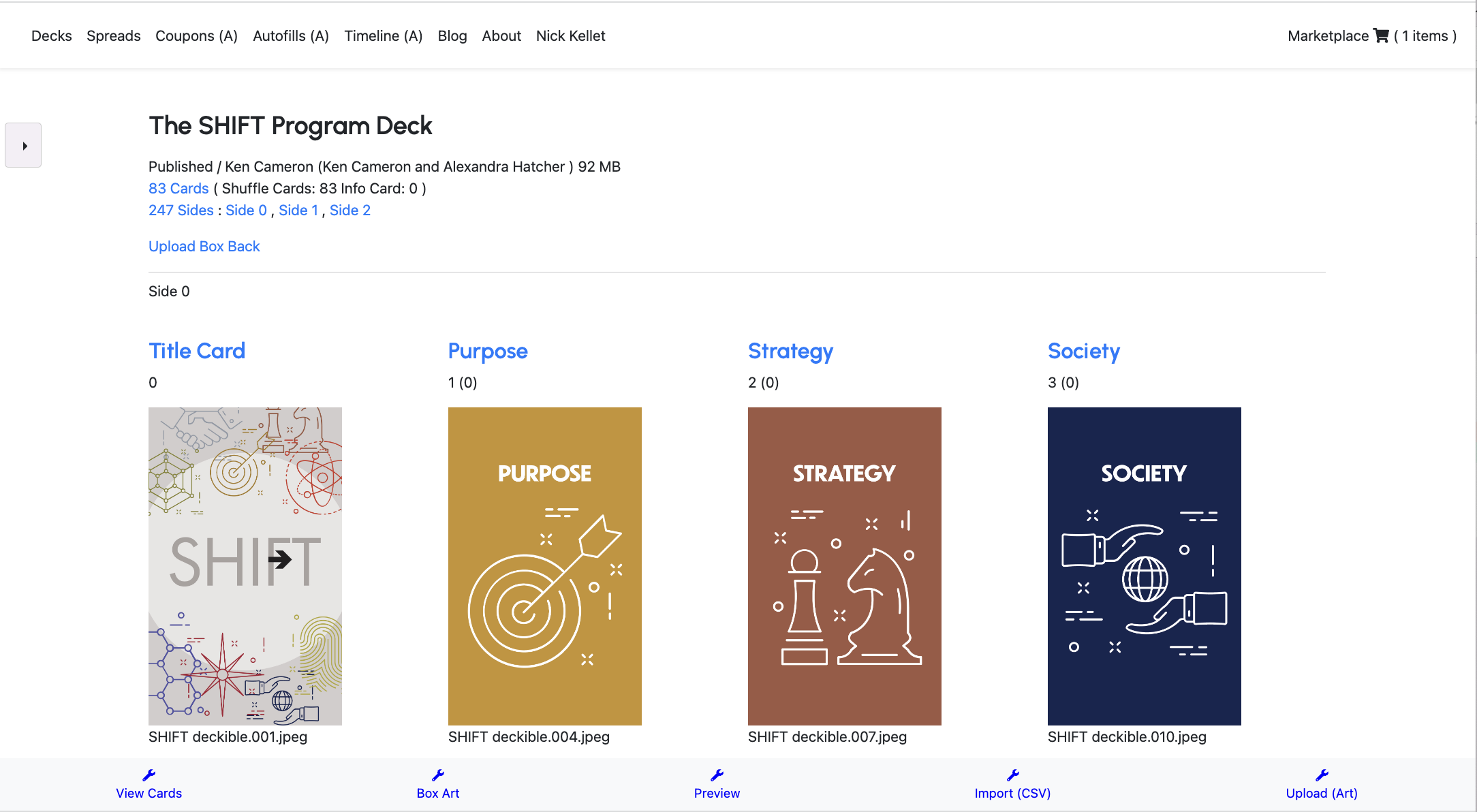 Here's a great examples of a missing image.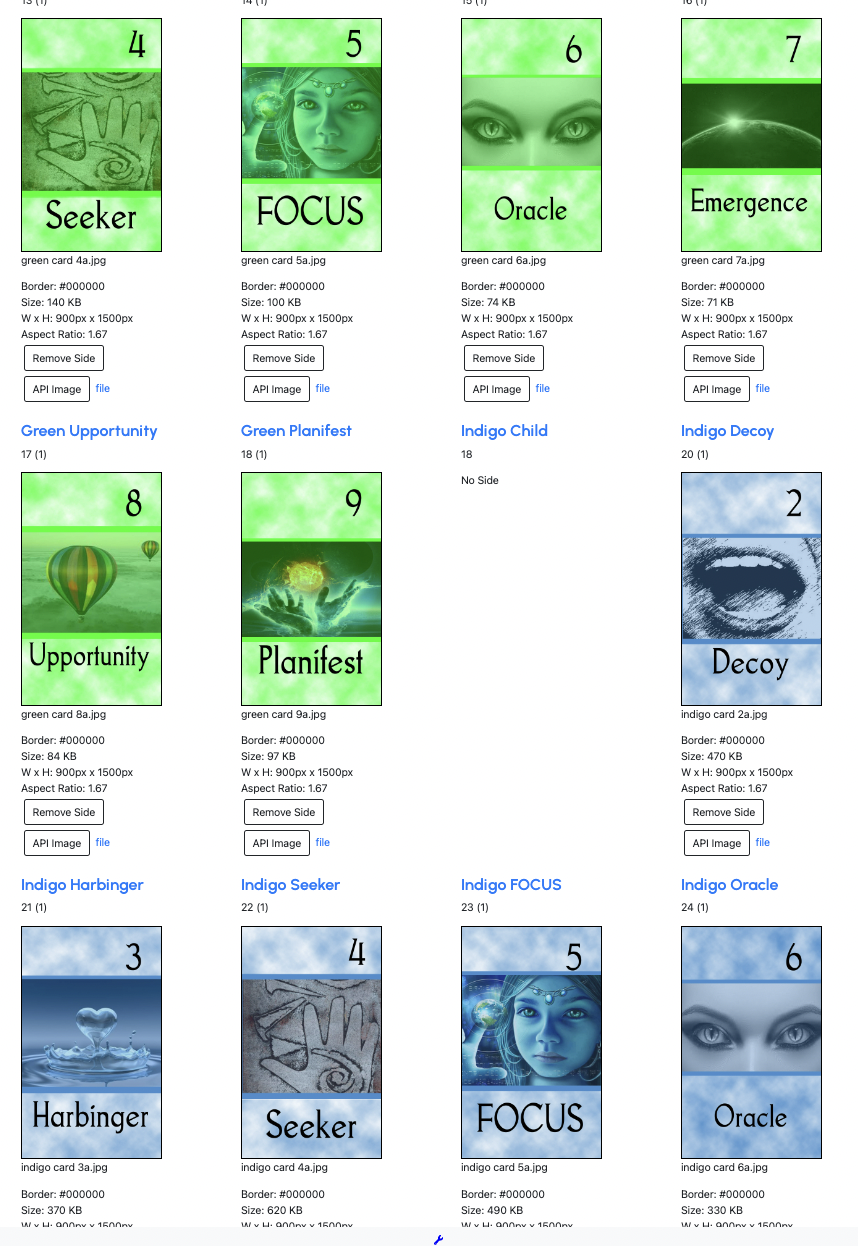 The images were always  listed as missing, but gives you a visual clue. And sometimes these gaps are intentional.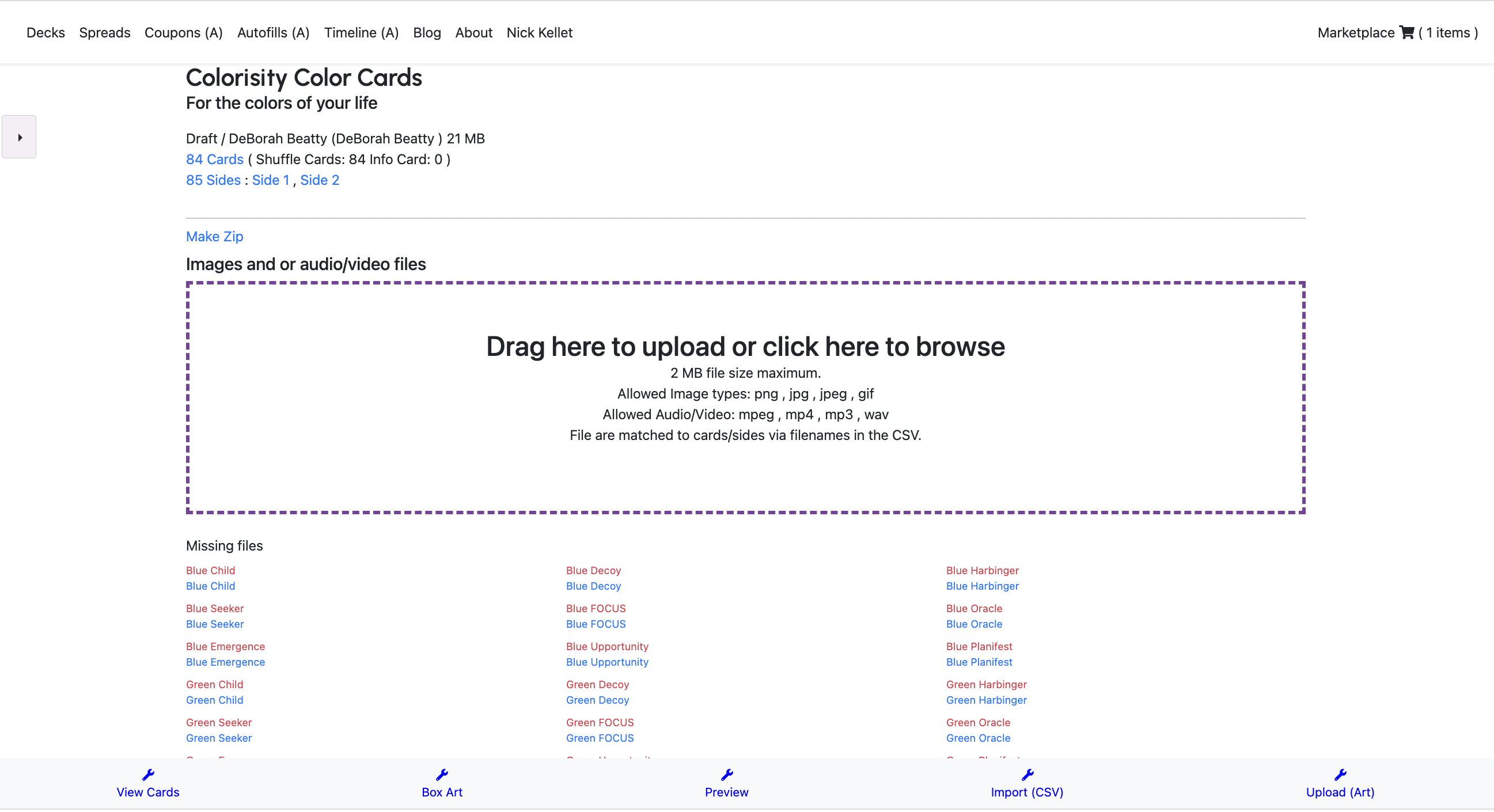 18.  PAID UPLOADING / PROFESSIONAL SERVICES
I know I'm too busy to load decks for people right now. I'd love to,  but I have a backlog to process and a launch to strategize.
So that typically means someone's got to get paid to load it for you or you can do it yourself. Your call.
📔
If you have a deck and can't load it yourself, let us know and we'll find you help
📔
If you are skilled in loading decks, let us know we are starting a professional services directory for Deckible.
We have people in the community that can do it for you.
eg Esther Sanchez is offering design help for decks and her husband who loaded her deck is offering uploading services.
https://www.esthersanchez.com/services-deckible . The password is deckible
19.  TAROT WITH YOUTUBE
I first thought this was a scam, but it is a Google website. It's very slick.  It's proof of the size of the Tarot marketplace.
Youtube got 250 million views videos including the word tarot in 2021 in the USA alone. Wild stat!
So this is big business for YouTube. And they have invested a lot in this. Who knows how long it will be around for. Google kills things quick if they don't pay.
You can download them and and i made a Deckible deck from the 22 cards.
You can explore this deck in the beta.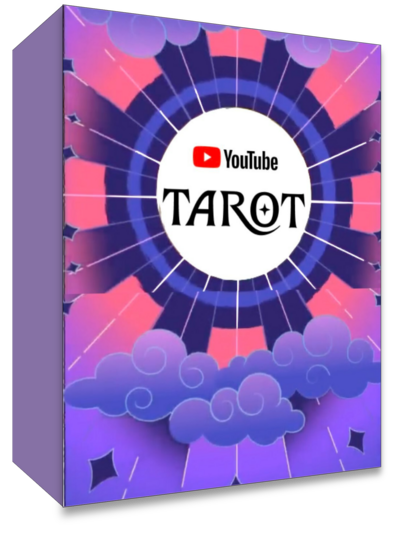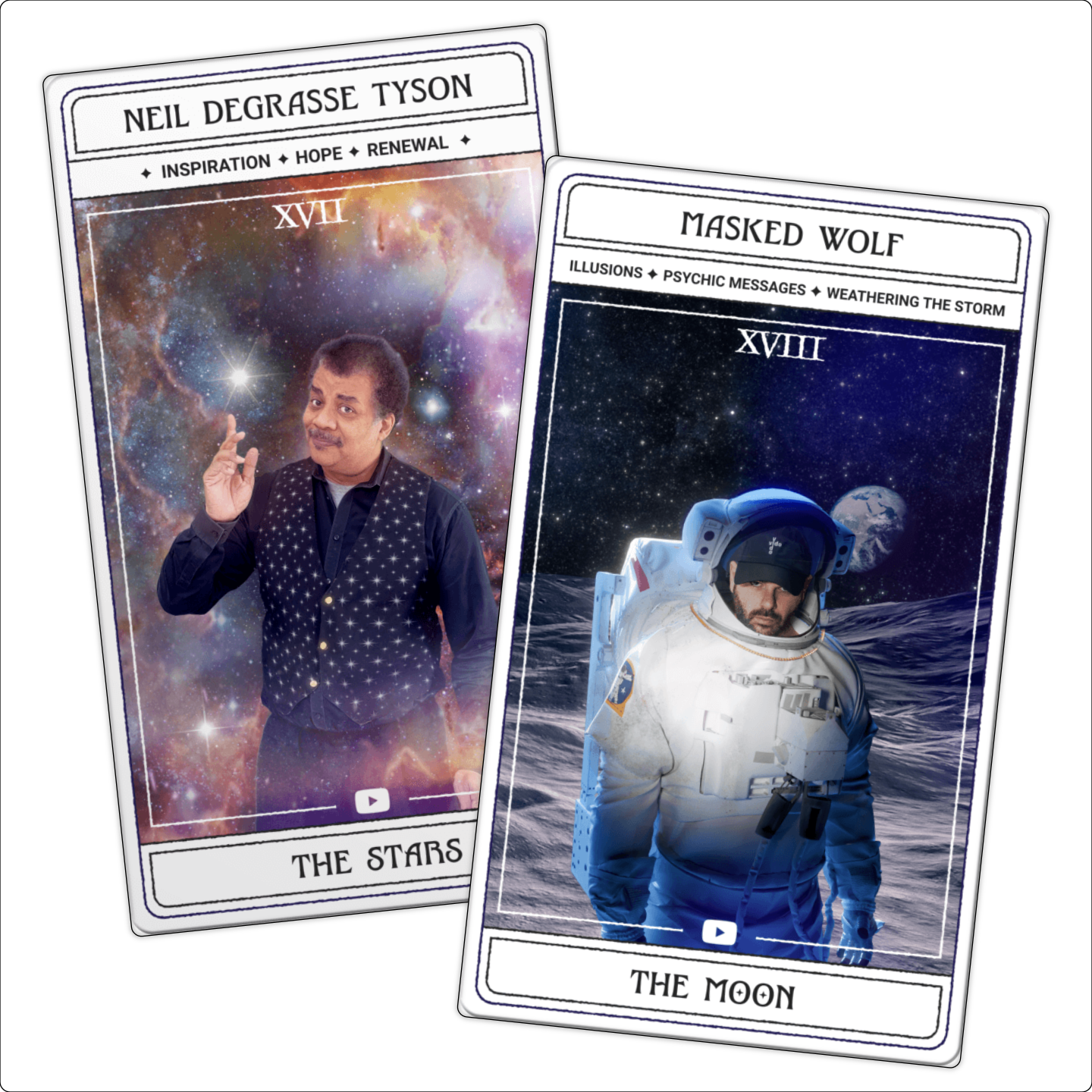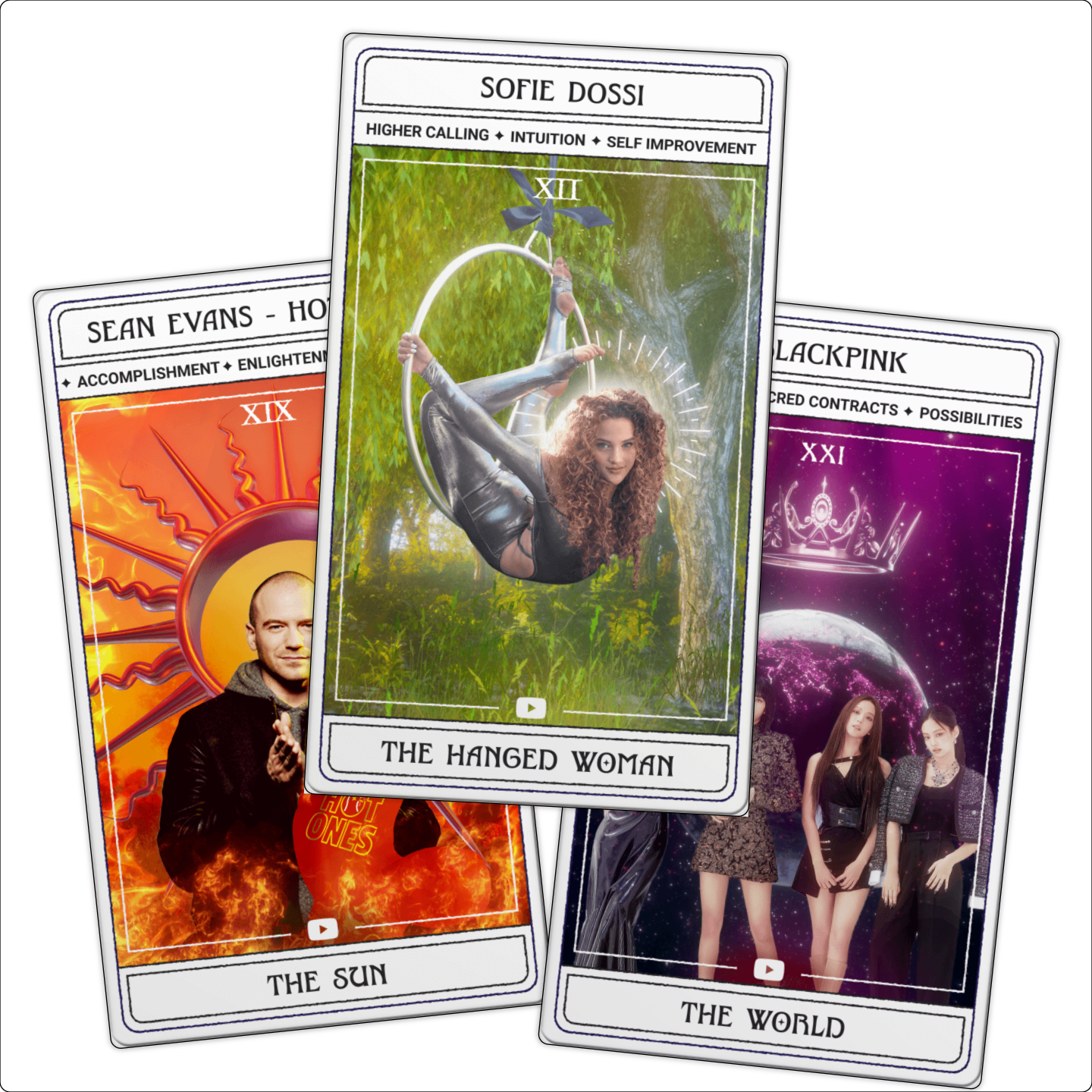 Here's the deep link into the app for this deck.
Google has made it free to download. We plan to do the same.
20. STEAL WITH PRIDE
You are welcome to re-use any of the images from this post. Now is the time to start making a noise. Let people feel your excitement. Let people take the surveys and signup.
I want to reach 250 creators by launch and I know this is easily possible. And I want to jump that to 500 creators within 6 weeks of launch.
The more creators on deckible the better it is for everyone as each creator in turn brings their audience to Deckible.
21.  DECK QUALITY
We have a responsibility to maintain the quality of decks. We want to create a bigger market for decks, but we won't do that by letting low quality decks onto the platform.
There's two elements
Content - the IP (words/process etc)
Design - the visual
We will give you feedback if your deck does not meet the requirements. You may need design help. We will connect you with people who can help.
Your deck needs to be professionally design. You may not be a professional designer, you may have a strong design eye. Some people do not have that skill.
For now this is my judgement. Not a job I relish or delight in. I have to bring bad news to people. But I've not had to reject a deck outright. I've always managed to help people to the desired outcome, but it can take and cost you money to hire the right skills
It's the plan that we may make approval a collaborative process. so the community can decide. That takes work to design and automate this process, but it is needed.
Artists create decks with ease. Business folk whose decks have a lot of text have more challenges.
My simple acid test is would I pay to print 5000 copies of this deck. Would I invest. I  ask you the same question.
I generally can tell which decks have used a professional designer. If you have that skill, lucky you. If you don't go hire one. We can help you find one.
Beware designing on Canva with the same template everyone else uses is not "design". I love Canva, but it does not make you a wonderful designer. I sense we will offer courses on this topic over time. Or we'll just host/facilitate your courses.
22.  BUILT WITH (THE TOOLS WE USE)
For the tech nerds amongst you, I should I'd share that I'm using Ghost.org for the blog/newsletter. I've been a fan for a couple of years, but I'd not used it in anger. It's a delight.
Today I learned some really simply things that it does. Compared to Wordpress it's a sheer delight. Joy joy joy. Thankyou, Ghost.
I used Airtable for the Survey.
I use Amazon SES for Email.
The Deckible app is built in Flutter, so cool. Google's more modern take on React (which is from Facebook). It's an amazing development tool for creating one app for IOS/Android and desktop.
Deckible.com is built using Ruby on Rails and Bootstrap and it's deployed on Heroku and AWS. There's an API on Deckible.com that the app talks to.
We're using PhantomJsCloud to generate all the 3d box images. So that is very cool
I'm very happy with all these choices.